'The Celebrity Apprentice' Premiere Recap - Making Cheryl Tiegs Cry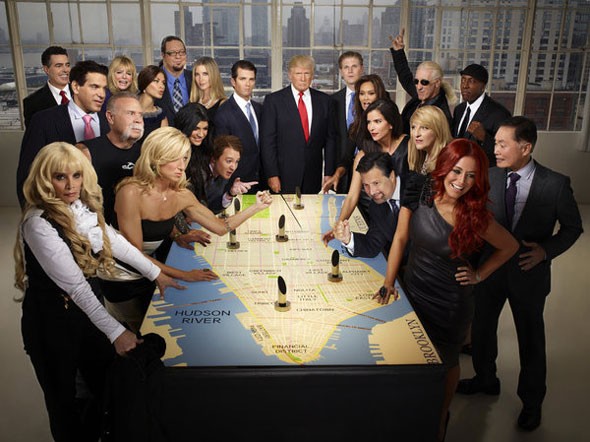 "18 celebrities, 18 egos – all fighting to become The Celebrity Apprentice" Yep, that's our Donald, rallying the troops. As the celebs gather, it's hard not to share in Trump's vision of a world ruled by his chosen few, those 'used to be' and 'almost were'  C and D list celebrities who, armed only with smartphones, can strong arm their wealthy friends and fans into financially backing their charities.
What could be more frightening than Trump's bombastic boasting? Each of the celebrities declaring their intention to win, while tiny mafia princess Victoria Gotti bluntly says "you have to watch your back. I can make you disappear," without a hint of a smile, that's what. Even Trump admits he'd be nervous firing her. 
The Donald makes his entrance onto the Lincoln Centre stage, to the fanfare of an onstage orchestra. With such a large contingent of comics, the first meet is fairly relaxed and cheerful.  Only Gotti brings preconceived animosity towards two of the other women.  She's heard that pop icon Debbie Gibson is 'difficult' and worries that comedienne Lisa Lampanelli is 'in it to win it.'    
But it's all good. All they need to do is split up into two teams, men versus women, pick a project manager and a team name, then wait for their first assignment. Let's get at it!
The guys start off well, with comedian Adam Corolla having already made a list of potential names … 'Back Hair' is a personal favorite. However, names like 'The Honey Badgers' and 'Urinal Cakes'  cause American Idol star Clay Aiken to roll his eyes, and wonder how he found himself on a team of frat boys. As the team debates ever finding a name they'll all agree on, magician Penn Jillette strikes gold with "Unanimous." It's unanimous! They've got their name. Since no one really wants to be the first project manager, Orange County Choppers owner Paul Teutul Sr is nominated, and accepts the role.
The ladies get a hint of what's to come when Latina supermodel Patricia Velasquez proposes "Bone Crushers" as their team name. Predictably, Victoria can't find any of Debbie's suggestions other than ridiculous. Lisa struggles to bring solidarity to the eight voices all talking at the same time by saying "I think we should pick a name to show that we're not going to be a team that's all catty and mean and bitchy to each other." But where would be the fun in that? Debbie finally voices what they've been looking for – 'Forte.' Latin for strong, it symbolizes what they hope to be. Patricia asks to be Project Manager, based on her tenure as manager of her charity.
In the Board Room, Trump tells the men's team that they're missing a member – Marco Andretti has gone to support a fellow race car driver who has died, but his dad, the famous racer Michael Andretti, will be coming in to replace him.
The first assignment is to create and sell a line of celebrity sandwiches. Winning team will make a lot of money for their charity. Losing team comes back to the Board Room, where someone will be berated by the others until they implode. Oh, sorry … I meant, get fired.
Unanimous decide they'll bring attention to their sales with a carnival atmosphere. Penn Jillette, who actually started as a carny barker, is perfect for the task of rounding up the talent. They cut to the chase when they decide to focus on bringing in the 'whales' – the people they can count on to donate heavily. Why make 1000 sandwiches that will sell for $5.00 each, when their effort can be wiped out with one big donation to the other team? Paul quietly assures them that he's gonna be bringing in the big money. "Half a mil," he deadpans, as the rest of the team gape. Penn adds that they should make good sandwiches, and sell a lot of them, thus adhering to both the spirit and the letter of the challenge. He adds that it might be good branding to call their basic sandwich 'the Chopper' and add to the basic as needed, as in, 'the ham Chopper,' 'the veggie Chopper.'  Twisted Sister singer Dee Snider can't wait to get started.
At Forte's digs, it's a far more serious and formal session. Former Miss Universe Dayana Mendoza is delighted to be working with Patricia. Oddly, Velasquez also has a carnival theme in mind. Victoria's quick to say that permits will be needed in New York, while original Supermodel Cheryl Tiegs wonders if a red carpet arrival to the deli might be a better idea. Debbie offers to perform one of her iconic songs. Lisa listens respectfully to Victoria's ideas. She admits she's giving an A Plus to any Gotti suggestion – she doesn't want to wake up next to a horse's head, as in Puzo's 'The Godfather' series.
Lisa steps on a few toes when she suggests that their three most recognizable celebrities work the red carpet – former Real Housewife of New Jersey's star Teresa Giudice, Cheryl Tiegs and All American girl Debbie Gibson.  MTV star Aubrey O'Day sits in open mouthed amazement that she is left out of the discussion. "I have been part of double platinum group Danity Kane... I can run circles around these women. Out of all the women on this team I have the most Twitter followers."  While that may be true, I've never heard of her, nor may have a very large segment of their sandwich buying market.
Unanimous set up at the Café, with Teutel outlining the basic ingredients of 'the Chopper.' He hands over the stenography duties to Star Trek star George Takei, as his own handwriting is unreadable. Paul's worried that Georgei's gentleness may be a detriment to the more aggressive nature of their team, while George finds Paul's machismo far from inspirational. Talk show host and comedian Arsenio Hall finds Paul 'hard to read, and maybe not ready to lead.' Certainly Ivanka Trump is taken aback during her preliminary visit. "What are your sandwiches,' she asks. 'Lamb!' barks Teutel, causing Arsenio to wonder how anyone could think that was a proper way to speak to a grown woman. When asked what goal the team has set for fundraising, Paul leaned back, in a biker's stance, and refused to give any  more information than 'a lot of money,' seeming to dare Trump's daughter to push him further. She applauds his finally articulated goal of bringing in $500,000.00 but finds it hard to believe.