'The Celebrity Apprentice' – Paul Brain Schemes And Lou Turns (The Air) Blue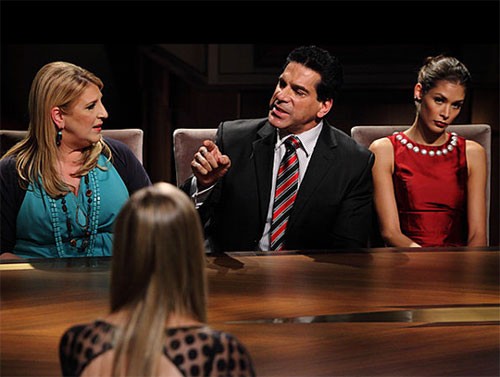 Last week's double episode cost the teams Debbie Gibson and Dee Snider, and saw Aubrey O'Day walk out after an overwrought Board Room blowout between Aubrey and Arsenio Hall.
The drama continues this week, as we return to the Board Room aftermath. Arsenio, still shaking with anger and emotion, doesn't know if he could handle Aubrey's return. Lisa Lampanelli and Penn Jillette, returning from the Board Room, are shocked to hear about Aubrey as well. Lisa thinks the team should be worried – if Aubrey stays away, she feels their team has no chance.
Arsenio explains that he was over the top in his dealings with Aubrey because the win was so important to him – he had a cousin who died recently from AIDS, and he wanted to win the challenge in order to be able to have a donation for Magic Johnson's HIV/AIDS foundation. But as he gets more heated in describing his anger at Aubrey, calling her 'bitch" and "whore" he hits a nerve in Lisa, who calls him on his misogynist language, and warns him that he's damaging his public image and career. Paul Teutel Sr. could do nothing but sit back and hold tight.
Arsenio interviews, "Lisa Lampanelli is the last human being on the planet that can tell me what language I should use when I'm angry. That's the pot calling the kettle black."
But Lisa's got more to worry about when Dayana Mendoza and Lou Ferrigno return to the Board Room without Dee Snider. She's outspoken about her feelings that Dayana was an ineffective leader, and Lou was 'effing useless.' Lou hears this as Lisa calling him an 'effing loser,' and begins to brood. She tells Penn he better get a lot of sleep, because he'll be doing 50% of the team's work from now on, with she herself doing the other 50%. Which I guess leaves Lou free to give his customary 10% for a total of 110%!
Before we can begin this week's challenge, Arsenio Skype's Magic Johnson to let him know that he's won $50,000.00 for his charity. Magic is appropriately delighted, and their virtual 'head bump' is cute.
The teams, including Aubrey, who's decided to come back in honor of her charity, meet Trump, and his Trumpettes Ivanka and Don Jr., in the R Lounge of the Renaissance Hotel. He's with Dean and Melissa, of Entertainment.com, who are launching a new online and mobile aspect of the 50 year old service. The teams are charged with making a 60 second commercial explaining the features and benefits of the service, and will be judged on creativity, product integration and overall brand messaging.
Dayana immediately puts herself forward as Project Manager for Unanimous, which angers Lisa, who feels they'll lose for sure under her management.  Teresa Giudice wants another shot at managing Forte, after losing her previous task by just $14.00. Her main concern is how Arsenio and Aubrey will behave.
The Donald will award $20,000.00 to the winning team, and Entertainment.com will add $40,000.00. So there's $60K at stake. Both teams vow to win for their charities.
Before beginning work, Arsenio and Aubrey have a conversation in which Aubrey tells Arsenio that she knows his comments were made in the heat of the moment. She likes him and is a huge fan of his work, she says. Arsenio apologizes, explaining his emotional involvement, and they head in to the office to begin planning. Aubrey interviews that she doesn't really like or trust Arsenio.
At Forte, Lisa is concerned to hear that Penn will have to leave at 4pm for a previous engagement, but will be back the next day for their presentation. She knows, however, that his input will be terrific, while she expects little or nothing from Dayana and Lou.
Penn explains that Entertainment.com began as books of coupons that would be sold by groups or organization as fundraisers. The customers would clip the coupons for use at restaurants or entertainment venues. Dayana knows that Lisa can be hard to deal with, but is determined to be respected as a good project manager. She believes they should aim for people's hearts and emotions in selling the new service. She puts forth an idea of a couple meeting, falling love, and marrying while using the coupons for saving.
As they flesh out the idea, they browse headshots of available actors, and chose two that have a strong background in improvisation. Lou interviews that he could have played any role, and so could Dayana, but says nothing to the group. Dayana asks him if he could take care of banners for the presentation, and he says yes, while still thinking that the team should be using their star power.
Penn and Lisa write their script, and the team chooses backdrops for their video. Lisa finds Dayana less annoying when in charge, as she defers to ideas rather than try and cram her own ideas into other people's visions. Lou sits quietly, giving no input. Penn's surprised at how well Lisa and Dayana get along during the shoot, saying "it's as close as this atheist ever came to experiencing a miracle."