'The Celebrity Apprentice' – Laugh On – Recap May 8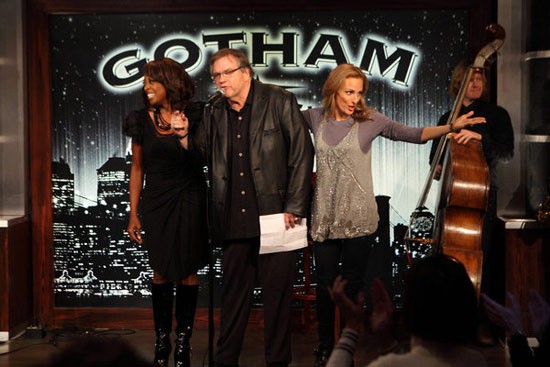 So last week, the teams organized "hair" shows, and NeNe Leakes declared war on Star Jones. LaToya Jackson came back, and joined the men's team. Hope Dworaczyk was pronounced weak and fired.
This week:  Continuing from the end of last week's BoardRoom, we see Lil Jon and John Rich relaxing with LaToya and Marlee Matlin. The men are delighted to have LaToya on their team, but Marlee interviews that she doesn't think it's fair that LaToya not only was allowed to come back, but was assigned to work with the men. When Star and NeNe enter the room, NeNe hugs LaToya, but Star grabs her things and leaves the room. Star interviews that NeNe's aggressiveness in the BoardRoom turned her off, and she had to get out of the situation. NeNe sees Star's leaving as an admission of weakness.
Lil Jon is pleased and proud to present his $80,000. check to Terence Johnson of the United Methodist Children's Home.
The celebrities arrive at a theatre, where Donald Trump, along with Ivanka and Jim Cramer, greet them. The Donald dives immediately into a discussion of Star and NeNe's animosity toward each other. NeNe says she has no problem with Star, and has in fact made several efforts to talk to her. But Star says she can't work with NeNe. So Meat Loaf and NeNe switch places, with NeNe now on Team BackBone, and Meat joining Star and Marlee on team ASAP.
The challenge: produce a comedy show, with three comedians per team, and 50 tickets to sell. They can charge whatever they like for the tickets, but the team that makes the most money in sales, wins. Project Managers will be LaToya, whom John Rich assumes has access to a lot of celebrities, and Meat Loaf, who is told by Star that she will help him. NeNe interviews that she needs some time alone to process Star's refusal to talk.
At the War Room, BackBone realize that NeNe has disappeared, and is not answering her phone. LaToya is angry that the numbers advantage has disappeared along with NeNe, so she, John Rich and Lil Jon will have to get on with what they have. John Rich gets his friend Jimmy Fallon to agree to appear. LaToya, John and Lil Jon toss around the dollar amounts they're hoping to get from ticket sales. When LaToya's biggest donor can't make the show, she puts on her game show, but she is crushed. Ivanka visits, and is pleased that the team is working well together, despite NeNe's defection.
Team ASAP are calling friends for donations, while Star tries to get Tracy Morgan on board. Marlee offers to do her own "Deaf Comedy" for the show. When Jim Cramer pops by to see how they are doing, Meat Loaf, who seems drained already, gets back to his phone calls, while Star manages to get an appointment to video a few minutes with Tracy. Jim wonders why they aren't trying to get Tracy to appear at their show, rather than just having him on video tape. (I wonder about that myself.)   
Star visits Tracy in his dressing room. They catch up, then Star video tapes a few minutes of an interview. Tracy interviews that he's impersonated Star on Saturday Night Live, and she's never taken his jokes the wrong way.
Donald Trump calls NeNe to tell her that she can't quit. NeNe says that it's not fair that only Star's wishes are being accommodated. He says that it would be stupid for her to walk away at this point.
BackBone is getting aggravated with NeNe's lack of contact. LaToya gets a voice message saying that NeNe has quit, and the team is disappointed and disgusted with her action.
That evening, Meat Loaf is encouraged by a number of donors calling him back with pledges. He's raised over $50,000 in ticket sales. Star, glued to her computer as usual, hopes they can beat BackBone. Meat realises that his efforts to raise money for his charity, Painted Turtle, will be in vain if BackBone wins, since the PM of the winning team will get all of the money raised by both teams. The next morning, he cries as he tells Marlee and Star that he can't gamble the money he's raised, earmarked specifically for his charity, on the chance that the other team wins, and his donors' money is given to another charity. Star assures Meat Loaf that she will do her best to talk Trump into letting each team keep their winnings, as happened after the Art sale challenge. But Trump says no – they should just concentrate on winning all of the money for their charity. Meat Loaf is crying, overly emotional and adamant that he can't and won't gamble the charity funds.
At BackBone, Lil Jon and John Rich have both raised about $50,000. each, but LaToya is having trouble reaching any of her potential donors. John Rich, who assumed that the Jackson family name would be an asset in fundraising, is shocked when he hears she's only gotten $1000. from Kathy Hilton, of the hotel Hiltons.     
The teams arrive at Gotham Comedy Club, where each have been given a big, black War Room trailer. BackBone are ecstatic as the money starts to pour in. When Jimmy Fallon arrives, ready to appear, and with a check for $10,000, they are over the moon.  AND he's also written a comedy song about John Rich's experiences on Celebrity Apprentice. Team BackBone are very happy campers, er 'trailer-ers?'
Not so at Team ASAP where Meat Loaf, a blubbering wreck, has virtually given up. Marlee, fed up with his attitude, tries to talk him into a winning mindset. Meat, while rehearsing their presentation, is stressed and muddled, having trouble even remembering the guest comedian's names. Star does not look pleased.
Show time! The audience file in. ASAP are first. Meat Loaf, now in 'host emcee' mode, welcomes their guests, whose names are never given.  Marlee is not terribly impressed with Star's taped interview with Tracy Morgan, saying that it would have been nice to have him appear on stage. Marlee then does her "Deaf Comedy" routine, with her interpreter, Jack.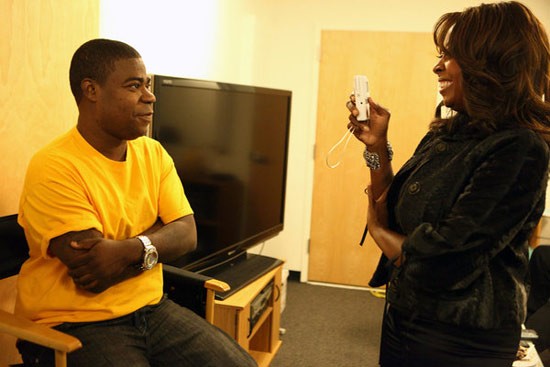 Next up, BackBone. LaToya hosts, her whispery voice amplified, thankfully, by energy and a microphone. Their comedians, also unnamed, perform before the team bring out their special guest, Jimmy Fallon. He performs "Yer Fired", in a country voice. The crowd goes wild, and LaToya is ecstatic to have worked with the guys. Had the contest been based on the better show, there Is no question that BackBone won.
Enter the BoardRoom. Trump mentions NeNe, but says they'll come back to that issue later. He then asks Meat Loaf if he's recovered from their earlier talk, and Meat Loaf dissolves into tears again. Trump explains that Meat wants his charity money to go to his charity, and Meat compares gambling his charity money on the challenge to a father gambling his family's money away in Vegas. He then talks about working with the women, and that he understands Star, and the way she works. When asked, Marlee is profusely complimentary of Meat, his talents, and his heart. Jim Cramer also compliments Meat Loaf on his team management.
The Donald then talks about NeNe, and tells the teams that she did indeed quit. He says it's happened before on both The Apprentice and The Celebrity Apprentice, and the quitters have always called him later to say that they regretted the decision. He then announces, "NeNe, you're fired. And you're a quitter. And Star Jones kicked your ass whether you like it or not." Star nods wisely. Ivanka says that it is unfair that Hope was fired last week, because she was perceived as weaker than NeNe. The Donald rants about 'potential' being a false indicator of winners.
LaToya says both of her teammates were fantastic, raising money and bringing in Jimmy Fallon. Lil Jon says LaToya did very well as PM. Trump says LaToya has proved herself to be intelligent, and a fighter. John Rich admits to missing Meat Loaf, as they bonded during their time together.  Ivanka says LaToya brought passion to team BackBone. John Rich then tells Meat that, if his team loses, he personally will match the money raised for his charity. Meat cries some more, saying that being on the show has made him want to be a better person (isn't that Tom Cruise's line?,) and taught him things he didn't think he knew. He thanks Trump personally for the opportunity. Trump takes the compliment nicely. It's a love fest!
But down to dollars … guess who won? Get out the Kleenex, people, because Meat dissolves into a quivering mass of jelly when he learns that his team earned $102,080., while BackBone raised $82,500. Trump admits that he's normally not personally attached to who wins the competitions, but watching the emotion Meat Loaf exuded during this task actually touched him.
But of course, this means someone on Team BackBone is going to be fired. ASAP hug each other as they leave the BoardRoom, and Meat calls his wife to share the good news about winning $184,580. for his charity.
Trump asks LaToya, what happened? Why so little money raised? She says she thinks they had drained their donors by asking for donations so many times. Lil Jon and John Rich still managed to do very well in raising money, LaToya says, and both were equal players. When asked, Lil Jon says LaToya should be fired, as Project Manager. Trump compliments LaToya again, for her intelligence and passion, and says that she's set a record, as the only Apprentice brought back into the game, but is tonight setting another record, as the only one to be fired twice. And with that, LaToya gets to do the Walk of Shame, yet again.
LaToya interviews that her experience of being on Celebrity Apprentice was probably the best experience that she could have experienced. Yes, she said 'experience' three times in one sentence, so we can hazard a guess that her experience studying Roget's Thesaurus didn't work out quite as well. In a bizarre tribute to Michael Jackson's "Billie Jean", the cement blocks leading from the building to the getaway limo light up as she steps upon them.
Star greets Lil Jon and John Rich as they enter the celebration room, and directs them to Meat Loaf, who is glad to toast to Painted Turtle with everyone. They are the Final Five, but each intends to get to the Final Four. Star compliments Meat's leadership, but interviews that we should not mistake her kindness for weakness. "The game shifts, as of tonight, and becomes more of an individual competition. And that's when you go in for the kill."
The next morning, the teams meet with the Donald, Don Jr., George, and OnStar President Chris Pruess, with CEO Sam Mancusa. Trump wants the teams to help with the reinvention of a great company – OnStar. Pruess tells the teams that OnStar, once only available to new GM vehicles, will now be offered to vehicles not originally fitted with the technology, thru an alliance with Best Buy. The teams are to create a promotional video to announce this new service. The video will be judged on creativity and originality, product integration, and brand messaging. John Rich steps up as Project Manager, hoping that Trump will be impressed at his being PM three times during the series. Marlee agrees to be ASAP's PM.
Lil Jon and John Rich meet with the execs at the "OnStar Mobile Command Center." Fancy! They are given a rundown of the features and benefits of the system. Lil Jon picks up on the logo, where different words are put before a flashing blue "on" button, as a focus for the commercial. John Rich latches on to the point that anyone can have the OnStar system in their vehicle, regardless of the vehicle's age or make.
When ASAP visit the Center, we learn that Marlee is married to a police officer, as she asks if the system is tied to any police systems. Star interviews that, as PM, she is laying back and letting the creative people (Marlee and Meat Loaf) take the lead in asking the questions. She is justly rewarded when Meat asks if the system could be installed on a bicycle. The expressions on everyone's face at the remark bring back fond memories of Gary Busey's rambling, Taken aback, she decides she has to step in to get the information necessary to run the project. From the responses, she takes away the main points; the device can be installed on any vehicle, and it's available at consumer electronic stores.
At the film studio, Lil Jon loves the white background screen, as it immediately makes him think of the PC vs Mac commercials. John Rich doesn't know much about the technical aspects, so he concentrates on writing the script. Suddenly, John Rich begins to feel ill and unable to concentrate. With his vision blurring, he leaves Lil Jon in charge. It seems he has an ear and sinus infection. Returning, determined to power through his illness for the sake of his charity, he and Lil Jon brainstorm.
ASAP finds an identical set up, and Meat Loaf jumps into action, grabbing the Director of Photography, and outlining his ideas for tracking film movements. Star is surprised that Marlee is allowing Meat to take over the shoot. Marlee interviews that Meat works so differently from other team members. He's "a tornado on crack." He's got the entire video, start to finish, organized in his mind, but as he explains the set ups, the DP wonders if it might be too ambitious to undertake. Meat bullies his way through, insisting it be done as he says.  Star is concerned that they haven't a script, but Meat assures her they can improf their way through the scene. Star and Meat butt heads as they attempt to work together on an outline of the proceedings. He thinks she's procrastinating, and wonders why she can't just get on with the branding information.
Lil Jon has the video shoot well in hand. Operating as both actor and director, he controls the vignettes they have created; a soccer mom, a college student, and Lil Jon as himself. Most of his visuals will be relying heavily on graphics. In the editing suite, things are looking good for BackBone.
Star, still grumbling about a lack of script, is told by the crew that they must start filming, as they are running out of time. She's peeved, and the anger shows as they try to film her in her role as OnStar Representative, flubbing her lines repeatedly. Even with cue cards, she can't find a flow. Meat feels that Star will find a way to put the blame on him, should they fail in the task.  When Jr arrives to check on progress, Marlee says that Meat and Star work differently, as does she, while Jr notices that Marlee is not reining in Meat as much as she should.
With Star's lines wrapped, Marlee and Meat Loaf move outside to film the vignette of Meat as a cop who's found Marlee's stolen vehicle through OnStar, and who now wants OnStar to give him directions to a donut shop. The final scene has Marlee and Meat at the donut shop, where they are joined by Star, whose voice they recognize from the OnStar system. Suddenly a kid on a skateboard, carrying a boxed OnStar system, flies through the setup. And ….. scene!  
ASAP leave to start editing, but get caught up in traffic. With less than two hours left, they have to abandon their vehicle, and walk to the suite. Again, Star opts to sit back and let Meat Loaf and Marlee do their thing. If it fails, it's their responsibility. As they work on the final shot, Star interjects that she wants the web url to be emblazoned across the bottom of the logo shot. Meat disagrees, but says nothing, as she has been in charge of the branding, and will be held responsible.
Lil Jon is so confident that they are organized and ahead of time, he even thinks he and John Rich might have time to relax at a strip club. But it's never a good idea to get too cocky, as suddenly, things start to go wrong. The special effects graphics that they need added are not working right. With three minutes left on the clock, John Rich is terrified that they're not going to get the video completed.
The teams meet with the OnStar executives to show their work. Marlee admits that it was risky to work without a script, but she feels their originality and creativity should carry them. ASAP is happy with their work. BackBone, with John Rich acknowledging they could have down better had they had more time, present a more personal viewpoint. He hopes they loved the concept, or he will be on the line, as PM.
When Trump meets with the executives to hear the verdict, he is told that ASAP had a great video, very ambitious, and very creative. But they were not happy with Meat Loaf's slightly comical depiction of the police officer, as OnStar portrays cops and fire fighters as heroes, not bumblers. They loved BackBone's vision, and felt Lil Jon did a superior job in communicating the message. But they thought Lil Jon might have been a little over the top, and they noticed that the actress driving the car was not wearing a seat belt.  Good effort on both teams' parts, but the winner is ….
The teams enter the boardroom. Trump asks BackBone how they think they did, and they clap themselves and each other on the back for doing a great job, despite John Rich's illness. It gets weird when Donald Trump begins complimenting Meat Loaf on his appearance. "He looks rested, he looks good … and so much more handsome. You know, I'm not a gay man, okay? I think gaynesss is wonderful, frankly, but I'm not a gay man. But listen, you seem so much better looking. What the f--k are you doing?"
Rather than be embarrassed or flustered, Meat Loaf takes the compliment and turns it back on the Donald, saying his improved appearance is entirely due to being on Celebrity Apprentice. Trump agrees, then asks Meat what he contributed to the team this challenge. When he discusses his input on the vignettes, Trump asks why Marlee was not more involved. Marlee jumps in and explains that they discussed how to proceed, and notes that Star was great both in front and behind the camera. When the ASAP commercial is shown, John Rich notes that they missed the main point, that the system was now available for purchase. The BackBone commercial is shown. Meat Loaf thinks it's very good, but he and Marlee comment that it's aimed at a different audience.
Jr gives ASAP the lowdown on how the executives felt about their video; they liked the warmth, energy and passion, but hated the role of the police officer. They also felt Star did not give enough weight to branding. George tells BackBone that their video was energetic and creative, and the brand well showcased. But they thought Lil Jon was a little over the top, and the woman not wearing a seat belt in a video about safety was a serious fault. The winner is … team BackBone. John Rich points out that the $40,000. he's just won for his charity brings his total to almost $800,000. The guys are congratulated and sent to celebrate, while Marlee, Meat and Star are about to find out who's going home. From the look on Star's face, it's clear that she does not believe she'll be the one sent packing.
"The Jonz" are in the Final Four, baby! Lil Jon madly text's the happy news. They toast to their success.
Marlee begins by saying that, after nine weeks, she and Star have developed a certain working style. With Meat Loaf, there's a different style, and that might have caused them to lose. Trump accuses Meat of usurping Marlee's role as PM. Meat defends himself and his decision to use the stereotypical 'cop and donut' vignette. Star says Meat's idea of using humour was different from what they've done before, and she 'almost' felt that he was saying he was taking responsibility if it didn't work. Jr butts in to ask who was responsible for product integration, pointing out that BackBone did a great job in highlighting the product and the OnStar button. Marlee mentions they had taken a product shot, but it wasn't used. George wants to know why they didn't showcase the product, whether in box or in use.
Marlee says, if she had to pick someone to fire, it would be Meat Loaf, due to his different work style. Star agrees.  (In the other room, Lil Jon says "They're eatin' Meat Loaf like Meat Loaf.") Meat Loaf defends himself, putting the blame on Star for dropping the ball on the branding. She is floored, since she was not in charge of the screen shots. But, says Jr, you were in charge of branding, and the relaunch of the product revolves around the new box, so branding was key.
Star smiles nastily as she reminds Meat Loaf that he actually had a shot of the box, but chose not to include it. Meat says that Marlee and Star decided that the video would be opened and closed with Star's image and voice, and the box, although filmed, didn't make the final cut. Trump asks the threesome to wait outside while he decides the matter.
As they wait outside the BoardRoom, Star continues to ask why the product shot wasn't used. Meat Loaf begins to reply, saying "Sweetie …" Star takes offense at the term, saying she's a grown woman and hates that term. Meat reminds her that when Marlee was taking the shot of the box, Star told them not to worry about the shot, since she had it on the OnStar disc. "You're missing the point,"  she says, "we got the shot, but you didn't choose to use it." He responds that it was her decision to use the OnStar logo instead. As Meat becomes angrier, Star continues to stand by her statement that she was not responsible for the editing, he was. "Case closed." she says, and they begin a round of "did so. did not. did so," like kids in a playground. Star tells Meat she won't listen if he shouts, to which he responds that he is not shouting. Are so, am not, are so. She walks away, saying she doesn't even want to talk anymore. When he says he thought she was capable of debating anyone, she says that he'd have to come with similar credentials before she'd debate with him. Yow! Claws completely out and sharpened, she commands him, saying "enough." Meat asks what gives her the right to cut him off, and she says, "I'll be real straight and honest with you, Meat Loaf. I don't owe you an argument, and I decline to give you one."  "Who the hell do you think you are?" asks Meat.
What they don't realize is that the entire argument is being heard inside the BoardRoom, where the Donald asks Jr what he thinks. Jr says he can find cause to fire either one, but George says Star should be fired for not getting the branding done properly. Trump has the battling trio readmitted, and asks Meat Loaf what all the screaming was about. He denies that he was screaming (and he wasn't) saying he was arguing with Star, trying to get her to admit the truth about the ending logo. Trump and Jr hammer Marlee about being overruled by Meat's decision to improf the script, when she was in charge as PM.
Trump wants to know why Star would be offended at being called 'dear' or 'honey' or 'sweetie.' She says that in the context in which "sweetie" was said, in the middle of a disagreement, the term means "I think you're inferior." Trump asks Star why she can't get along with anybody, what's wrong with her? With the names she must have been called over her life time, why would she take such offense at 'sweetie?' Especially coming from Meat Loaf, whom everyone loves. Star swears up and down that she loves Meat Loaf, but the term was hurtful. (Am I the only one getting hungry, here?)
Sick of the discussion, Trump asks Marlee – for the last time, who was in charge of branding? Star was in charge, signs Marlee, but hedges with "of writing branding messages."  Star tries to point out that she indeed wrote the branding, and it's not her fault if Meat didn't get that into the video. Jr again says that the branding was the whole purpose, and if not in the video, the branding didn't happen. Star babbles on, but Trump has the final word.
"The OnStar people thought the branding missed the mark. You were in charge of branding. Star, you're fired." Star thanks the panel, Marlee gasps, and they are all dismissed. At the door, Star thanks and hugs both Marlee and Meat Loaf, who once again, looks like he might cry.
In the getaway limo, Star says, "No one wants to get fired. And I have had the pleasure of being fired by two of my mentors on television. So I'm in a rare group of people. But I understand. The first time I decided not to take control, I end up getting on the chopping block. Lesson learned. "
Next week: Before the next task begins, the Final Four are going to be reduced to a Final Two, after being grilled by three previous winners; Piers Morgan, Joan Rivers, and Bret Michaels. Trump will fire two celebrities based on their assessment.