'The Celebrity Apprentice' Finale - Arsenio Hall Takes The Title!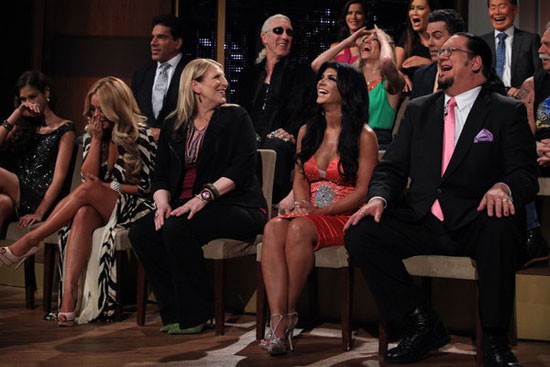 "What are you doing to Lisa? You're making her crazy," says Trump. Dayana laughs. Lisa says that she dishes it out, and can definitely take it. Trump next turns to Adam, asking him if he thought being a funny guy helped him on Apprentice. Adam says no; it helps about as much as it helps in golf and porn. He then notes that Teresa thinks 'naïve' is a brand of douche. Classy guy!
Dee updates everyone on his finger, broken during an earlier challenge. He's had two surgeries, and is now looking at a third to get full use of the finger again. Paul admits that the softer, nicer guy that he played on Apprentice is actually the real Paul; his own reality show, "American Chopper" has been filming for ten years, and he's a different man now than he was at the beginning.
Trump asks Penn if he was surprised that Clay picked him to be on his final team, after the problems they had earlier in the series. Penn says they might have clashed, but Clay wanted to win, and knew that Penn would always do his best. Penn thinks Clay should win the title.
Whoosh! We're back to Clay and Arsenio's charity events. They both describe their charities, and then introduce their 30 second ads. Clay's ad is sweet, with the children playing, and Clay's description of how his charity can help kids 'all play together.' Arsenio's ad is funny, with his team dressed in 80's finery, and Magic Johnson's cameo.
Arsenio then presents his comedy show. Adam begins, roasting Donald Trump, and then introducing Paul and Teresa. Lisa does a profanity laden, roast style set as well. Arsenio closes out the show with a softer, nostalgic set.
Team Clay's show begins with a duet from Debbie and Dee, with Aubrey following with a rendition of Gloria Gaynor's "I Will Survive."  Next up, Penn invites partner Teller to join him, and they demonstrate the cups and balls trick to much applause. Dee and Debbie return, with Dee doing a verse from his Twisted Sister hit "We're Not Going to Take It." Last up is Clay himself, who sings "(I've Had)The Time of My Life," with everyone joining him on stage to sing along.
Next we go to the Final Board Room. With both teams gathered, the Donald, Don Jr. and Ivanka quiz the teams. Lisa compliments Arsenio's team management, and admits to making a $10,000.00 "Clay-tribution" (as Adam calls it) to Team Clay. No one on Team Arsenio have a problem with her donation. When asked, Teresa says she didn't think Arsenio had any weaknesses as a Project Manager.
So of course, Trump asks Aubrey what she thinks Arsenio's weaknesses are. Aubrey cracks that she doesn't have enough time. She adds that she doesn't know him as a man, nor does she care to know him. She hopes Clay wins.
Trump next praises Dee, saying he must have a lot of money in the bank from his Twisted Sister hit. Dee admits that it's given him an amazing life.
Although the title win is not based solely on how much money they raised by their events, Trump now has Ivanka announce that Arsenio's team raised $167,100.00. That money will go to the Magic Johnson foundation, regardless of who wins. Don Jr. announces that Clay's team raised $301,500.00 for his charity. Everyone gasps at the sum. The ultimate winner will also receive another $250,000.00 for their charity.
Trump thanks everyone for playing, and then kicks everyone but Clay and Arsenio out of the Board Room. And then it's back to the live show, where Trump brings Clay and Arsenio onto the stage. Hey, Alison Sweeney from Days of Our Lives and The Biggest Loser is in the audience! Cool!
First up, Clay says that Trump is a tougher boss than Simon Cowell, because Trump knows so much more about the business world.  Arsenio describes his commitment to his charity as especially strong since the death of a family member from HIV/AIDS.
Now, as though he hasn't given it much thought previously, Trump asks a few of the celebs who should be the Celebrity Apprentice of the Year. Dee and Debbie say Clay; Lisa, Dayana, and Teresa say Arsenio.
How to decide? I know – a sing off! Clay sings Bill Wither's "Lean on Me," with Arsenio joining in half way through. They actually sound rather good together, though I'd have to pick Clay as having the upper hand vocally.  For the big ending, they add a crew of gospel singers. The audience claps along, white folks style.
After a montage of previous winners, Clay is asked to explain why he should become this year's winner. Clay says that he came in with low expectations, but has raised the bar along the way. He's worked hard, and thinks he deserves the win. Plus his mother's in the audience, and he doesn't want her to sit through another competition in which he comes in second!
Trump then asks Arsenio if he meant it when he said that he'd focus on charity works, should he win the title. Arsenio says he absolutely did. After years of raising his son, Arsenio's getting a new late night talk show together, and is reemerging into the showbiz world. After being on the cover of Rolling Stone, Time, Newsweek and the Wall Street Journal, he feels he's lived the job of Celebrity Apprentice; now he just needs the title. He admits that he wants to be Number One, after a lifetime of being Number Two.
Ivanka congratulates both men, and says she learned a lot by watching them. Clay was loved by almost everybody, and was strategically strong when needed. Arsenio was more passive, but also highly effective as a leader. It's a tough choice, Dad.
Eric says little more than "Dad, it's up to you."
'Dad' says he's torn; they are both amazing people. There is no loser tonight. But the winner is … Arsenio Hall. Arsenio and Clay hug, streamers and confetti fly, Tia Carrere can't restrain herself from running and hugging the two men; it's pandemonium.  
And just like that, it's over for the year. Did the right man win? I think both showed remarkable strength, and I wish Arsenio good luck in his future. I felt sorry that Clay's mum had to once again see her son come in second.  I hope that all of the celebrity contestants find work again soon. And I'll be back, next year, to recap another crop of potential Celebrity Apprentices.