'The Celebrity Apprentice' Finale - Arsenio Hall Takes The Title!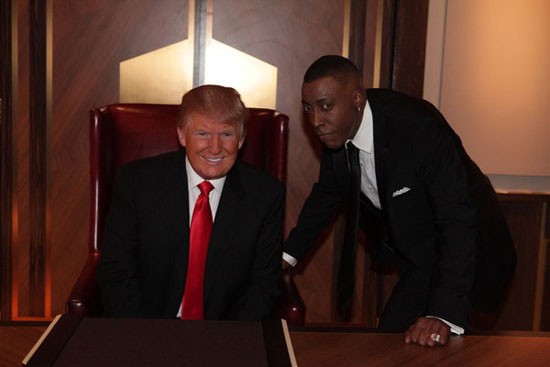 Last week on Celebrity Apprentice: Clay Aiken and Arsenio Hall, the Final Two, have been tasked with having to produce, host, and sell tickets to a celebrity charity event. They'll be responsible for all aspects of the show, including creating a thirty second charity awareness ad, and producing a variety show to entertain their guests. They themselves will be the entertainment at their show. This week; the live finale.
Donald Trump lets us know that this is an important night – so important, that he'll need the fastest car and driver possible to get to the show at the American Museum of Natural History. Why look! It's Mario Andretti, driving a sweet racing car! Let's Go!
We first head back to the editing suite, where we left off last week, when Arsenio had just discovered that his promised footage from Magic Johnson had arrived unusable. With no time to re-shoot, panic set in, but when more footage arrived, Arsenio was able to save his concept and his ad.
Meanwhile, Clay is still facing tears (from Debbie Gibson) and disapproval (from team mates Aubrey O'Day, Penn Jillette and Dee Snider) over his refusal to allow Debbie's cousin to paint a wall mural without first showing him a sketch of her proposed work.
Back at the live set, The Donald acknowledges the Trumpettes for their work during the series. Take a bow, Ivanka, Eric and Donald Jr. And then we're back to watching the celebs set up their events.
In Team Clay's car the next morning, Debbie wants to get Clay back on board with her cousin's mural, and finally has some artwork to show him. She's still smarting over Clay's lack of 'trust' in her judgment, but all Clay wants is some idea of what the 77 foot mural will look like, as he will be judged on the presentation of his event.
Team Arsenio arrives at the site, and is pleased with their setup. Adam Corolla's writing jokes for Paul Teutel Sr. and Teresa Giudice.  Arsenio is worried that Adam's version of a comedy roast will look bad next to Clay's 'feel good' event. Adam's confused as to what exactly Arsenio wants.
Team Clay is stoked to see that their carnival theme is falling into place. There's AstroTurf on the floor, games and booths are being set up, and Debbie's muralist cousin is there with her plans and a crew.  Clay realizes how much there is to do before show time.
And tempers are frayed. When the display manager arrives, Aubrey swoops in to tell him the plans, leaving Clay out of the loop. Clay steps in and says that he needs to know the overall details as well. Aubrey interviews that "Clay needs to feel that he's the man in charge.  In his words, we all need to remember that it's 'Clay's show'. But if I wasn't here, he wouldn't have a show."
Teresa Giudice has done a marvelous job of decorating Team Arsenio's room; it's a very classy, high concept look in blue and white, with multiple mini crystal chandeliers. She's got the food and booze under control, and the staff prepped for a busy night.
Clay's so worried that the mural will not be completed on time that he even offers to help with the painting, alongside the multi-person team.  Clay dons a big garbage bag over his suit, and soon Aubrey, Penn Jillette and even Teller are daubing away at the wall.
Trump again breaks into the episode, in order to parade the celebrities who left earlier in the game; Victoria Gotti, George Takei, Tia Carrere, Patricia Velasquez, Lou Ferrigno and Dayana Mendoza. What, no Cheryl Tiegs? No Michael Andretti?  The celebs are seated to Trump's left, far enough away from him that they'll have to shout to be heard.
We are shown excerpts of past episodes, including several clips of Lou asserting that he's given 110% at each task, only to be trumped by Clay saying that Lou actually gave 120%. Don Jr. points out that 110% is not mathematically possible, and that the expression drives him crazy. On stage, Lou twitches and lip licks, as is his style, and then tells Trump that he's had a surgery that allows him to hear without wearing a hearing aid, for the first time in his life. Lou then walks across the stage, proclaiming that he raised $41,000.00 for his charity, and then dropping the check on Trump's desk. I'm not sure why – shouldn't the check go to the charity?
Trump then asks Dayana how she feels about Lisa, post-show. Dayana says she feels Lisa showed no respect for herself, so has nothing positive to say about her. He then asks Victoria if her family background helped her to do so well on the show, but since she was the second person fired, it might be moot. Victoria says that she would have preferred to be on the men's team, and that Aubrey and Lisa were impossible to work with.
Patricia breaks the feel-good mood when she tells Trump that's she's having a hard time with her charity, since 90% of the money she raised went to the other team, and she had used up her donors' generosity for the game. He tells her that she's doing well, and doesn't address her words. Tia's very outspoken when she says that the juvenile and egotistical antics of some of the team players became a problem. She asks the audience who they thought was a problem on the women's team, and the audience roar "Aubrey!" But it's been a great experience, right? Oh yes, Mr. Trump. She adds that it was educational, if nothing else.
How's George doing? The Star Trek star gives the Donald props for the 'gracious way in which you handled my leave taking.' Apparently this prompted a flood of contributions to George's charity, the Japanese American National Museum. Trump cuts George off mid-sentence, and we're back to the battle.
It's party time. Clay's outside, greeting guests. Two lines have formed, one for Clay's guests, and one for Arsenio's. So far, most of the attendees are Clay Mates, which makes Arsenio a little nervous. Inside, Lisa organizes the guests by donation size; their event can only hold 75 people, so they need to make the attendance count.  
Penn and Clay find a donor with a $20,000.00 check, a joint donation from a group of Clay Mates, and let her be the first person into the gala. Donations begin to come in over the phone from the likes of Kelly Clarkson and David Foster, and famed pitcher Orel Hershiser arrives with his family and a $20,000.00 donation.
Team Arsenio's donations are trickling in. A rep arrives with a $5,000.00 check from Jay Leno, and another arrives with a Chris Rock donation of $5,000.00. Eddie Murphy sends $10,000.00 and George Lopez kicks in $5,000.00 as well. Another Leno rep arrives with another check, and Jimmy Kimmel sends $10,000.00. The comics are representing!
Another surprise guest is Marco Andretti, originally one of the chosen celebrities to compete, who had to drop out due to a personal problem. He's brought in $10,000.00 for Team Arsenio.  
Lisa has a cute idea. She wanted to donate $10,000.00 to Team Clay, so she hired a Lisa Lampanelli impersonator to deliver the check to Clay. Clay is really touched by her gesture.
The events begin. Clay's carnival atmosphere is a big hit, with stilt walkers, candy floss, and a general 'let's all play' atmosphere. At Team Arsenio, the liquor is flowing, and Arsenio's urging everyone to 'get busy.' The celebs mingle, and photo ops are plentiful. And Arsenio's got a date – Whoopi Goldberg's on her way!
But of course the most triumphant arrival of all is the Donald, in a long black limo, accompanied by Trumpettes Don Jr., Eric and Ivanka. Aubrey, with her flaming red hair even more flamboyant than normal, rushes up to Trump to lead him around the booths. "Clay put me in charge of the entire party, and I'm not letting it go down bad" she chirps.  Clay is not pleased at Aubrey taking over.
It's a more subdued atmosphere at the Team Arsenio event, when Team Trump arrives. Arsenio rushes to find Whoopi, because Trump "loves Whoopi. I love Whoopi."  Arsenio is wearing a lot of hats tonight, as host, emcee, presenter and entertainer, and finds himself pulled in all directions.
At a signal, Team Clay and Team Arsenio pull the ropes attached to the curtains that have kept the two events separate, and the two parties are merged into one. Clay and Arsenio take the stage to greet the guests.
At the live show, Trump now brings Debbie, Dee, Adam, Paul, Penn, Teresa, Lisa and Aubrey on to the stage.  Aubrey's red hair has become very blond. Trump immediately asks Aubrey how she made everyone so angry with her. Aubrey's still basking in the applause she received on her entrance, but has the energy to respond, "I'm a fierce competitor. I suffer from a young, passionate, competitive heart." Ah, the poor dear. She apologizes for offending anyone during the competition, and sends it back to Trump with a compliment about how much she's learned from being on the show.
Next, Trump shows a clip of Lisa's interactions with the other celebs, laced with profanities and patented Lisa-isms.  She laughs and applauds along with the others, saying that it's Trump's fault for bringing "a fifty year old, menopausal beeyotch on the show. At this point I need more hormone therapy than Chaz Bono!"  He then shows the clip of Lisa crying over hurting Dayana's feelings, followed by the clip of Dayana making fun of Lisa's tears.