'The Celebrity Apprentice' Episode 2 – There's No Crying In Baseball Or Apprentice!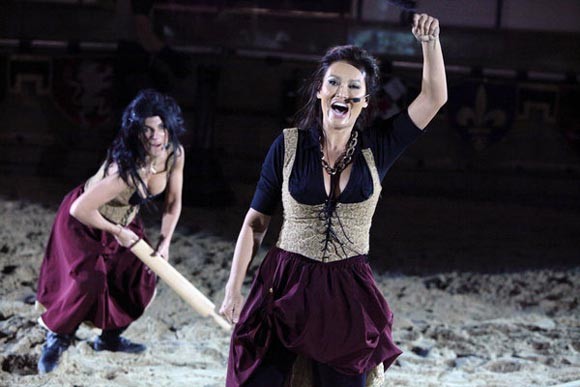 Last week, the celebs pushed 'sammiches,' making a record profit donation for any first week of the series, when American Chopper star Paul Teutel Sr. slightly overcharged one customer to the tune of $305,000. The men of Unanimous rocked, and walked, leaving the ladies in their dust.  Although none of the women on Team Forte seemed to like Victoria Gotti's attitude, they, and even The Donald, were not about to get on the Mob Princess' bad side. So they axed the quietly classy, and original Supermodel Cheryl Tiegs. Looks like the ground rules have been laid; win by any means, and don't worry about anyone but yourself if your last name is Gotti. This may not be quite so exciting after a while.
Post-firing, Victoria and Latina supermodel Patricia Velasquez came back to the waiting room, with Victoria 'joking' that she now knew who her enemies were, after the comments made in the Board Room. Even Lisa Lampanelli, the "Queen of Mean," was a little scared that her remark about Victoria's unprofessional phone usage during work time could find her 'dead in her sleep.' When movie star and Grammy Award Winner Tia Carrere tries to mollify Gotti, by saying she hoped her comments weren't taken in the wrong spirit, she's told, "Don't worry. It's on. It was a gang-up… women are different like that because every last one of you are bitches. Bring it on."
We start a new week by meeting Cecilia Menendez, the mother of 11 year old son with leukemia, Gabriel, who's having his "Make A Wish" wish to visit New York City granted. Paul Teutel Sr.  meets them at a zoo to present them with the almost half a million dollar check for the "Make A Wish" foundation, and then joins them for a stroll. Gabriel is adorable.
But we must get to the hard stuff, so Trump's limo deposits him at a Medieval Times location, trumpeters heralding his arrival, where the celebs wait for their next task. He's joined by Don Jr. and the famed host of "Inside the Actors Studio," James Lipton.  James qualifies as an advisor on this task, as he is an honorary 'Knight,' or 'Chevalier,' of the republic of France, and is metaphorically throwing down the gauntlet, challenging the players. They will need to put together a 12-15 minute show for Medieval Times, which will be judged on creativity and overall entertainment value by audience votes.  Magician Penn Jillette is nominated Project Manager for Team Unanimous, and Lisa Lampanelli for Team Forte.  Trump suggests that Former Miss Universe Dayana Mendoza ride in nude on a horse, like Lady Godiva, for her team. Lisa thinks that Trump has basically given them a directive to get naked.
Comedian Adam Corolla is away for this assignment, so both teams are starting with the same amount of players. Winning team will receive $40,000.00 for their charity. The losing team will see another contestant fired.
Team Forte communicates between their limos by phone, with Lisa immediately setting up a firm rule of no interrupting when another person speaks. As pop icon Debbie Gibson apologizes for jumping in, Dayana takes the opportunity to throw in her own ideas. Awkward! Debbie suggests they signal the end of one person's speech by saying, "I'm done." Ironically, Dayana interviews that Lisa is not listening.
Real Housewife of New Jersey's star Teresa Giudice is thrilled when Lisa's suggestion is to create an "Un-Real Housewives of Camelot" scenario. Debbie suggests that the knight they'll all be fighting over should be Donald Trump, and Lisa offers to impersonate him. MTV star Aubrey O'Day adds that they could throw in a "Snookie" character, and that sounds like fun too!
Leigh Cordner, creative director for Medieval Times, advises the men that he will be making available all of the resources, along with training as needed.  Late night legend Arsenio Hall is a huge fan of the show, saying he's been to MT more times than he's been to LA strip clubs – and that's a lot.
Cordner tells the women that the key to success with MT is action; creating a moment of time in history, with a nod to modern technology. When Dayana clarifies that this will be an all-ages show, Lisa is psyched, as she wants to prove to the world that she can do a whole show without resorting to cursing.       
As the ladies hash out their concept, Dayana again cannot stop interrupting. Aubrey outlines a scenario where Lisa, as Lord 'greatest in the land' Trump, presides and the housewives fight over him. Debbie wonders how Aubrey became second in command to Lisa, and if Lisa might be deferring to Aubrey a little too much. Dayana says she has no problem wearing a nude body suit, despite her earlier 'all ages' concern. Lisa appoints the 'sexy' roles to Tia and Patricia, relegating Victoria to running lights and sound as Creative Director. Victoria says that would not be her strength. The other women think Victoria should be Queen, but Victoria says they should just as well stick her in the closet. Clearly no animosity there.