'The Celebrity Apprentice' - Dionne Warwick Is 'Off The Hook' – ReCap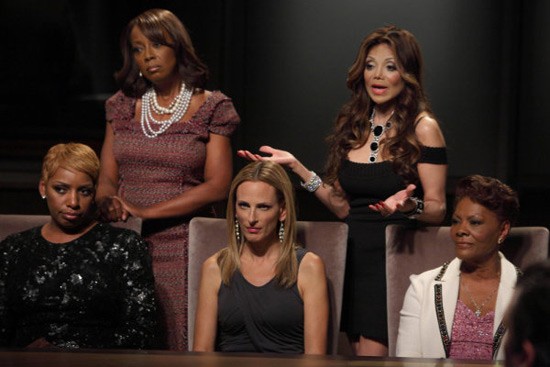 In which I learn very little about video phones, Jose Canseco 'feels pretty', and Dionne Warwick learns that The Boss cannot be faked out, no matter how much you need your beauty sleep.  
This week's episode began with several of the Backbone (Men's) team admitting to Gary Busey and each other that their previous week's win was due to the group effort, and that they needed to present a strong, united front to the A.S.A.P. (Women's) team, in order to keep winning. Busey tearfully presented two $20,000 checks to a representative of his charity, The Centre for Head Injury Services, explaining that he himself had benefited from the work done for him after his own head trauma.
Challenge of the Week: Presented by ACN, a home based marketing services company, the teams are tasked with creating a 30 second commercial about a revolutionary new video phone. They will be judged on creativity and originality, company brand messaging, and the integration of the ACN video phone. They will be judged by 450 of the company's representatives.
With little discussion, Lil Jon and NeNe Leakes are chosen as Project Managers. Lil Jon's specialty is commercials and video directing, so he feels confident he will be able to communicate the message. NeNe felt ready to step up, and 'just do it'. Spotting the height discrepancy, Trump had NeNe (the tallest woman) and Lil Jon (the shortest man) shake hands. The price, again, will be $20,000 from Trump Corp, and $20,000 from ACN, for a total charity donation of $40,000.
Dionne presented a concept that was, at first, well received. She would be herself, working on a recording, in one room, with a studio engineer on the other end of the line, as they created music via the phone. Jose, on the hand, had a wild idea – what about communicating with aliens? But in both cases, a meeting with the ACN executives, who stressed that the emphasis should be on emotion, and a 'face to face connection', not functionality, sent both teams back to square one.
Meat Loaf's next idea was of a spot showing grandparents calling their grandson at Christmas, and learning that the grandson was engaged. Lil Jon's experience in the field lead him to expand the concept to the fiancée being another man. The team agreed that Lil Jon's cutting edge creativity, although risky, could give the commercial both emotionality, and humor. Busey would play the grandfather, and Richard Hatch suggested Jose as the 'other man'.
Meanwhile, Marlee proposed a scenario in which a young girl, in Paris, called home to her deaf mother in the USA. This would allow the daughter to both read the mother's lips, and sign language.  As A.S.A.P. fleshed out their idea, NeNe attempted to assign roles within the project. Hope Dworaczyk and LaToya Jackson showed themselves as weak links, with little to add to the job. LaToya was asked to keep their project timing under control, while Hope volunteered herself for costume and prop procuring.
Mark McGrath and Hatch, on the way to picking up props, wondered if Busey could be kept under control. Meat Loaf became increasingly frustrated as Busey bumbled into every decision and conversation.  
The remainder of Team A.S.A.P. handled the bulk of the project – auditioning actors, writing the script, laying out the scene, and beginning set ups – while Hope and Dionne meandered through the prop workshop, holding up work on set. NeNe realized that Star and Marlee were the only professionals on her team, and asked them directly for their help.
Why do men so love to dress and make up as women? With Hatch's expert assistance, Backbone made Jose into a "Pretty Woman." Despite some arguments over prop choices, the men worked well together to set their scenes. Although John Rich worried that the ACN executives would find their concept too over the edge, spirits ran high. Busey may have been unfocused, but as the cameras rolled, his 40 years of film experience shone through. When Ivanka Trump arrived to check on their progress, the team admitted that they were putting all of their chips on their concept, but wouldn't let her know the twist they had planned.
But things were not running as smoothly for the women's team, as Hope and Dionne arrived with their props. Dionne, in charge of setting up the décor, futzed about, talked down to anyone offering any help, and generally held up the team with her dithering and cranky attitude. Running behind time, NeNe, as director, found LaToya's meekness annoying. Still, the filming went easily, with Academy Award winning actress Marlee playing the American mother, and the team knew they had a commercial that would tug at an audience's heartstrings.
Trouble began when team A.S.A.P. left for the editing suite. Although all were tired, it was agreed that the editing was a group process as well. When Dionne chose to leave rather than support the team, she angered NeNe and the others. And when Donald Jr arrived to find that Dionne had left, he immediately spotted Dionne's absence. Jr was surprised that NeNe let Dionne's attitude slide.
On the way to the presentation, NeNe did a dead on, hilarious impression of Star Jones, to the laughter of all. Dionne felt she had done nothing wrong by leaving early the previous day, as there was nothing left for her to do, and she had been tired. At the theatre, Star attempted to coach NeNe on public presentation, but NeNe took offense to Star's comments. Lil Jon's team arrived in a flurry of bluster and machismo, high spirited and ready to 'bring it.'   
The audience of ACN representatives were first treated to A.S.A.P.'s presentation. NeNe introduced Star, who gave a short, professional introduction to the video. The audience seemed delighted and enthusiastic. Next up, Backbone, who entered like a victorious team, fist bumping, and projecting excitement. Lil Jon welcomed the audience, and promised them that the video they were about to see would take them to the ultimate 'coolness' level. He then reminded them how crucial viral videos were becoming, and said that if ACN were to create a commercial to be shown at the Superbowl, it would be the commercial that Backbone had created. The audience roared with laughter at the spot, and were then whipped into a frenzy of applause as Team Backbone thanked them for watching.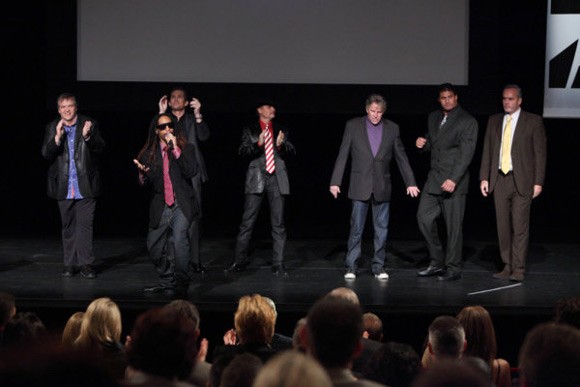 Post show, Trump met again with the ACN executives, who said they had loved both videos. They said that the men's team drew in the audience with their stage presence and mention of viral marketing, while the women's team created a strong emotional appeal. So who won? Well, there's almost 40 minutes left, so you knew there would be some Board Room brawling to come.    
Sure enough, Backbone accepted Trump's praise for Lil Jon's stage presence, but admitted their approach was a little risqué. Lil Jon said that he believed the people that succeed are the people that take chances, and cited the ACN slogan "Life Without Boundaries." Jose worried about how his dad would react, while Busey said the happy audience had won them the challenge. Trump reiterated that the mention of viral marketing had been a key point, and praised the men for working so well together.
As the men congratulated themselves, Trump noticed that NeNe was quietly crying. With Dionne and Star praising NeNe's work, Trump said she had done great work, and shouldn't be crying. NeNe admitted that she was emotional because it was so important to her to succeed for her charity, which supported women victims of domestic abuse, as she, Marlee, and LaToya had all been victims of abuse themselves.
Marlee told Trump that NeNe was one of the best directors she'd ever worked with, prompting Trump to say NeNe could have a new career based on Marlee's praise. Trump then brought up Dionne's early departure of the previous night. Dionne defended herself, saying that she had asked if it was alright for her to leave, but NeNe said she didn't remember being asked.
When A.S.A.P. were asked who was their weakness member, the names of Hope, LaToya and Dionne were brought up. LaToya was proclaimed a follower, not a leader, and although she defended herself, Trump expressed surprise at the dissension within the group.
The winner was announced. The vote was very close, 53 to 47, for the men. Lil Jon was awarded the prize for his charity, The United Methodists Children's Home. The men were overjoyed at their third win in a row, and watched from their War Room as Trump grilled the women about not pulling together.
Let the cat fights begin! While Dionne wondered if the criteria was not clear, Jr said that both teams were given the same criteria, but that the men thought outside of the box, while the women stuck closely to a tried and true format. LaToya and Hope were cited as weak members, but when pushed, Dionne's name was mentioned by NeNe and Hope. Ivanka asked Dionne point blank if her lack of team spirit was a problem of stamina or indifference, and Dionne again stated that she wasn't told or asked to stay through the editing process. Cornered, Dionne blamed NeNe as Project Manager for not being more forthright, and said that if her team wanted her out, she'd vote herself out as well. If she was 'the cog that stops the wheel', then she should go.
Furious, Star said that this sort of thinking was endemic to their team, and why they kept losing. Trump asked Dionne if she had a chip on her shoulder, and Dionne answered that she would love to stay, as she had a lot to offer. However, as she dithered, Trump told her it was too late – she was fired.
As the women left the Board Room, NeNe bent to hug Dionne goodbye. After all, it's business, not personal, right? Dionne's response? "you're a coward, baby." Calling NeNe a liar for not admitting that she, Dionne, had asked permission to leave the editing suite, NeNe and Dionne argued all the way to the elevator, which Dionne entered with her head held high, and a sneer on her face that would stun a moose.
In the Board Room, the Donald told Ivanka and Jr that Dionne had left him no choice when she looked him in the eye and challenged him to fire her. No one gets away with that, he intoned, while his children nodded and agreed. In the limo, driving away, Dionne interviewed that she didn't flex her muscles as much as she could have, but that sometimes ladies have a habit of not being straight up. She then said that she doesn't like craziness, unless she's the crazy one. Pot, meet kettle.
Next week – Mark McGrath stops Meat Loaf from tearing Gary Busey's head off by running as far away from the 'Titans' as his little feet can take him.