'The Celebrity Apprentice' - Bitter Suites - Recap For April 24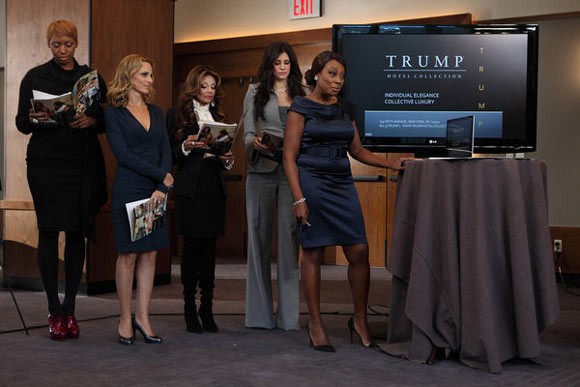 We're back in the Party Room, just after losing Gary Busey last week. NeNe Leakes is still sulking about LaToya Jackson not wanting to be her best friend, and Star Jones greets the men of BackBone as they file in for a much needed drink.  Meat Loaf and Lil Jon tell the ladies of ASAP a few Busey stories. The men seem almost giggly in their relief. John Rich joins both teams in a toast to a great race.
Hope Dworaczyk brings her check to her visit with Best Buddies, a charity she supports.
A new day for the teams, and especially for NeNe, who is determined they'll do whatever work they have to do, despite not wanting to work with LaToya. The Donald arrives and immediately demands to know if the teams think he should run for President. After some nervous laughter, they get down to the challenge. Apparently the Trump Tower Collection, despite being high end, beautiful, properties, needs an advertising campaign. And who better to ask than our celebrities! They must create a conceptual, 4 page pictorial campaign, with each page able to run on its own. Creativity, originality, brand messaging, and the overall pitch will be judged. Go get 'em, teams!
Star immediately offers herself as Project Manager, but the guys have a tough time deciding. "I would say you are all disadvantaged when it comes to luxury," says Trump. And John Rich decides he'll take the PM job after all. I would have thought Lil Jon would have taken the Trump quip as a goad, but no such luck.
At the Soho suite, Star opines that it's less about the individual hotels, and more about the brand imaging. Ivanka Trump drops by with Trump exec Jim, who lets them know the parameters of the Trump Hotel brand; is it uncompromising? Absolutely inspiring? Glamorous? The best of the best? Most ads are generic. La Trump wants more personality, and a new perspective, imbued in the ad. The ladies nod wisely.
BackBone get pretty much the same speech, with the addition of the tag phrase, "Live the Life." John feels he has a better grip on what the Trump Hotel Collection is, following the briefing, but still has no ideas on marketing.
Star says there won't be any boring pictures – they will celebrate the 'lifestyle.' She then adds, "I've had the opportunity to walk the streets of Paris and London and Morocco and San Tropez, and sail the Mediterranean — I know as much about luxury as I know about living"? She envisages a concept. "Individual elegance. Collective luxury."  LaToya is not sold on the concept, and tells us Star is already delegating so that blame will fall on someone else.
John has also assigned roles to 'Meat' and Lil Jon. He feels they are seriously undermanned, with only three players, and that the task would be challenging even with a full team. John mentions that the hotels are expensive, and not in his budget, while Lil Jon says his only need from a hotel is sleep. They think the women will have the advantage on this project. John's lukewarm on Meat Loaf's ideas, but is grateful they do not have to deal with Busey. He later says that Meat Loaf is their weaker link. John and Lil Jon are the focused aspect of the team.
Eric Trump drops by the BackBone suite, and they are overly glad to see him. They have few ideas, and Eric's opinion is that their ideas are long winded, and won't be read. But he tells them they'll be fine, and drifts away. The men continue grasping at straws, despite the services of graphic designers and photographers.
Star assigns NeNe and LaToya to do some shopping. NeNe says NoNo. She has an issue with LaToya. "It's very difficult for someone like me to work with fake women. I'm very real." She thinks Star is throwing them 'under the table.' Huh? Last week it was 'under the bus.' NeNe says it was very unfair of LaToya to tell Trump the she didn't like LaToya. LaToya says she was speaking what she felt was the truth. (You DID call her 'Casper the Ghost' several times, Ne.)  Star holds an impromptu intervention, which ends with hugs and an uneasy truce.
Bob the photographer pops by, and is enthusiastically greeted by the ladies. Product placement, in the form of 'Ivanka's Jewelry' arrives, along with some hunky models.  (Trump's line of ties shows up later.) And Hope's going to be photographed in the bath. Star is lapping up the services of hair stylists and manicurists, almost purring as she says she doubts the men are able to understand the draw of luxury.
Jr drops by the suite, saying he doesn't think his wife would approve of him sitting on a couch next to a PlayMate. Star agrees, but runs her photo concepts past him, mentioning that the bathroom scene features Hope. Jr drools a little, but feels the ladies don't have the 'big picture' completely visualized. Star tells Jr "I think I can be a bit pretentious." To which Jr replies, "I'd say that yes, that would not be a stretch at times." Star claims that "for the first time in my life, being pretentious doesn't hurt me."
Time's a tickin', Ladies! Bob the Photographer tells Star that they're losing daylight, and they must get going on their two photo setups; the bathroom and the lunch set. Star realizes she underestimated the time necessary for NeNe and LaToya to run errands, and begins to panic. As soon as they arrive, she tells them they have five minutes to get the shots organized. NeNe is not pleased at being rushed. Star has opinions on NeNe's staging of Hope's bath glamor shots, saying Hope is too covered up in the bathrobe. NeNe says they are not selling sex, they're selling a hotel. Star leaves, but returns as they film Hope in the tub to say that they need to wrap it up. Although they are really pressed for time, NeNe and Star proceed to have at it, running their mouths instead of the camera.     
Star is equally unhappy with LaToya's staging for the 'ladies that lunch,' saying that LaToya is used to having an idea, and having someone else execute it. She feels the setup lacks the image they had discussed. It's all furs and diamonds, but pretty boring.
Meat Loaf, citing his professional acting and musical resume, has the task of 'shooting' the butler. With a camera, silly! He takes this job to heart, providing the butler with a pep talk, and enough motive to be "the best butler EVER!" So of course, the poor butler ends up looking "like an outlaw picture of a guy that got murdered and stood up in a casket in the middle of town and they took a picture of him." They wind up cropping the photo so that only the arm and towel are visible. John blames Meat Loaf for messing up his task, but really, they just don't have any ideas that are working.
As both teams prepare for their pitch, John Rich asks Meat Loaf to proof their ads for errors, spelling or otherwise. This team knows the words they want to say, but will never win a spelling bee. They are tired and brain dead, and just want the whole thing to be over. While team ASAP are poring over the photos, LaToya says she finds the photos ordinary, and says that Star put the whole thing together. Star needs to go if the team fails. Star, on the other hand, is very pleased with their presentation.
Next morning, John gives the team a pep talk. They will 'knock it out of the park.' They will all be doing the pitch. John Rich suddenly realizes that they've actually been staying at a Trump hotel during Celebrity Apprentice, and that should work in their favour. Not if you just this minute realized it, it won't.  They pitch, and are told it was 'nicely done.' I believe that's called 'damning with faint praise.'
Star's presentation is a little bizarre. She has each of the ladies 'highlighting' a word during her speech. She says a line, then Hope, NeNe, LaToya and Marlee Matlin each drop in a catch word, like 'lifestyle' or 'sophisticated.' It's made even more bizarre by Marlee's interpreter actually voicing Marlee's words. The judges seem to be trying not to laugh at the pretentious pitch. As LaToya interviews, the key word should have been 'corny.'  Star believes the presentation 'rocked.'
Not so much, according to the judges. In fact, one says the women's campaign reminds him of "those ads that get placed under your windshield wiper for sleazy clubs." But he's also picky about Hope wearing a towel in the bath, and drinking champagne from an unopened bottle. The other judge says that Star's having the ladies popping up like jack in the boxes was cringe-worthy. As to the men, their ads are too wordy, there are misspellings, and despite Ivanka's reminder to stay away from traditional imaging, the photos are, well, traditional. Worst of all, there is no 'call to action' in the form of a 1-800 number, or website address. But the men did enthusiastically outline their own experiences in a way that tugged at the judges' heart strings.
Judges James and Jim tell Trump it was more of a car wreck then an ad campaign. After trashing both teams, they admit that the men had the better pitch. In a case of the lesser of two evils, there will be no winner. And the loser is …
Board Room time, and there's still half an hour to go on this episode, so I'm guessing it's gonna get pretty bombastic. Star sucks up to the Donald, saying she doesn't just want to stay in the Trump Hotels, she wants to live in them forever. The ladies agree that Star ran a good campaign, but NeNe thinks that Marlee is the strongest team member overall. During an abbreviated reference to the previous day's dialogue/intervention, NeNe says that, to be 'really real,' she feels a couple of the girls were "crawling up Star's ass." And the Donald adds, 'By the way, much nicer now that she's lost all the weight." My head explodes. But they carry on, with Star adding, "It would not have been very comfortable for you back then." Jr and the men of BackBone laugh, with Jr saying he's having a hard time getting over the visual. I think we can all agree. Is this kind of talk even allowed on TV?
Moving on, Trump says he finds it hard to believe that Marlee would be one of the butt crawlers, and asks her directly if she's 'kissing Star's ass.' Marlee says no, never. She respects Star, and 'kissing ass' would be phony. NeNe says that she has seen LaToya (her new BFF) stand up to Star.
Let's crawl out of Star's butt now, and talk to the men. They think they did well, and John calls Lil Jon and Meat Loaf hard workers. They were all stars, with Lil Jon graphically connecting John's verbiage and Meat Loaf's photos.
Trump says that, while all of the players are smart, neither team was well liked by the judges. Eric Trump, apparently sitting in for Ivanka, tells the men the positives and negatives, as noted by the judges. Jr then does the same for the ladies, adding that the list of negatives is so long, he'll have to read from his notes. Trump is appalled, appalled I say!, at the longest list of negatives he's ever heard on Apprentice. (No one seems to point out the obvious, which is that this kind of campaign, in real life, would cost a fortune, entail an entire team of properly trained craftsmen, and probably take at least two weeks to even begin to organize. But I digress.)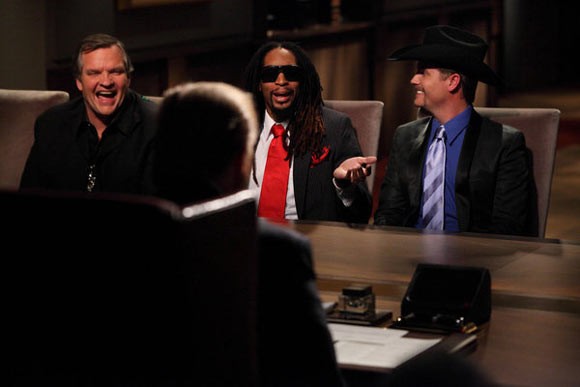 The men win by default. They are dismissed, and watch the show from their suite as the ladies scramble to save themselves.  Star is surprised and shocked that her concept did not win. She takes responsibility for both the concept and the failed pitch, but thinks she should definitely not be fired. When asked, LaToya says that Trump should fire Star, as the PM. Star tells them what to do, and if she didn't want something on the page, it wouldn't have been on the page. Marlee says LaToya should be fired, since she has contributed the least during this series. Jr interjects that the same could be said about Hope, but Marlee disagrees. NeNe admits that Marlee is right, overall, that LaToya has been the weakest. So I guess LaToya and NeNe will not be BFFs much longer. Trump defends LaToya, saying that, in two of the tasks so far, LaToya was singled out as the best contributor. But really, he's just covering, because it's clear that LaToya will be fired, despite Star being the failing PM.
Mark McGrath must be spitting nails, since he took the hit two weeks ago as Project Manager, despite his entire team wanting to fire Busey. Star's butt kissing of Trump, comparing him to her two great mentors, Johnnie Cochran and Barbara Walters, was a lesson in professional butt kissing. No way Trump was going to let her go! I liked the way NeNe took on Star at the end, telling her that winning at the expense of hurting other people was not the way to go.
LaToya, interviewed in the car, said that she enjoyed working on the show, but not working with Star, whom she described as manipulative, conniving, and evil. Well, if you can't say anything nice …
Next week: Before the task even starts, NeNe tells Star she's gonna 'take her down,' as Trump and the other team look on in shock.