'The Butler' Is A Beautiful And Powerful Journey Through Our Country's Dark Past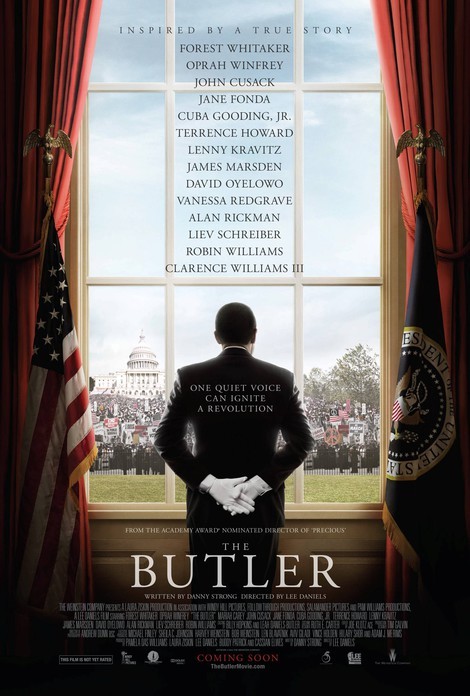 Every once in awhile, a movie comes out that hits you on an emotional and physical level. 'The Butler' directed by Lee Daniels ('Precious') is such a film.
'The Butler' written by Danny Strong, was inspired by Wil Haygood's article in The Washington Post, entitled 'A Butler Well Served By This Election.'  Haygood served as a butler through 8 presidential administrations.
In this film, we follow the journey of Cecil Gaines (Forest Whitaker) who as a boy in 1923, picked cotton on a Georgia farm, alongside his father and mother. 
In one of the most heart wrenching scenes, Cecil watches as one of the farm's overseers (Alex Pettyfer) rape his mother (Mariah Carey) and then shoot his father (David Banner), dead right in front of him.  
Lucky for Cecil, everyone down South isn't a sick, evil bastard. Thanks to the kindness of the plantation's matriarch (Vanessa Redgrave) he's taken out of the fields and given a job in the main house as a servant.
It's here, serving Ms Redgrave, that his education starts. Cecil learns how to be the 'perfect servant' to white folks, which translated means putting on a mask and smiling - no matter what he hears or sees.
Cecil is a quick learner and it's not long before he gets a job at an upscale hotel where he excels. 
This gets the attention of the White House's black maitre d' Freedie Fallows (Colman Domingo), who hires Cecil as a butler - after making sure that he has no political affiliations.  Fallows informs Cecil that 'there is no tolerance for politics at the White House' - something Cecil never forgets.
He winds up outshining all the other butlers on staff, including his two BFFs (Cuba Gooding Jr. and Lenny Kravitz) and becomes the favorite of eight  presidents, including...
Dwight Eisenhower (Robin Williams),  Richard Nixon (John Cusack),  John F. Kennedy (James Marsden), Lyndon B. Johnson (Liev Schreiber) and  Ronald Regan (Alan Rickman) 
Through Cecil, we get to experience the birth of the civil rights movement; starting with Eisenhower reluctantly sending  in federal troops to Little Rock Ark to desegregate the public schools, and ending with Ronald Regan refusing to boycott South Africa for their apartheid policies.
Before I say anymore about this film, I must mention the performances by the remarkable cast:
Miss Oprah Winfrey as Gloria, Cecil's wife.  She gives a beautiful, complex performance as a woman struggling with loneliness, addiction, the changing times and a son; Louis (David Oyelowo) who chooses, despite his father's disapproval, to take a break from college and join The Freedom Riders.  
The actors, depicting the various Presidents, are spot on, especially Liev Schreiber and Alan Rickman.
Rounding out the cast is Terrence Howard as a lecherous neighbor, his wife Adriane Lenox and Elijah Kelley who portrays Cecil's younger son Charlie).
Now for Mr. Whitaker all I can say is Oscar, Oscar, Oscar!  The choices he makes as an actor are not big or showy - they are small, subtle, layered, and powerful.
Whitaker gives Cecil a profound dignity and grace - his character, especially when silent, says so much.
The Butler' takes us on a journey at times - it's a gut wrenching one through a period in our country's history, not too long ago - when ignorant men committed some of the most horrific atrocities toward other human beings.
But Daniels doesn't just show us the lynching, the beatings, the violence; we also get to see the courage and the unbreakable commitment of the people involved in the Civil Rights movement. They are the true heroes of the film.
And as for Cecil, he's a man that doesn't want to make waves. The civil rights movement and the violence it brings scares him. 
But as our country changes, so does Cecil and he comes to understand how vital it is to stand up to injustice. That's what makes the ending of this film so very sweet and so very moving.  
Don't worry, this isn't a SPOILER.  I think everyone knows who got elected in 2008).
The film brings us right up to Cecil voting for the first African American President of the United States.
I think it's obvious how much I loved 'The Butler' which opened Friday, August 15, 2013 and that's why I gave it 5 bagels out of 5.  Unfortunately John had the flu and didn't get to see it, so no bagel score from him.
But check out our video review, he does get a few words in...with a not too shabby British accent.
Please SUBSCRIBE to our channel on YouTube and LIKE us on our Two Jews on Film Facebook page.
Thanks everyone and let us know what you think about 'The Butler.'