'The Blue Elephant,' An Adorable Story Of Friendship, Love And Courage, Comes To DVD Sept. 2

A lovable young elephant journeys into the big world when the CGI animated tale
The Blue Elephant
arrives on DVD September 2nd presented by The Weinstein Company, Genius Products and The Jim Henson Company: Discoveries, the newly formed acquisitions banner that presents third party produced titles that reflect the Company's long-standing tradition of creative excellence.
Produced in Thailand by Kantana Group Public Co. Ltd., The Blue Elephant features all-star voice talent including Emmy Award winner
Martin Short
(
Spiderwick Chronicles
,
Santa Clause 3
), eight time Emmy Award winner
Carl Reiner
(
Father of the Pride
,
Ocean's Thirteen
) and
Miranda Cosgrove
(
iCarly
,
Drake & Josh
).
A heartwarming film brimming with thrilling adventure,
The Blue Elephant
is a touching story with valuable life lessons as a young elephant encounters new friends, first love, and unexpected challenges. Fun for parents and kids alike!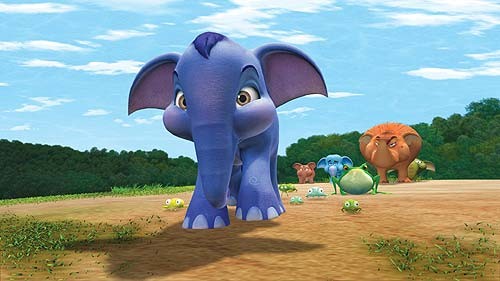 About The Jim Henson Company: Discoveries: The Jim Henson Company has been an established leader in family entertainment for over 50 years and is recognized worldwide as an innovator in puppetry, animatronics and computer graphics. The Jim Henson Company: Discoveries, is a newly created acquisitions banner, celebrating outstanding third party produced independent film, television and video productions from around the globe that embody the Company's enduring legacy. With additional locations in New York and London, The Jim Henson Company is headquartered in Los Angeles on the historic Charlie Chaplin lot complete with soundstage and post-production facilities. Independently owned and operated by the five adult children of founder Jim Henson, the Company is also home to Jim Henson's Creature Shop™, a preeminent character-building and visual effects group with international film, television and advertising clients, as well as Henson Recording Studios, one of the music industry's top recording facilities known for its world-class blend of state of the art and vintage equipment. The Company is currently in production on "Sid the Science Kid," a new science readiness animated series for preschoolers scheduled to debut on PBS in September 2008, and recently launched "Puppet Up! - Uncensored," a live puppet improvisational show that has played to sold out crowds around the world and premiered as a special on TBS. The Company has also announced the creation of Jim Henson Designs, a merchandise collection inspired by Jim Henson's earliest sketches. www.henson.com
About Genius Products: Genius Products, Inc. (OTCBB:GNPI), along with The Weinstein Company Holdings LLC, together owns Genius Products, LLC, a leading independent home-entertainment distribution company that produces, licenses and distributes a valuable library of motion pictures, television programming, family, lifestyle and trend entertainment on DVD and other emerging platforms through its expansive network of retailers throughout the U.S. Genius handles the distribution, marketing and sales for such brands as Animal Planet, Asia Extreme(TM), Discovery Kids(TM), Dragon Dynasty(TM), Dimension Films(TM), Entertainment Rights group companies (Entertainment Rights, Classic Media and Big Idea), ESPN®, IFC®, RHI Entertainment(TM), Sesame Workshop®, TLC, The Weinstein Company® and WWE®. Genius Products, Inc. is the managing member of Genius Products, LLC, in which it holds a 30% equity interest.
About The Weinstein Company: The Weinstein Company was created by Bob and Harvey Weinstein, the brothers who founded Miramax Films Corp. in 1979. TWC is a multi-media company that officially launched on October 1, 2005. Dimension Films, the genre label that was founded in 1993 by Bob Weinstein, is also included under TWC banner. The Weinstein's are actively working on the production, development and acquisition of projects for TWC.