The Bloodhound Gang Banned From Russian Concert Over Flag Stunt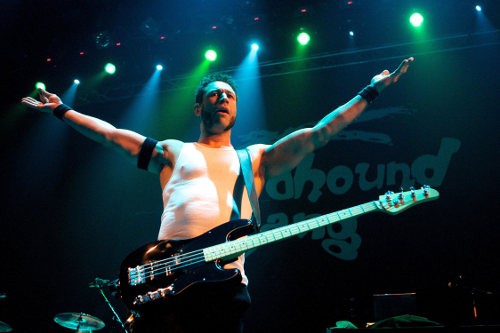 The Bloodhound Gang have been banned from a Russian music festival after one of the rockers desecrated the country's flag during a performance.

The Bad Touch hitmakers were playing for fans in the city of Odessa when bassist Jared Hasselhoff stuffed the banner into his underwear and then pulled it out of the back of his pants.

He then threw the flag into the crowd and shouted, "Don't tell (President) Putin!"

Video footage of Hasselhoff's antics was posted on YouTube.com, and now Russia's Culture Minister has announced the band is no longer welcome at the Kubana festival in the Kuban region, which kicked off on Thursday and runs until August 7th.

In a post on Twitter.com, Culture Minister Vladimir Medinsky writes, "I spoke to the Krasnodar region authorities. Bloodhound Gang is packing their suitcases. These idiots will not perform in Kuban."

The Prodigy, Guano Apes and Scooter are among the other acts in the Kubana line-up this year.