The Bird And The Bee Announces Digital-Only Release Of Their New Valentine's Day EP

The past year has been an eventful one for
the bird and the bee
, the Los Angeles band made up of singer Inara George and multi-instrumentalist/producer Greg Kurstin.
The
Los Angeles Times
named them one of "10 Bands on the Horizon for 2007" and their self-titled debut, a deliciously subversive indie-pop album, was released in January to rave reviews.
The New Yorker
called it "a sure delight" and
Rolling Stone
described their distinct sound as "audible sunshine." Their music could be heard on shows like
Grey's Anatomy
, and they toured throughout the United States, Europe and Japan, both as a headliner and opening band for such artists as
Lily Allen
,
Sia
and
Rilo Kiley
.
Always enchanting, the bird and the bee are now releasing the
One Too Many Hearts
EP just in time for Valentine's Day! The four-song EP includes three new songs by the duo: "Birthday", "The Last Day Of Our Lives", which Inara George describes as "kind of a flower child-funk/Serge Gainsbourg-thing", and "Come As You Were".
Polite Dance Song:
The EP's closer, "Tonight You Belong to Me" is a duet sung by George and Gus Seyffert (a multi-instrumentalist who has toured with the band playing guitar and autoharp). The song was originally written in 1926 and was most famously made a Country hit by
Dottie West
in 1977 and later performed as a duet by
Bernadette Peters
and
Steve Martin
in the 1979 film
The Jerk
.
For more information about the
Please Clap Your Hands
EP, check out the
e-card
.
"Birthday":
QuickTime
|
Windows
|
Real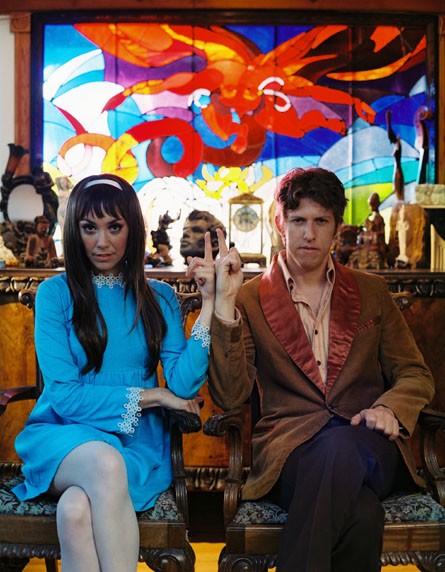 More the bird and the bee:
Starpulse page
www.thebirdandthebee.com
www.myspace.com/thebirdandthebee
(Streaming audio and/or video links may expire without notice)