The Biggest Star Of South By Southwest's Interactive Festival? Grumpy Cat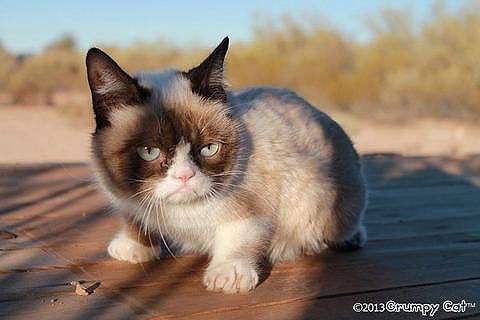 Internet sensation "Grumpy Cat" is now back home in Morristown, Arizona after spending last weekend partying it up with fans at the South By Southwest Music, Film and Interactive festival in Austin, Texas.

Grumpy Cat, real name Tardar Sauce -- the feline with the priceless permanent puss on his face -- posed for photos with fans who waited for hours in line to meet the cat at the Mashable House during the first weekend of this year's event.

A photo of the Tardar Sauce went viral after it was posted on Reddit by Bryan Bundesen, brother of owner Tabatha 'Tabby' Bundesen, last September, cat-apulting the feline to instant fame.

"I don't mind [all the attention]," Tabby told CNN. "I'm thrilled to see that my cat brings joy to people."

Bryan, Tabby and her daughter Crystal appeared on the The Today Show in December because of all the attention their pet was getting (and so co-host Lester Holt could make a fool of himself over not having heard the name 'Tabby' before.)

"We think she looks so grumpy you can't help but feel happy when you look at her," Bryan said. "She's like a stress reliever for everybody."

Tardar Sauce is actually a very happy cat, according to the official Grumpy Cat website. The 11-month-old feline is "a normal kitty 99% of the time" and isn't in front of the camera as much as people think.

The family donates a portion of the profits they make on Grumpy Cat's appearances and online revenue to their local animal shelters in Arizona.

See more of Grumpy Cat on her Facebook page, Twitter and Tumblr pages.

Not into cats? You can always go check out the dog that looks like Samuel L. Jackson.