The Best & Worst Films Starring Drew Barrymore

There is perhaps no greater polarizing figure in the film world than
Drew Barrymore
. Very few waffle on Drew Barrymore's ability as an actress - you either love or hate her.
Some are entranced by the starlet's positive attitude and sunny demeanor. Others see that personality as a perfect compliment to her blonde hair. (Personally, we're pro-Drew, for who can hate a genuine sweetheart)? Either way, no one can deny that the actress has engaged her audience her entire life - from childhood celebrity to teenage addict to serial bride to nude poser. All the while, and quite amazingly, Barrymore has maintained a certain sweet girl innocence. It is difficult to believe that she is only 33 and has a lifetime of roles yet to come.
For now, we are interested in only those films, both good and bad, that she has already completed. Following are Barrymore's best and worst works:
The Worst
3.
Charlie's Angels: Full Throttle
This film lacks all of the fun and comedy that made its
predecessor
bearable. Mainly, this downfall is due to the lack of
Bill Murray
and
Sam Rockwell
. (
Bernie Mac
and
Justin Theroux
simply don't cut it). The jokes are tired and the gags are expected, and this film reads like a piece of toast with too little butter; it's just spread too thin. It is a very delicate matter trying to negotiate the line between silly fun (the first "Charlie's Angels") and silly bad (this one), but that does not change the fact that this film just really fell flat.
2.
Riding in Cars with Boys
We forgot this film existed until we looked at Drew's resume. Talk about a film that took a nosedive into the abyss of forgotten bad movies, "Boys" delievers laughable performances from Barrymore,
James Woods
,
Brittany Murphy
,
Steve Zahn
and everyone else, while failing to garner any kind of motion for a difficult situation. Apparently, when the original rights were bought for this film, Cher was supposed to star, so I guess we can be thankful that at least she was not in it.
1.
Never Been Kissed
This goes down in history as one of the weirdest films of all time. Barrymore plays an ugified journalist, Josie Geller, who has to go back to high school, pretend to be a teenager, and get the scoop on the popular kids. (There just isn't enough good reporting these days on the binge drinking habits of greasy skinned teenagers).
Unfortunately for Josie, she was not that popular in her last go-around as a high-schooler and has a difficult time fitting in. Then she befriends her teacher and is rescued by her brother, a washed-out baseball player, who has also come back to the school. (Apparently, this school needs an update in its security measures). The uniquely weird part of the film is the relationship with her teacher, played by
Michael Vartan
. Once Josie tells the world that she is really in her 20s, Vartan becomes enraged and refuses to talk to her again, until he gives Josie her first real kiss at the end of the film. So, in this film a teacher, who had sexual feelings for his student, is mad at that student for lying about being younger than she is. This twisted logic is why "Never Been Kiss" landed the top slot.
The Best
3.
50 First Dates
This film is, and probably was, tailor made for the romantic comedy ability of Barrymore. She plays the delightfully absent-minded Lucy, who is the object of affection for the Don Juan of the tropics, Henry Roth, played by
Adam Sandler
. (To date, Sandler has passed himself off as Casanova, a football great and a Casanova firefighter, which is worth thinking about). Barrymore perfectly encapsulates everything Lucy, as her sweet, yet damaged personality makes the film one of her best.
2.
Confessions of a Dangerous Mind
This film, already discussed in the
Three Best & Worst Films Starring George Clooney
, represents Barrymore's finest work as an actress. Drew plays Penny, Chuck Barris' love interest, who is in the
Amy Adams
mold - a vulnerable love interest, who is also self-aware and quietly dignified. Her unrequited love for Barris is one of the more heart-breaking aspects of the film.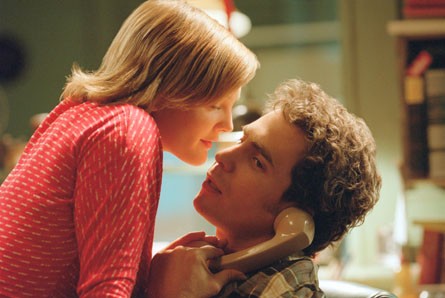 1.
The Wedding Singer
While "Confessions" marks Barrymore's best performance, it would be misleading to put it at number one on this list. That is because "Wedding Singer" best embodies the type of character that Barrymore has played for years. As Julia, her rosy disposition and loving care for those around her force the audience, even its most pretentious members, to fall in love for her. And when Robbie sings that song in the airplane to win her over, we dare anyone to come forward and proclaim with a straight face that they were not moved.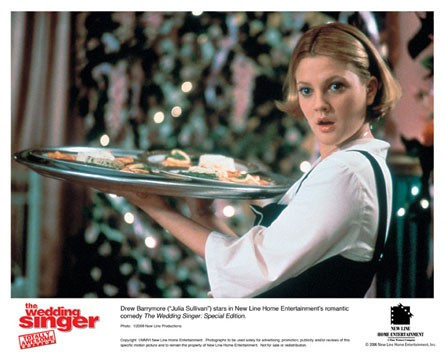 Story by
Taylor Tepper
Starpulse contributing writer