The Best & Worst Commercials From Super Bowl XLVI (Watch Them)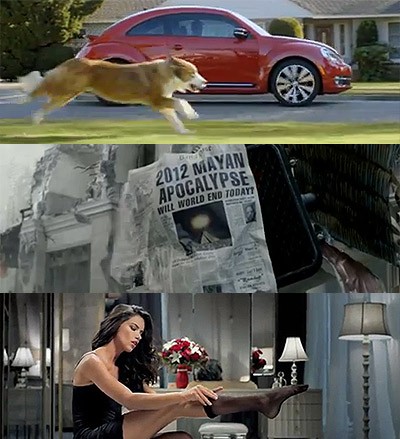 Last week we brought you some of the commercials from Super Bowl XLVI that were released early; and this week we've got the full rundown on the best, the worst and the downright ugliest ads that aired during Sunday's big game between the New York Football Giants and the New England Patriots.

During the Giants' path to beating the Patriots 21-17 and winning the coveted Vince Lombardi trophy for the fourth time (their eighth national title overall, dating back to before the Super Bowl era) there was plenty of entertainment to be seen during game breaks from the usual cast of characters - cars, beer, upcoming movies & talking babies.

There was the return of an 80s icon, the end of times, a sexy supermodel and even a celebrity death.

The best: Chevy's 2012 end of the world ad. The worst, as always: GoDaddy.com's scantily clad Danica Patrick 'we promise if you go to our website you'll see lots more skin than in this commercial' bait & switch tactic.



THE BEST
Chevrolet: "2012" (it's also a Twinkies commercial!). Just like the Giants, Gov-- er, General Motors is this year's big winner as just about all of the auto maker's ads were excellent. Their best shows what happens in the aftermath of the upcoming alignment of the planets & end of the Mayan calendar on December 21st.  

Chevrolet: "Happy Grad" - Chevy held a contest to create a new car ad for the company and this one was the winner, created by Zack Borst. The ad's been running for over a week now, but part of the prize to the winner: airing it during the Super Bowl. Congrats Zack!

Chevy Sonic: "Joy" - Bugs in the yard notice a Chevy owner getting ready to hit the road, and they all want to join in on the joy ride.

Chevy Volt "Aliens #1 & #2" - Last week scientists said aliens would most likely not be remotely interested in Earth as our civilization is too primitive. Not these aliens though - they seem to have trouble understanding how a hybrid car works...

Skechers: "Mr. Quiggly" - Can a tiny French Bulldog outrun a field of Greyhounds at the dog track?

Honda: Matthew's Day Off - Matthew Broderick returns and shows us how to skip out on work and have a fun-filled day while the boss thinks you're sick. Sound familiar?

Volkswagen: "The Bark Side" - Star Wars has been a popular theme with the German auto maker, and this year the goal was to outdo last year's little kid dressed as Darth Vader and trying to 'force' things. The ad was kicked off with a teaser ad last week (the first of the next two videos below), followed by the new ad, which patrons of Chalmun's Cantina (look it up) thought was better than last year's ad. Well, most patrons...

Volkswagen: "The Dog Strikes Back"