The Best Tweets From Celebrities Supporting The US Men's National Team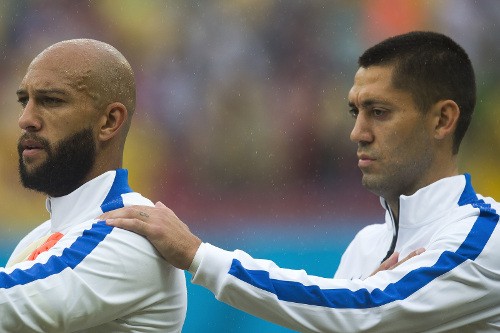 The United States may have been eliminated from the World Cup after losing to Belgium, but that isn't stopping our favorite celebrities from sharing their support of the brilliant effort given by the athletes on the team.
We'll start with Tom Hanks, who posted a photo on WhoSay of his family getting anxious for the game. "Oh yes. We are watching! US of A! Go! Hanx's," he captioned the shot, which includes sons Colin and Chet and wife Rita Wilson. Hanks also wrote, "Tim Howard remains a god."
After the team lost 2-1 in extra time, tons of celebrities congratulated them for their run in the world tournament. Breaking Bad star Aaron Paul wrote on Twitter, "Yes, It was a loss but USA you f---ing killed it just now. Thought I would remind you of that. #WorldCup."
Other great tweets:
HEART BREAKER. Proud of how our guys battled at the end. Tim Howard... WOW. #BeastMode #USMNT

— Justin Timberlake (@jtimberlake) July 1, 2014
Proud that our guys, just like our country, never gave up. Tim Howard--most valuable player in the World Cup. #USMNT

— Vice President Biden (@VP) July 1, 2014
Something sacred about the entire nation being on the same page at the same time #OneNationOneTeam #ThankYou @ussoccer for uniting us!

— elisabeth hasselbeck (@ehasselbeck) July 1, 2014
Aaaarrrggghh... Respectful applause. Wow. Howard for Secretary of Defense! #USAvsBEL

— James Van Der Beek (@vanderjames) July 1, 2014
Taking break from vaca to say I'm proud of #TeamUSA. Great effort in 2-1 loss to Belgium. Thanks for the exciting moments...#BackToVaca

— Robin Roberts (@RobinRoberts) July 1, 2014
Unbelievable game. I'm so proud to be an American! Our guys battled. Thanks #TeamUSA for such a great run

— Drew Brees (@drewbrees) July 1, 2014
Goalkeeper Tim Howard set a World Cup record with 16 saves and became one of the few players in history to be named Man of the Match on a losing side in the World Cup. His performance was hailed in a trend on Twitter, #ThingsTimHowardCanSave. Users edited Tim into several photos, having the keeper save The Titanic, Blockbuster, Taylor Swift (from Kanye West), and even Mufasa from The Lion King.
#ThingsTimHowardCouldSave pic.twitter.com/nNXpS9mKhw

— Devon Simone Felix (@DevMysterio) July 2, 2014
#ThingsTimHowardCouldSave Mufasa pic.twitter.com/zwXYbfqb5j

— Six Pack Sports (@sixpacksportz) July 2, 2014