The Best Of Philip Seymour Hoffman

Synecdoche, New York
, starring
Philip Seymour Hoffman
, opens in select theaters Oct. 24. Hoffman plays a wild-eyed theater director who attempts to build a life-sized replica of New York City in preparation for an ambitious play. Check out our list of some of Hoffman's greatest works:
Cold Mountain
The star-studded "Cold Mountain" is a sweeping tale set in the final days of the American Civil War.
Boogie Nights
"Boogie Nights" is less a film about pornography than the serio-comic story of a group of misfits, losers, and lost souls who are embraced by Jack Horner (
Burt Reynolds
), a director who makes "adult films, exotic motion pictures."
The Big Lebowski
"The Big Lebowski" is a comedy crime caper from the Coen brothers that pivots around a case of mistaken identity complicated by extortion, double-crosses, deception, embezzlement, sex, pot, and gallons of White Russians (made with fresh cream, please).
Charlie Wilson's War
"Charlie Wilson's War" is an adaptation of George Crile III's incendiary bestseller. It tells the remarkable story of the Texas congressman whose efforts to prevent the Red Army from overtaking Afghanistan eventually led to the collapse of the Soviet Union while simultaneously fueling the rise of radical Islam.
Capote
The creation of one of the most memorable books of the 1960s -- and the impact the writing and research would have on its author -- is explored in this drama based on a true story.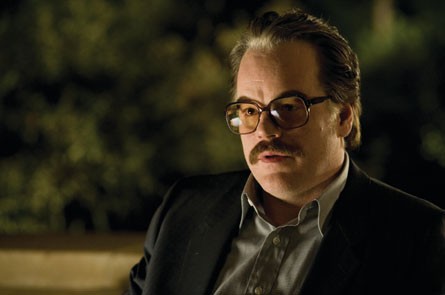 Check out the official website for Synechdoche, NY
HERE!
What are your favorite films starring Philip Seymour Hoffan?
Let us know in the comments!