The Best Of A Bad Year: 2008

(
Truth Justice and Gordon Shumway
- weekly column) I'm not going to lie to you, 2008 was a pretty terrible year. But, over here at "
TJAGS
" we're not going to focus on the bad; instead, let's focus on ten good things that happened during the past year. Not just good things, not just great things, but some may be inclined to call call them the ten "best" things to happen, at least in the world of entertainment, in 2008.
Hey, if you feel I missed something, feel free to add it in the comments. In fact, let's make this one big love fest for what was the year 2008 before we, you know, tell it not to let the door hit it in the ass on the way out.
10.
Frost/Nixon
- Movies adapted from plays often have a hard time breaking out of the confines that limited it on stage.
Glengarry Glen Ross
is a great movie, but it still feels like a play;
Frost/Nixon
breaks out in a big way, fully realizing itself as a big story featuring larger-than-life characters in what turns out to be one of the finest films of the year.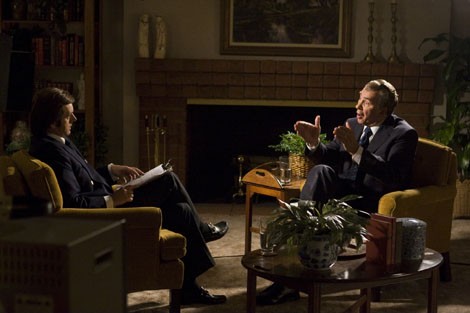 9.
How I Met Your Mother "The Fight"
- In what was narrowly the best episode of one of the best shows on television, "The Fight" used every HIMYM trick in the book: Flashbacks, flash forwards and, by far, the best
Star Wars
reference on television this year -- a scene set three to five years in the future after Marshall is disputed after promising the technology to invent a lightsaber is ... three to five years away.
8.
Sarah Silverman and Matt Damon in "I'm F*cking Matt Damon"
- What was originally intended as a birthday present to
Jimmy Kimmel
by then girlfriend Sara Silverman, became an Internet sensation after originally airing in Janurary on
Jimmy Kimmel Live
. What makes the video is Damon himself who appears to be having the time of his life admitting to his longtime faux arch nemesis, Kimmel, that his is, indeed, having relations with Kimmel's girlfriend ... "on the bed, on the floor, on a towel by the door, in the tub, in the car, up against the mini-bar."
7.
Fred Armisen on Saturday Night Live
- While
Tina Fey
was attracting all the headlines for her portrayal of former Vice-Presidential candidate
Sarah Palin
, Fred Armisen was, well, keeping it cool. Whether it be as political commentator Nicholas Fehn giving us his "skewed views" on Weekend Update, or as
Barack Obama
. Our 44th President does not exactly have the easily-mockable personality traits that recent Presidents have had; in fact, perhaps his only mockable trait
is
the fact that he is so "cool." A trait Armisen nails in this parody from earlier this season as well as an almost dead on impersonation.
6.
American Aquarium's The Bible and the Bottle
- If you are not fortunate enough to have heard of American Aquarium yet, consider yourself informed. This independent band out of North Carolina -- a state that they are more than proud of reminding, well, anyone who will listen, of their allegiance to the Tar Heel State -- lays down a balls-out comeuppance to ills of idealistically lost love and the bottle of liquor that usually follows. Sounds and songwriting reminiscent of the one produced by a young E-Street Band further up the Atlantic coast; sprinkled, of course, with a dash of rockabilly which, again, never lets one forget they are the pride of North Carolina -- even when playing on a Manhattan stage.