The Best Of 2011 - Starpulse.com Editors' Picks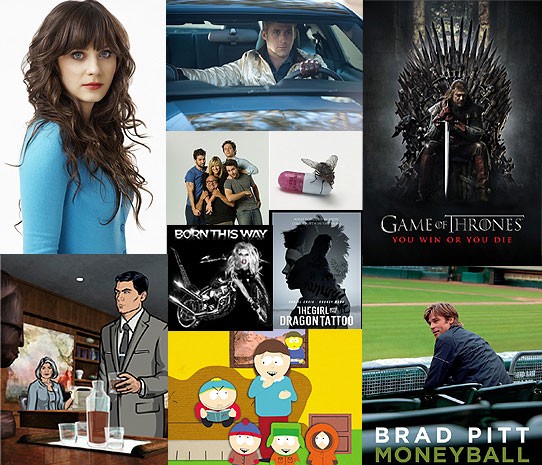 You've seen the rest, now see OUR best - Starpulse contributing editors Pete Weiss, Noelle Talmon, Kevin Blair & Casey Johnson bring you their favorites from the year that was - 2011. We've been watching & listening, too, and here's what we think are the best TV shows (Drama, Comedy & Reality), the best movie of the year, and the albums that had the most plays on our iPods...
Pete, Editorial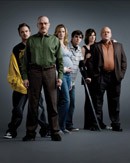 Best TV Show, Drama: Breaking Bad

The big networks should follow AMC's lead, as they continue to produce the best programs on television. Season 4 of Breaking Bad was no exception, great acting and great storytelling has never been better.

Best TV Show, Comedy: South Park

Matt Stone and Trey Parker have poked fun at celebrity personalities and have kept pop-culture and society in check with their own brand of humor for more than a decade. Now in it's 15th season on Comedy Central, South Park just seems to get better with age and thankfully there is no end in sight.

Best TV Show, Reality: American Restoration

The History channel has been throwing darts at the reality TV board by the hand full lately (aka Ancient Aliens, Big Shripin', Swamp People, to name a few) and they've hit a few home runs with 'Top Gear,' 'American Pickers,' and 'Pawn Stars.' One offshoot of 'Pawn Stars' that has caught my attention is 'American Restoration.' The show features Rick Dale and his nutty crew at Rick's Restorations in Las Vegas, Nevada. They take rusty, beat-up nostalgic and collectable items and restore them. It's pretty cool to see old items, such as a 1920's gas pump, an old coke machine from the 30's, or an old collectible bike from the 50's get torn down and totally restored to it's original beauty. You also realize just how well things were built way back when and how much pride and craftsmanship went into building and manufacturing these items. It certainly beats watching 'Keeping up with the Kardashians.'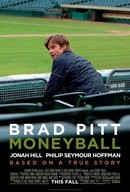 Best Movie: Moneyball

Billy Beane rewrote the book on how to assemble a winning major league baseball team on a small budget. That story along with Brad Pitt's acting chops is a winning formula and a must see, not only for sports fans.


Best Album: (tie) The Black Keys, "El Camino" & Fleet Foxes "Helplessness Blues"

For those that long for the days of real "rock and roll" with great guitar and vocals, the Black Keys are for you. Their latest "El Camino" will not disappoint as their blues-style guitar riffs and punchy sound will win you over song after song. If you haven't heard of this great duo you need to give their entire discography a listen.
It has been a long wait since the 2008 release of the Fleet Foxes self titled debut album. Their 2011 sophomore album "Helplessness Blues" not only lived up to but exceeded my expectations. The band's sound is their own and unique but if I had to put a label on them, I'd say they are a mix of The Birds, CSN and Bob Dylan, all of which are in the Rock and Roll hall of fame. They are a band to watch and you need to give them a listen.
Noelle, Contributing Editor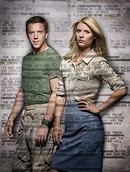 Best TV Show, Drama: Homeland
Claire Danes gave a spectacular performance as a bipolar CIA agent who fell in lust while investigating a prisoner of war hero who wound up being a traitor working for Al Qaeda. Danes' performance is award worthy, and the finale set up unanswered questions that make us count the days until season two.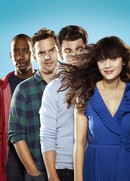 Best TV Show, Comedy: New Girl
The adorkable Zooey Deschanel lit up the small screen this fall on "New Girl." The series got two Golden Globe nominations for "Best Television Series-Comedy or Musical" and "Best Actress." What's not to like?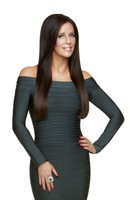 Best TV Show, Reality: Millionaire Matchmaker
There's something compelling about watching millionaires struggle to find "the one." It proves money can't buy you love. Plus, it's great seeing Patty Stanger telling the millionaires how it is without sugarcoating it.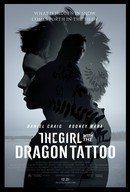 Best Movie: The Girl With the Dragon Tattoo
The book ruled and the Swedish big-screen version kicked ass. Rooney Mara turned into a method actor for the role, completely embracing the look and feel of Lisbeth Salander. We love actors who completely alter their looks in the name of art.

Best Album: "Born This Way" - Lady Gaga
It's catchy, it's danceable and it's pro gay rights. Gaga is on her way to becoming a pop star icon in the vein of Madonna.
Kevin, Contributing Editor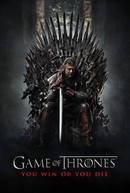 Best TV Show, Drama: Game of Thrones
George R.R. Martin's epic medieval fantasy series "A Song of Ice and Fire" made its way from page to screen thanks to HBO and a ginormous budget ($50 million!) and quickly became one of the most popular shows of the spring. Boasting a fantastic cast including Hollywood's #1 guy who gets gruesomely killed in everything Sean Bean (Spoiler Alert: unfortunately he loses his head in this one too), season one tackled the first book in the series - "A Game of Thrones" - in its 10-episode run. Like the books, strong characters and the author's fearlessness when it comes to offing main characters at will drive this tale of power, lies and corruption.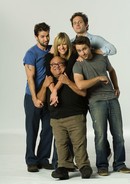 Best TV Show, Comedy: It's Always Sunny in Philadelphia
Now in its seventh season, this brilliant comedy centered around five despicable Philadelphia suburb bar owners and their total disdain and ignorance toward society is pure win every week. It's like South Park meets Seinfeld and there's never a dull moment or lack of outrageousness. Airing on F/X, Always Sunny is better than any network sitcom in the last decade. This season's best episode? Without a doubt, "The Gang Goes To The Jersey Shore."

Best TV Show, Reality: Survivor
The longest running reality show on television never seems to get old. The show's producers seem to freshen it up every few seasons by adding a new twist (hidden immunity idols, exile island, redemption island) but in all honesty they could stick with the format of the first season and it would still be worth watching this social experiment and the dynamics of human relationships twice a year.

The first half of 2011 saw the latest twist, Redemption Island give players a second chance at staying in the game after the tribe has spoken, but the real highlight was seeing two of the biggest villains from seasons past - "Boston" Rob Mariano and Russell Hantz - come back to lead the two tribes in battle. Rob's antics and constant reminders to the camera of how stupid everyone else in the game was added humor and took him from villain to hero status almost overnight. He ultimately won the game with minimal backstabbing and by stepping aside to let his fellow tribemates dig their own holes and seal their own fates.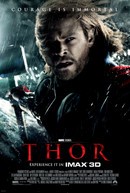 Best Movie: Thor
One of a few introductory/lead in films heading up to 2012's highly anticipated The Avengers, Kenneth Branagh's take on Norse God Thor was the most entertaining all-around film of the year. A great cast including Chris Hemsworth, Anthony Hopkins, Natalie Portman and Tom Hiddleston helped tell the tale of the origins of this superhero and gear viewers up for his return in The Avengers, alongside Captain America (Chris Evans), Iron Man (Robert Downey Jr.), and The Incredible Hulk (Mark Ruffalo). Despite a PG-13 rating, Thor was much tamer than its superhero counterparts and should have received a straight PG. There was little, if none at all, cursing, no blood, and the violence involved defeating an evil alien race with few human casualties. With a fast pace and a great story, Thor was fun for the whole family in 2011.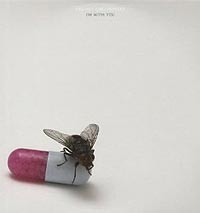 Best Album: (Tie): Red Hot Chili Peppers - "I'm With You" and Coldplay: "Mylo Xyloto"

Forget all those one-hit-wonders & one-album-wonders (even Lady Gaga's second album, "Born This Way," didn't have the staying power her first record did) - the two best albums this year came from ROCK bands. First off, despite having to replace guitarist John Frusciante, the Red Hot Chili Peppers' 10th studio album, "I'm With You," is pure gold from start to finish. Most people wouldn't know that though, because the album's first single, "The Adventures of Rain Dance Maggie," was possibly the worst song on the album (by "worst" I'm saying you could have 10 Victoria's Secret models in front of you and one of them technically has to be the worst looking one) and didn't help sales in the U.S. The album topped the charts in 18 countries - except in their native homeland. This was probably because of the departure of Frusciante and subsequent hiring of Josh Klinghoffer (who worked with the Peppers plenty in the past, including on tour and playing with Frusciante in the past) to take over guitar duties and nobody having any faith in him. The album is nominated for a 2012 Grammy (Best Rock Album) and the band will be inducted into the Rock and Roll Hall of Fame in 2012 also.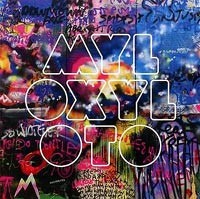 Unlike the latest from the Chilis, Coldplay's sixth studio album, "Mylo Xyloto," took more than the first listen to get used to before realizing how good it really is. At first listen there was doubt, but the little inner voice saying 'give it another chance' must've heard something because this is another gem from the British band. And just like "I'm With You," the first single here - "Every Teardrop Is A Waterfall" - is another weak debut single and perhaps the "worst" song on the album. And what, exactly, is a "Xyloto"? Well, the answer is out there...



Casey, Contributing Editor

Best TV Show, Drama: The Walking Dead

Based on an acclaimed comic book of the same name, The Walking Dead arrived last Halloween and has kept views on edge ever since. Anyone who has read the comic book knows that, much like George R. R. Martin, scribe Robert Kirkman has no qualms about killing off key characters. It creates peril and growing dread that is needed in a zombie flick. That said, the show has already taken hard turns away from the source material (there is one big character that should be long dead) that keeps those of us that have read the comic guessing. On a side note, there is something to be said for awesome and conventional zombie makeup - the low CGI level in the series is welcomed! If you want to see what the deal is (or need to catch up), AMC is airing every episode December 31, from 11 AM to midnight.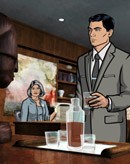 Best TV Show, Comedy: Archer

After the brilliant Sealab 2021 and the not-so-smart Frisky Dingo, Adam Reed has probably created his masterpiece with Archer. Suave spy Sterling Archer is incredibly talented (at times) while working for his mother's bumbling espionage company. This is the closest to an Arrested Development reunion you're going to get; Jessica Walter, Jeffrey Tambor, David Cross and Judy Greer all give their voices to recurring characters. Add the awesome H. Jon Benjamin (as Archer), Aisha Tyler, and Chris Parnell, and you have one hell of a cast.
(sfw? Still hilarious)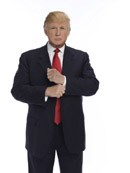 Best TV Show, Reality: The Celebrity Apprentice

Where else are you going to see Meat Loaf scream at Gary Busey? NBC's reality hit, doled out in epic 2 hour episodes, lets us see celebrities bicker over who gets to be on the cover of a children's charity book and deal with technology like smart phones and laptops. If there's one thing that the show has taught me, it's that modern-day musicians are the best business men (John Rich and Lil Jon rolled most of the competition last season). And then there's Gary Busey Selling Omaha steaks with a story about kites.

Best Movie: Drive

The best thing that happened to Drive was that it was not optioned by a big studio and Hugh Jackman dropped out of production. No offense to Jackman, but Drive excels as an art house action film made with conventional effects that stand out from the rest of Hollywood's offering. Jackman's presence would be off-putting in the scenario; he would chew up too much scenery. Instead, a brilliant cast comes together: Ryan Gosling, Carey Mulligan, Bryan Cranston, and Albert Brooks. Made on a "shoestring" $13 million dollar budget, Drive brings back the type of film that died off with Bullitt and Dirty Harry. The neon "it's the 80's but not" style is icing on the cake.



Best Album: Beastie Boys, "Hot Sauce Committee Part 2"

The Beastie Boys probably aren't setting any new trends with their latest album - shelved for two years while Adam Yauch recovered from cancer - but Hot Sauce is most certainly the Beastie Boys at their best. The trio even went back to their hardcore punk roots on "Lee Majors Come Again" and released it as a single, just to prove they could still do it. There is no effort to conform to today's rap, no effort to put in as many references to social networking or other norms. It's just the Beastie Boys doing what they do best (with some great appearances by Nas and Santigold).
See The Rest Of Our Month-by-Month Year In Review Special:

January
February
March
April
May
June
July
August
September
October
November
December
Editor's Picks