The Best Inspirational Sports Films

Sports movies generally come in one of two flavors: comedic efforts featuring a ragtag group of players coming together to achieve success or dramatic situations revolving around a semi-tragic or extremely difficult obstacle that stands in the way of achieving success.
"
The Blind Side
," which opens Friday, definitely falls into the latter category.
Based on Michael Lewis' novel, the movie adaptation focuses in on one particular story in the book - the rise of Michael Oher, an offensive lineman who went from living on the streets to becoming a first-round draft pick in this year's NFL draft thanks to the help of the family that adopted him.
It's sure to be an uplifting (if not formulaic) tale with a little sports sprinkled in. But will it match up to these inspiring sports films?
RUDY
In the true story of Rudy Ruettiger, a runt whose dream is to play football for Notre Dame,
Sean Astin
gives the performance of his career as the little guy who never gave up despite overwhelming odds. By the time Rudy actually takes the field to the chants of an appreciative crowd, you'll be cheering too. This remains a stadium staple for its many memorable speeches.
BANG THE DRUM SLOWLY
An often-overlooked sports gem, this 1973 baseball tale stars Michael Moriarty as a star pitcher whose wonderful season is put into context when his catcher (a then-unknown
Robert De Niro
) is diagnosed with cancer. De Niro delivers one of his most subtle performances, an indication of what was to come in a Hall-of-Fame acting career.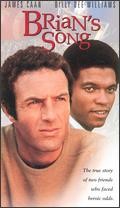 BRIAN'S SONG
How's this for inspirational? Men have been crying over this film for more than 30 years, and rightly so. It's about as close to a chick flick as you can possibly get, but there's something about the story of Chicago Bears players Brian Piccolo (
James Caan
) and Gale Sayers (
Billy Dee Williams
) that presses all the right emotional buttons for even the toughest dudes.
MIRACLE
You know your sports movie is good when even though everyone knows the story, the end result still gets everyone fired up. This dramatization of the 1980 Miracle on Ice U.S. hockey team gets the Disney treatment, soaring thanks to a solid performance from
Kurt Russell
as U.S. coach Herb Brooks and the dramatic recreation of the U.S.-U.S.S.R. showdown.
/ROCKY BALBOA
Sylvester Stallone
captured the hearts of America - and Oscar - with his tale of an underdog boxer getting a one-in-a-million shot at the heavyweight title (which was loosely based on the real-life chance Chuck Wepner got against
Muhammad Ali
). Thirty years later, Stallone returned to the same territory for the surprisingly effective sixth film - a much better finale to the series than the abysmal "Rocky V."
HOOSIERS
Arguably the best basketball movie ever made, this tale of a small-town high school team that defies the odds to win a state championship continues to resonate to this day.
Gene Hackman
and
Dennis Hopper
anchor a solid cast, and despite several changes from the real-life tale on which this is based, its sticks close enough to the facts that the climatic game remains thrilling 20 years later.
THE NATURAL
Bernard Malamud's somewhat depressing book received a more uplifting movie treatment in the 1984 adaptation starring
Robert Redford
. Roy Hobbs' quest for greatness on the baseball field even at an advanced age is one of the great sports movies of all time. You'd be hard pressed to find another film with as classic an ending as the dramatic, light-shattering finale.
CHARIOTS OF FIRE
Primarily known for its theme song, this Best Picture winner is a stirring tale of Olympic glory centered around two very different athletes overcoming prejudice and tragedy during their running careers. This may be a little more sober and slower-paced than the other films on the list, but it is still an impressive film of hope and achievement.
Story by
Elliott Smith
Starpulse contributing writer