The Best Baseball Movies Ever

The MLB baseball playoffs have already begun and eight teams are battling it out for that prestigious World Series title. For over a century now, baseball has given us memorable moments like game-winning home runs, perfect games, and complete-game shutouts. Baseball has also given us some of the most memorable movies in film history. In honor of our national pastime, we've compiled a list of the greatest baseball films that have captured the essence of the game and inspired sports and non-sports fans alike. Here are the ten best baseball movies that have ever been made:
1.
Bull Durham
(1988)

Many film critics consider this film to be one of the greatest sports movies of all-time. This film has an amazing cast with
Kevin Costner
playing a veteran catcher who mentors a rookie minor league pitcher played by
Tim Robbins
and aids him on becoming a great pitcher.
Susan Sarandon
plays a baseball groupie who is attracted to both of the male characters. Sarandon's characters also plays a pivotal role in helping the minor league pitcher reach the big leagues. Couples and baseball fans will love this movie because it's a romantic baseball movie that depicts the hard work and dedication that it takes for minor league players to advance to the professional level.
2.
Field of Dreams
(1989)

"If you build it, HE will come." Who can forget that memorable line from this classic baseball movie. If you thought Kevin Costner was brilliant in his role in Bull Durham, then you'll love his role in this film as he delivers one of his best acting performances. In the film, Costner's character is a farmer who is instructed by spirits of legendary baseball players to build a baseball field on his cornfield. This film was nominated for a number of Academy awards and includes a great cast of Costner,
Ray Liotta
,
Amy Madigan
, and
James Earl Jones
. If you buy this film on Blu-ray, YOU will enjoy it.
3.
The Natural
(1984)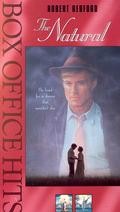 This film is based on a 1952 book by the same name. It stars
Robert Redford
who plays a baseball prodigy making a successful comeback in professional baseball after being injured in a shooting sixteen years ago. Redford's character Roy Hobbs ignores blackmail, bribes, and gunshots to fulfill his pride and play the game he's loved since he was a child. The most memorable moment in this film is the dramatic ending when Hobbs hits a towering home run that smashes into the lights above the field.
4.
Pride of the Yankees
(1942)

This sad black & white biopic stars
Gary Cooper
who plays legendary first baseman Lou Gehrig. It chronicles the life of Lou Gehrig from a boy to a great player for the New York Yankees to his diagnosis of ALS ("Lou Gehrig's Disease") to his farewell retirement speech. The scene when Gehrig visits a hospital and promises a sick boy that he'll hit two home runs in a World Series game and fulfills that promise is a scene that you'll never forget.
5.
Major League
(1989)
One of the funniest sports films ever. Major League starred
Charlie Sheen
,
Wesley Snipes
, and
Rene Russo
who all went on to have successful television and film careers. The premise of this film is a former exotic dancer inherits the Cleveland Indians but wants to move them to Miami. In order to do this, she has to lower the stadium attendance so the City will void the team's lease. So, she creates the worst team possible by hiring washed up players. But this plan backfires on her when those washed up players find the fountain of youth and become one of the best teams in the major league. If you like sports and comedy, this film is for you.
6.
Eight Men Out
(1988)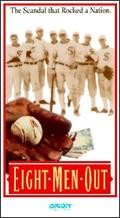 Eight Men Out is based on the infamous 1919 Black Sox scandal. Eight players from the Chicago White Sox fixed a scheme with gamblers to throw away the possibility of the team winning a World Series title. If you want to know more about the Black Sox scandal, this film gives you some insight.
7.
A League of Their Own
(1992)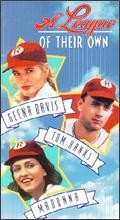 Madonna
delivers her best acting performance in this film. In the film, she plays a baseball player named Mae Mordabito who plays in a Women's Professional Baseball League that seeks the same attention as the Male Professional League. The film revolves around the team Rockford Peaches managed by a drunk manager played by
Tom Hanks
.
Rosie O'Donnell
and
Geena Davis
are also in this film. Guys will love the scene where Geena Davis' character does a split while catching a popped up ball behind home plate.
8.
Bad News Bears
(1976)
One of the most popular sports movies ever. The 2005
remake
with
Billy Bob Thornton
will never compare to this original.
Walter Matthau
is funny in his role as an alcoholic coach who coaches a little league team with misfits and bad players.
Tatum O'Neal
steals the show when she's added to the team as a pitcher and leads them all the way to the championship game where they lose. The theme of Bad News Bear is winning isn't everything.
9.
Sandlot
(1993)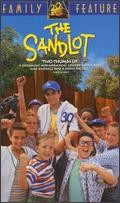 Even though Sandlot was a kid film, adults can relate to childhood memories of having fun with your friends at the playground. This film has one of the funniest scenes you will ever see - when a ferocious dog jumps over the sandlot fence and chases the kids around the neighborhood.
10.
Bang the Drum Slowly
(1973)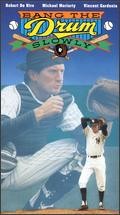 An underrated baseball movie starring
Robert De Niro
in the role of a catcher who is diagnosed with Hodgkin's disease and conceals it from his teammates, except his roommate and best friend Henry Wiggen. A sad film like The Pride of the Yankees. Like most of his films, De Niro does an excellent job in the role.
Story by
Maccorley Mathieu
Starpulse contributing writer