The Best and Worst of John Travolta

In recent years, it's become hip to pick on
John Travolta
for his movie choices. It's strange, considering not many actors can say that they've starred in three truly iconic films (see numbers 1, 3, and 6 on the "best" list). He's also achieved longevity that many actors can only dream of, due in large part to his genuine, "good guy" persona. So, sure, he's made some bad films. Who hasn't? His good movies still outnumber the bad ones.
Since John is putting on the dog in the new animated hit, "
Bolt
," we thought it would be a good time to take a look at some notable films from Travolta's career - the good, the bad, and even one delicious piece of cheese.
The Good
10.
A Civil Action
(1998) - This fact-based film stars Travolta as Jan Schlichtmann, a personal injury lawyer who takes on two large corporations accused of water contamination, resulting in the illness and death of several children. Unlike many courtroom dramas, there is no sudden, blurted confession or wild, last-minute discovery of key evidence that wins the case for the good guys, leading to the slow-building clap from the courtroom audience amid the judge's vain pleas for "order in the court!" Perhaps, for this reason, it is often overlooked in favor of more flashy legal movies like "
Erin Brockovich
" or "
A Few Good Men
," and that's a shame. As a selfish lawyer who discovers he actually has a heart, and then goes bankrupt because of it, John turns in one of his best performances, and is in great company with
Robert Duvall
,
William H. Macy
,
Kathleen Quinlan
, and
John Lithgow
.
9.
Hairspray
(2007) - A lot of fans weren't sure if John was the right choice for this latest update of the John Waters movie-turned-Broadway musical, but he proved everyone wrong with a fun, campy performance. You have to respect a man who can effortlessly dance while wearing heels and a fat suit!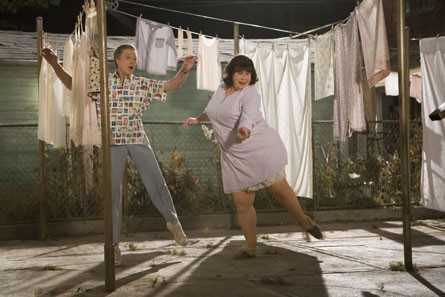 8.
Blow Out
(1981) - Another of Travolta's oft-forgotten films, and another of his finest performances! John stars as Jack Terry, a movie sound editor who accidentally tapes a car crash that kills a politician. After doing a bit of snooping around, Jack gets caught up in a web of lies, murder, and corruption, along with a ditzy con-woman, played by
Nancy Allen
.
John Lithgow
co-stars with Travolta again, this time as a creepy, psychotic killer. We don't want to give everything away, but if you are tired of the typical, happy Hollywood endings, then this movie is for you!
7.
Face/Off
(1997) - What makes this movie stand out from others of its ilk is a highly original, albeit highly improbable, premise. Travolta stars as FBI agent Sean Archer, whose life's mission is to catch Castor Troy (
Nicolas Cage
), the man who killed his son. Action movie circumstances cause the two men to get under each other's skin - literally. Travolta gleefully digs in to both good guy and bad guy roles, and manages, on occasion, to conjure up a mighty good Cage impression.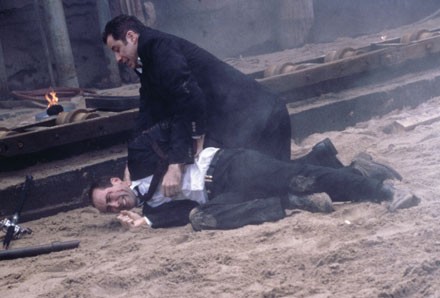 6.
Saturday Night Fever
(1977) - Although released when the disco craze was on the decline, this movie has come to define that era. With his smooth dance moves, John proved himself to be a true triple threat (he had released his first music record in 1976), and Hollywood's hottest young, rising star. "Fever" also garnered Travolta his first Oscar nomination for playing Tony Manero - troubled Brooklynite by day, King of the Disco by night. Tony is NOT a very nice guy, but Travolta somehow manages to infuse him with heart and vulnerability.
5.
Urban Cowboy
(1980) - "Urban Cowboy" is to country music what "Saturday Night Fever" is to disco. It's a small movie that might not seem like much on the surface, but it's an enjoyable story of a flawed "everyman," buoyed by a rousing soundtrack, solid acting, and great chemistry between Travolta and his on-screen honey, Debra Winger.
4.
Phenomenon
(1996) - Anyone who doesn't reach for at least one hankie while watching this sweet, underrated gem has no heart! Travolta plays George Malley, a regular guy who suddenly becomes a genius overnight, freaking out the townspeople and his friends. Watching JT in this movie, it often doesn't feel like he's "acting" at all, so it should come as no surprise that he has said that George is the character closest to his real self that he's ever played. Minus the giant brain, of course.
3.
Pulp Fiction
(1994) -
Quentin Tarantino
made an action film that didn't follow the standard action movie template, and started the trend of non-linear storytelling. If "Seinfeld" was the first show about nothing, then "Pulp Fiction" was the first movie about nothing…and yet it seems to be about everything. The movie is just supposed to be COOL, and it succeeds. Of course, coolest of all was Travolta's triumphant return to the Hollywood A-list, after his pitch-perfect portrayal of hit man Vincent Vega earned him his second Oscar nomination. He probably would have won too, if it wasn't for that darn
Forrest Gump
.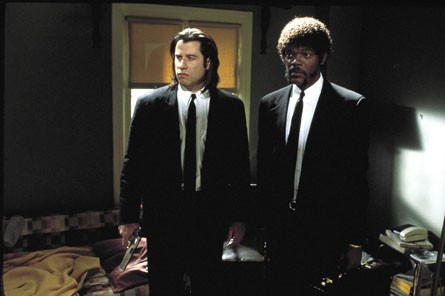 2.
Get Shorty
(1995) - Fresh off of his comeback in "Pulp Fiction," John starred as loan shark Chili Palmer in this adaptation of Elmore Leonard's acclaimed novel. A truly witty show-biz satire, the film mixes mobsters with movie stars and muses that their worlds are more alike than they would like to think. Travolta lights up the screen, as do an impressive supporting cast that includes
Danny DeVito
,
Gene Hackman
,
Rene Russo
,
Dennis Farina
,
Delroy Lindo
, and
James Gandolfini
.
Get Shorty + Behind the Scenes (1995)

1.
Grease
(1978) - Arguably the greatest movie musical ever and the film that made Travolta a true star.
Thirty years later
, the film has not lost one ounce of appeal, and just continues to gain fans of each generation. "Grease" will always be the word, and John Travolta will always be the man!