'The Beautiful Life' Could Make For A Great Guilty Pleasure

Anyone who wished for more of the five minute model segments on "
Project Runway
" can now look to "
The Beautiful Life
: TBL." Let me first start by acknowledging that The CW has clearly achieved its goal prompted by their "TV To Talk About" campaign. I will recap the show every week, but I am putting my non-stiletto'd foot down, and refuse to call the show by the stupid acronym "TBL." Even if I'm crunched for space, there will be now TBL-ing here. Even though I just used it. Damnit.
The story begins at New York City fashion week where designer Zac Posen's (appearing as himself) newest collection is showcased. We're supposed to be quickly drawn into Raina (
Sara Paxton
), the new model with a heart of gold, but it's hard to pay attention when there are so many stunning outfits on display. Raina is nervous as she's about to step foot on the runway for the first time, but being the show's heroine she obviously nails her strut. Her luck further increases when she is ordered to take the place of former hotshot Sonja Stone (
Mischa Barton
). Sonja recently returned to the fashion scene after a mysterious six month absence, but can no longer fits into Posner's signature dress. Flowers fall down on Raina on the runway, she twirls around like a little princess, and a star is born. Sonja is obviously pissed.
Barton's own (supposed) wisdom teeth surgery induced meltdown made headlines all summer, so she should have plenty of personal experience to pull from when filming the remainder of the season. With all the gossip concerning Mischa's continuance with the show, we all seem to have forgotten she really isn't much of an actress. Barton is beautiful, especially with her eyes done up all sparkly, but she has always had an awkward rhythm to her line delivery. Playing Sonja can't be much of a stretch for Barton either…it's like "
The Octopus Project
's" permanently troubled Marissa Cooper stumbled out of that fatal car wreck and secretly moved to New York. Sonja's big secret is eventually revealed…turns out she got knocked up and is keeping the baby a secret. When Raina hears about the spermination, she decides to help Sonja, even if it means suffering through a make-out session with a sleazebag photographer.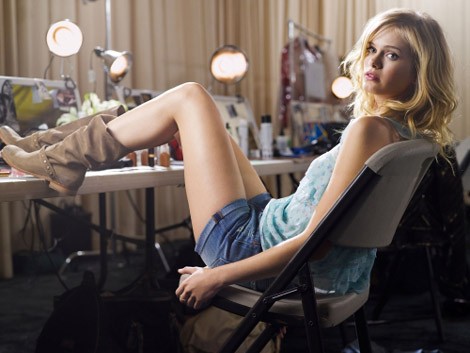 The Beautiful Life © The CW Television Network
Sonja is on her way out, but Iowa farm boy Chris Andrews (Ben Hollingsworth) is just starting his career. While vacationing with his timid mid-Western family, he meets agent Simon Lockridge (Dusan Dukic) who insists he stops by his office for a photo shoot. Much to the dismay of his working class father, Chris decides to stick around New York to see if modeling will lead anywhere. He heads over to the dorm where the agency's models shack up, only to be told by the other stuck-up models that there's no room at the inn. Simon agrees to take Chris in on his own, and Chris soon realizes Simon might expect to see him shirtless in more than just his portfolio shots.
Corbin Bleu
(who seems to have aged ten years since the last "
High School Musical
" movie) and
Elle MacPherson
are also onboard, however the opening credits only list them as special guest stars. They might not play as strong role in the story as the commercials would like us to believe. Corbin plays Isaac, a formerly successful child model who is now an aspiring musician, while Elle is a former model turned agency head. At a promotional party, Isaac's roommate Alex, is arrested (by the most obvious undercover cop ever) for dealing coke. Chris also gets in trouble when he throws a punch at Simon to make it clear he won't play man meat. Deciding he's not cut out for the modeling world, Chris heads back to the model's residence to collect his things before departing for Iowa the next morning. Raina returns home however, and invites him up to her room, so, uh, I'm guessing he'll be missing that flight in the morning.
The show is desperate to make every minute of these people's lives look glamorous, fierce, and any other word ever muttered by Christian Siriano, but Raina and Chris are pretty relatable characters despite their overly blessed genetics. If the show can maintain their personal drama without turning the pair into whiny, spoiled fashionistas then "The Beautiful Life" could make for a great guilty pleasure.
Grade: B
Bookmark our 'The Beautiful Life' News page & check back for regular episode recaps & news!
Story by
Michael Mellini
Starpulse contributing writer