The Battles Begin on 'The Voice'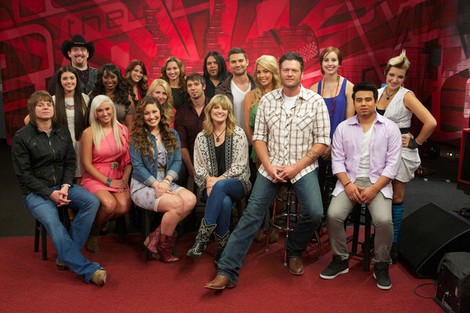 As the battle rounds begin on "The Voice", a new twist comes to the selection process – the steal.  As the coach chooses his or her winner the other three coaches may decide to "steal" the eliminated singer.  Each coach may make two steals.
Aiding each coach as they mentor the 16 singers on their team is a chart topping superstar…
Adam had Mary J Blige
Blake had Michael Buble
Cee Lo had Rob Thomas
Christina had Billie Joe Armstrong
The first battle came from team Blake with Casey Muessigmann and Scottsman Terry McDermott. The guys performed the Kansas classic "Carry on Wayward Sun".  After saying the pair showed a lot of power, Blake chose Terry McDermott to remain on his team; eliminating Casey.
Adam chose Bryan Keith and Collin McLoughlin to perform "Santeria" by Sublime for their battle song.  Adam said that his decision came down to interpretation and chose Bryan Keith to remain on his team.  As soon as host Carson Daly announced that Collin was available for the steal, Blake and Cee Lo pushed their buttons.  When more than one coach pushes a button, then the choice becomes that of the singer.  Collin chose to join Blake's team.  Blake said the steal was fun.
Cee Lo paired JR Aquino and Diego Val to perform the Rick Springfield hit "Jesse's Girl".  Cee Lo said the pair brought character and charisma to their performance.  Cee Lo chose Diego to remain on his team.
Christina pitted De'borah and Nigerian Nelly's Echo to perform the iconic Police hit "Message in a Bottle".  During rehearsals mentor Billie Joe Armstrong said it could be the best performance of the whole show.  Saying she loved how they made it their own, Christina chose to keep De'borah on her team.
Round two for team Blake was the duo of 2Steel Girls and country girl Gracia Harrison who performed "Sin Wagon" by the Dixie Chicks.  Blake called it a country throw down; adding that he had never seen anything like it.  Blake chose to keep Gracia on his team.
Saving the best for last team Cee Lo's Amanda Brown and Trevin Hunte took on the Mariah Carey hit "Vision of Love".  The duo earned a standing ovation; Adam was even standing on his chair.  After Cee Lo chose to keep Trevn Hunte on his team, the remaining three coaches pushed their buttons at the same time to steal Amanda.  After he compared her to fellow coach Christina, Mariah, and Aretha; Amanda chose to join Adam's team.
When "The Voice" returns on Tuesday the battle rounds continue.