'The Bachelorette' Week 9 Season 7 Recap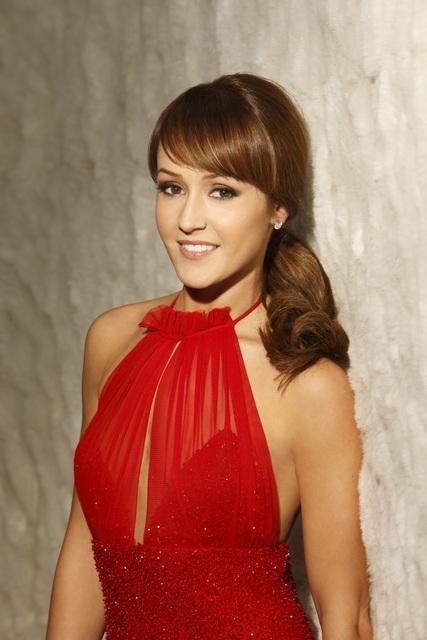 The remaining three guys, Ben, Constantine and J.P. head to Fiji with Ashley for our favorite part of the season- the overnight date episodes. But just when we think date number one is knocking at Ashley's door- its Ryan. Surprise! He doesn't think that things are over between them and he wants to see if there is love between them. It seems a little desperate to us and as she says her heart is racing, we can tell it's a little uncomfortable. What's up with this season and the boys coming back for more- Ashley's not that wonderful, is she? Ryan seems incredibly nervous as he tells her that he is not ready to let her go and according to Ashley's face, we don't think it will go well for him. He's like a girl, making himself way too available, flying to Fiji, confessing his love, reading a note he pre-wrote.
The first date is with Ben and they head out on a yacht sipping drinks out of a pineapple.  Then the suntan oil comes out and things start to get frisky. She sees the hunger Ben has for life and feels that she will never have a dull moment if she ends up with him. The two continue their date snorkeling in the gorgeous waters of Fiji. Ben is falling for Ashley and we believe that we have a winner in this competition, it's just our hunch. Their night date consists of a beautiful candlelit dinner on the beach and you can tell the two are just beaming. Ben starts to open up and wants to tell her that he loves her but beats around the bush and tells her that he is committed to her and wants to spend his life with her. Ashley gives him the key to the fantasy suite and he accepts- well, yeah! They start off in the pool with a romantic make out session then head to the bedroom for some loving…
Day two is spent with Constantine and the two get to take a helicopter ride over the island. How could two people not fall in love during these magical dates? And cue Ashley's famous quote she says after every date, "I could not picture a more perfect date." Once they are on land again, they are walking on the island when the most beautiful waterfall is revealed at the clearing and the two jump off the ledge together. She spills her feelings to Constantine and he clams up and it seems that he can't tell her how he feels. Their relationship is moving slower than the other two and we get the feeling that Ashley likes the challenge. She tells him that she doesn't feel like he wants to hold her hand and spend time with her and he admits that he doesn't want to do that with her but hasn't held back either. You're confusing us Constantine! But in the end he basically tells her that he's not in love with her and he won't accept the fantasy suite card and this is the end of the road. In all honesty, we have all the respect in the world for Constantine for not taking her back to the suite for the night, then dumping her. Poor Ashley, it seems as though more guys in this season have left because they aren't in love with her.
Ryan is still on the island, creepily waiting to see if Ashley wants him back. Well, he is in luck thanks to Constantine. If he didn't leave, she probably wouldn't have gone back to him to tell him that their goodbye was extremely hard for her. He grins that big ol' Robin Williams grin but she lets him down hard and tells him that she doesn't regret letting him go. This episode is just full of heartache, poor Ry- round two of crying desperately into the camera. We're hoping that ABC chooses Constantine for the new Bachelor, not Ryan.
Adorable J.P. is up next and the two head out on a water plane together. He seems to always be there for her whenever she has a problem- he is her rock. They are going to their own private island for a romantic getaway. We can't tell if she is gushing over J.P. because she is hurt over Constantine or if she genuinely really loves him. The two have a really playful, passionate dynamic together but we feel like she's still leaning a little more towards Ben. Ashley wants to spend the night with him and he accepts as the two head into the fantasy suite. She tells him she is going to change into something more comfortable and as we expect her to come out in lingerie, she comes out in a white button down shirt. Hmmmm, they're still going to get it on.
As she sits down and talks to Chris Harrison, we're not sure what else is going to happen in this episode. She can't send anyone home tonight, right? They are still going to have a rose ceremony to give the guys the chance to leave if they are not in love with her. She still needs to tell Ben that he is one of two left in this competition. She lets the guys know that she is having the ceremony to give the guys a chance to think about their future with her. They both accept the rose and she could not have been happier.