'The Bachelorette' Week 7 Season 7 Recap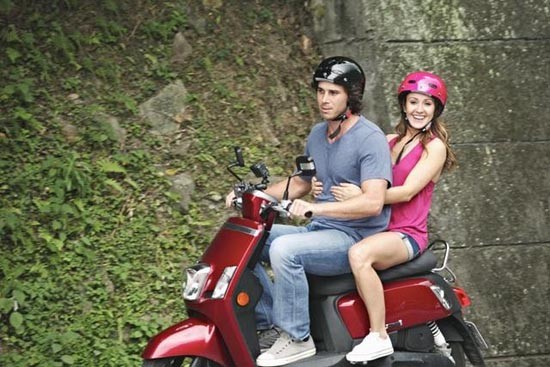 Ashley and the six guys remaining are in Sun Moon Lake, Taiwan for Week Seven of reality TV love.  Side note- is Ames wearing tear away Adidas pants? Sorry, back to The Bachelorette.  Hometown week is coming up and Ashley wants to make sure she has the best four guys to go home with and meet the family. She knows what it is like too, because she won a hometown rose with Brad and the two went up to Maine to meet her folks.  This week, there will be three one-on-one dates and a group date but there will only be a rose up for grab on the group date.  Who's with us when we say we want to be on the show just for the amazing travel opportunities?
The first date card goes to Constantine, and the two take a steam engine train into the tiny village of Ping-Shi. There is a lantern festival going on in which people paint their wishes on this paper lanterns and the wishes come true when they are set free into the sky. Constantine and Ashley make a "love wish" to send into the sky with hopes that it will come true and they will get their happy ending.  The two then have dinner and talk about their families but when he keeps saying that he is taking this experience one day at a time, we are not sold that he thinks she is the one. You can tell that she is concerned that he isn't in love with her like the others are…is she just chasing him because she knows this? He is just being realistic – it's hard to fall in love so quick, on television and when she is simultaneously dating other men. Differences aside, it is absolutely beautiful watching all the lanterns float up into the sky and the two share a romantic kiss.
Back at home the next date card goes to Ben and you can tell the others are pissed. He meets her on a bridge and they are head to the park to go exploring on a Vespa. We appreciate his Dumb and Dumber comment as he refers to the two of them as Harry and Lloyd.  Ben admits that he is on the tipping point of just liking her and he may actually be in "L word" with her.  We know she ate that up when Ben doesn't come home the next morning, which ultimately means that when Taiwan is rocking, don't come a knocking. The little slumber party incident puts J.P. over the edge and he is steaming mad.
The remaining guys, Lucas Ames and J.P. head out on the group date, which means Ryan gets is one and only single date. The trio meets Ashley at a studio to take wedding photos, isn't this a little much? Boys don't like weddings, period. Especially wedding pictures with ridiculous costumes. Ashley gets in a matching costume to go with her man- Taiwanese for Lucas, silly and sparkly for Ames and traditional for J.P.  During the one-on-one time of the group date, she drills Lucas about his first marriage and asks him if he wants to be married again, and if his family will think it's weird.  But he assures her no and that he is ready for kids. What? Where did that come from? J.P. admits that he is having a hard time because their night in Hong Kong was so magical that he feels more for her and hates the way he has to share her. She feels bad for him and makes it a bit awkward when she comes in to get the rose in front of Ames and Lucas to give to J.P. He is now the first guy who will be taking Ashley home to meet his parents.
Ryan's date (remember, he was the one who got the first impression rose) with Ashley begins with her in that sexy backless shirt. He says he is finally calm because he was so relieved to get the card he slept like a baby. They walk into a temple where hundreds of people are chanting and praying. Mr. Robert Pattinson look- a-like is apparently ready for marriage and he is not afraid to show it but when their match making rocks land on the wrong side it could it be over. Ashley cements that feeling and tells him over dinner that she is not feeling those romantic feelings and we think he is going home this week. Sorry dude! He then retaliates by talking her ear off about water heaters. "Why doesn't every house have a tank-less water heater?" Same reason Ashley will probably have a Ryan-less house. Five, four, three, two, one- he gets the boot. Ouch. He seems very offended that she doesn't want to meet his family.  We are sure Ashley wishes she could do what most girls do to break up with a guy and just never call them back. He seems floored and shocked and makes a lot of weird grunting noises. His crying to the cameras may put him in the running to be the next Bachelor. Good acting skills, Ryan, but way too much b-roll footage of Ryan getting upset, cameraman.  
At the end of the night, Ashley decides not to do a cocktail party; she knows who she will be sending home. The first rose goes to Constantine, and then she chooses Ben (probably because he got a little nookie on his one on one date). Ames and Lucas are left standing and she makes her final decision to sends Lucas home. We're really not surprised- she wasn't too keen on the 'already been married' thing. His exit wasn't as dramatic as Ryan's so we will probably never see him on ABC again, not even The Bachelor Pad.
Last season's Bachelor winner, Emily Maynard comes on to talk to Chris Harrison in an exclusive interview about her broken relationship with Brad but we can see through the tears as she is just pleading to be the next Bachelorette. Your acting skills aren't that good honey but we do wonder if Bentley will come back for her- she did reference that "dot dot dot". Emily tells ABC that her and Brad aren't engaged anymore and it didn't work out because of those damned little red flags. Basically, she wanted the idea of marriage more than she wanted to marry him.  Emily seems sweet and endearing and hands down the most beautiful choice Brad had, but there's something fake about her that we just can't put our finger on it. And we honestly didn't see a single tear fall out of those big brown eyes…