'The Bachelorette' Week 4 Season 7 Recap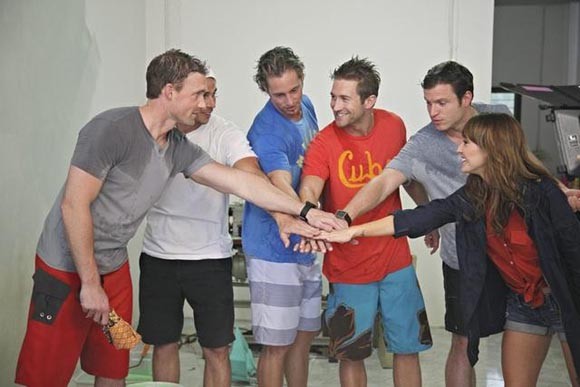 Thank goodness this week begins without Bentley- forget about him, girl! Chris Harrison gathers all the guys up to tell them they are heading to Thailand for a fresh start. Who wouldn't be able to find love there? Next time they see Ashley, it will be on the beautiful beaches of Phuket but Ashley is still thinking about Bentley although she claims to be putting her best foot forward and be open to all the other guys. This week there will be one group date and two one-on-one dates and Ashley works with a Thai navigator at the villa where they are staying to plan her romantic dates.
The first date card reading "Let's Sea Phuket together" goes to Constantine and he heads out to the Sea to meet her. Originally, she had planned to for them to take a boat to a private beach but they can't go out today because the weather is making the waves too big. Instead, they decide to make the most of it in Thailand and head into town to go sightseeing and shopping in the rain. How romantic. They meet a local whom they ask through a translator, what the key is to his 33 year marriage is. He says the two things they need to know are "forgive and forget" and "don't try to win."  The two stop for a quick drink and a chat but we're not feeling the connection yet due to the fact that Ashley's mind is still on Bentley. Yuck honey, get over that jerk! Ashley then takes Constantine to a cute little cabana on the beach where there is dinner and drinks waiting for them by a fire. She confesses that she wants all the boys to tell her if they don't like her and be honest and Constantine admits that he is having fun with her. We get a sense that she is not feeling him- will he be the first guy on the one-on-one date who won't get a rose? The blah blah blah date continues and to our surprise, she does give him the rose which saves him from elimination. Yawn.  Right about now, the only thing we are pondering is if there is some sort of Velcro on those roses or is the editing that incredible that it makes it look so easy to pin those suckers on.
Back at home with Constantine's twin, Ben F. (we did a few double takes here) the boys get another date card for the group date. Ben F., J.P., Blake, Mickey, West, Ben C., Nick, Lucas, William and Ryan get to go on the date with Ashley to "make the world a better place."  The group gets to do some charity work for an orphanage that was hit hard by the tsunami. The manly men get to work in the rain, painting and landscaping and it's pretty hot, we must admit. Ryan starts to irk the group as he tries to boss them around and is really getting on the guys' nerves. J.P. (our personal favorite) is beaming when he gets to paint a wall with Ashley and seems like he is genuinely having a gratifying time. Ben F. and Ashley decide to paint a mural and bond a little bit as well. After all their hard work, the kids come in and see the work the group has done and it gives us a little Extreme Home Makeover  feeling. The boys bring in a few bikes and toys for all the kids and the tears start.
After their hard day at work, they head over to a bar on the beach and Ben F. is the first to steal Ashley away. Next, Ryan gets his alone time and tells her that he gets along with all the guys as they are all talking smack behind his back. J.P. then takes her away for a hot little make out session on the beach and the sparks fly.