'The Bachelorette' Week 3 Season 7 Recap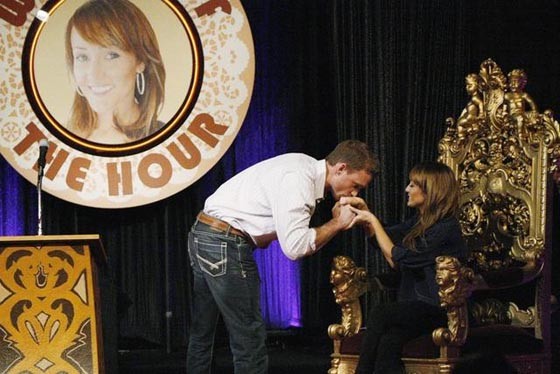 There are fifteen men left on The Bachelorette and Ashley tells us that sees her future hubby in the room, but who is it? This week there will be one group date and 2 one-on-one dates. First up for the alone time date with Ashley- Ben C., the lawyer from New Orleans. Jeff, the man in the mask is bummed out that he hasn't been alone with her yet but promises to show his face next time he sees her. The anticipation is killing us, Clark Kent! Ashley admits that her top three favorites so far are William, Mickey and Bentley but alas, she must go on her date with the handsome Ben C. Poor girl with all these options. She has been working with Flash Mob America, and will be taking Ben C. to a dance studio to teach him a dance in which she will later surprise "Flash" him. After he learns the routine, she takes him to the mall where they start to dance, with the mob. Are Flash Mobs the new cupcakes here in L.A.? Oh how these trends arise.  Ben C. is adorable and goes along with the dance with such ease. Next Ashley says she has a surprise for him and The Far East Movement comes out to perform their hit song. Again, we love how she acts like she planned this whole thing, not ABC. The night ends with a little rooftop dinner and a talk about love. Ben C. magically turns into the girl and says he wants to live in a bubble with his future wife and be in love like no one has ever seen. Then he says the word "emoti-con" and it's all over for us. Cheesy! But she eats it up and gives him the rose. 
Back at the house a date card comes for Ben F., Ames, Jeff, Lucas, Nick, Ryan P., William, Bentley and Blake. Before they head out for the group date, Jeff pulls Ashley aside, takes off the mask and reveals himself to her. It seems like she wants to get rid of him as much as we do but he makes the show a little more interesting, at least for now.  Her eyes are blank and she admits that he looks old- ouch! They go to The Comedy Store in Hollywood for a Bachelorette roast hosted by Jeffrey Ross and she promises that she can take what they dish out- but can she, especially in front of a sold out crowd? None of the guys were funny, they were just taking jabs at each other which seemed too safe but generated at least a few giggles. Next, Jeff goes right for the small boobs joke and sets the bar for the boys to start taking jabs at Ashley. Bentley compliments her butt, and then William goes right for the heart and says he wishes the Bachelorette was Emily or Chantal. You can see the poor girl's heart breaking- even Bentley wouldn't say that to her face. Ashley walks off and cries as Bentley of all people tries to comfort her but we know that he's bullshi**ng and it's sad to see her falling for the "real guy" that he is not. Sorry William, we don't think you are the top contender anymore.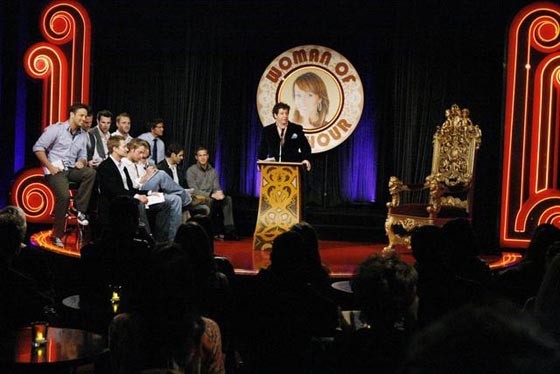 After the roast from hell, Bentley pulls her aside as she tells him that she was contacted about him before the show by a friend (Michelle Money) who told her he was there just to promote his business and would leave in a few weeks. He lies to her again as she eats it up and admits that she fell in love with him that night while all he can think about it going home to see his daughter aka because Ashley is a waste of his time. The next day, he admits that she is more into him than anyone else but he doesn't care because she's not attractive at all and he knew he was going to break her heart. Biggest douchebag quote of the year? "I'm going to make Ashley cry but I hope my hair looks okay." Bentley heads over to her lair to break her heart into pieces and walk away cold hearted…he is the biggest a-hole ever, that he even rehearsed his performance. Don't blame your little daughter Cozy, Bentley! And we can now chalk one up for Michelle Money. Which leads us to believe- do these contestants really know who The Bachelorette is when they step out of the limo or did he just come into the show as the evil villain?
After Bentley leaves, Ashley thinks she won't find love because she got burned by the jerk. Typical girl- and what was it about that guy? We have all fallen into that trap. Honey, you deserve better- pick yourself up and realize that Bentley was a loser!
J.P. gets the next single date with her but Ashley has no interest in it at all. Poor guy, he's actually a great man who cares about her and she is turning off her feelings. After a romantic dinner by the fire, he does get a rose, so break out the sweatpants and call it a night! We heart J.P.!
*Spoiler Alert- at the rose ceremony, Ashley doesn't think she sees her hubby anymore because Bentley was her guy. We all know that she will be better off without him but it is sad to see her struggle with those emotions and Chris Harrison is right when he says that a real man would do anything to be there with her. Ashley decides there won't be a cocktail party and she will go straight into the rose ceremony. Poor William won't get a chance to unjam his foot from his big mouth. Dun dun dun, and the losers who don't get roses tonight? Jeff (nice mask burning effect at the end) and Chris D. It looks like you have another shot to make it up to Ashley, William. Lesson learned we hope.