'The Bachelorette' Week 3 Recap: Sweet Sixteen Play Dodge Ball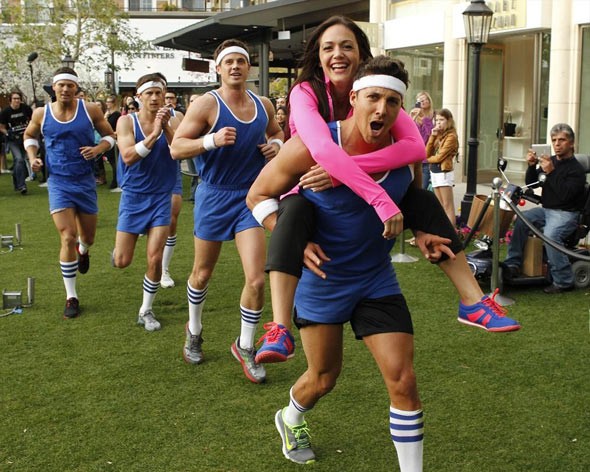 Desiree is back this week and her and the final sixteen men will endure another week full of drama, love and adventure…there will be two group dates and one one-on-one, the pressure is on! Chris, Ryan, Drew, Michael, Brooks, Brad, Mikey, Brandon, Zack K. and Ben will be heading out on the first group date and although they are happy to see her, they are disappointed to be traveling with Ben.
What will they be doing today on this date? Dodge ball, of course! But they won't just be thrown to the wolves; they will actually get a lesson from the players on the National Dodge Ball League. Instead of just taking lessons from the pros, the boys will be competing against each other and the winner will have a date with Des. The blue team wins the first round which fuels the red team's fire a little bit giving them the second win. There is one game left and whichever team wins will have that coveted date with Des. But Brooks starts off on the wrong foot, or hand, by busting his finger. In the end, the blue team wins the date with Des. But it is a group date (with Ben may we add) - it's not that special! Des decides to take both of the teams to the after party though…what a nice girl! While Brooks is suffering in pain at the hospital, the rest of the group enjoy a few rooftop cocktails. Brad gets a little quiet time with Des first and tells her that he has a three year old son, which was a shocker! Back at the house, the date card arrives and Kasey will be going on the one-on-date with Des. But who will get the rose on the group date? Will it be Brooks out of pity? Nope, the rose is going to Chris. Blah.
Back at Des' house, Chris Harrison calls her at of the blue and says he has some news about one of the guys so she is headed over to confront him. She steals Brian away and lets him know that she is aware that he has a girlfriend, who storms in to confront him as well. His girlfriend tells Des that Brian told her that they were only taking a break and she was completely unaware that he was going on the show. Ouch! This guy is in the hot seat and Des sends his lying butt home! After all that drama, Kasey aka Joey Lawrence's brother now gets his one-on-one with Des. Although Kasey may not be that upset, Brandon is certainly upset that Brian left his girlfriend, a single mother, high and dry at home. He is quite the Weeping Willow. While Kasey is out on his date with Des, the group date card arrives for Dan, James, Juan Pablo, Bryden and Zak W. Kasey and Des will be 'banda looping' or dancing on wires like window washers outside the Andaz Hotel in Hollywood. Scary! Next, the two have dinner atop the hotel but the night isn't going as well as they planned. The wind is gusting and blowing the candles out and planters down so they decide to jump in the pool and make out. In the end, Kasey gets the rose.
On the group date the next day, the crew heads outside to find their ride, a stagecoach and meet Des on the ranch. They will be working with the stunt coordinator who did the new movie, The Lone Ranger, to get into cowboy mode. Its cowboy boot camp equip with some horses. Who will be the best cowboy at the saloon? Juan Pablo, the Spanish speaking cowboy. The two head off to the barn to have a private screening of The Lone Rancher. Is it just us or does Zak W. creep anyone else out? We think we heard a little growl come out of him when he was talking to Desiree. James asks Des if there could be a future with him and his lack of confidence and adorableness earns him the rose.
The next day, the cocktail party is canceled and there will be a pool party instead before the rose ceremony. Ben and his girly tank top wait aka stalk Des by the door and when she pulls in, he jumps in her car and tells her he wants to go for a ride with her before the pool party. The men get a little jealous when they see Ben pull up with Des and have a mini make out session in the car. While the men get some alone time with Des, Ben flat out lies and says he hasn't had alone time with Des at all when they all saw the two together. Ben tries to play it off and says that he doesn't like to kiss and tell. We have a secret for you Ben- your tank top is hideous! Weeping Willow Brandon pulls Des away next and we are cringing, hoping that he won't cry. He tells Des that he is falling in love with her and grabs her and kisses her. In a normal situation, it would be romantic but we can tell Des isn't feeling him at all. Too much too soon, buddy!
At the rose ceremony later that night, the guys wash off the chlorine smell and put on their suits to get the evening started. The first rose goes to Bryden, then Juan Pablo, Zak W., Brooks, Drew, Zack K., Brad, Michael, Mikey and Ben sending Dan and Brandon home, brokenhearted. Tune in next week to see if anyone else will spill their heart too soon, leave Des awkwardly uncomfortable…