'The Bachelorette' Week 2 Season 7 Recap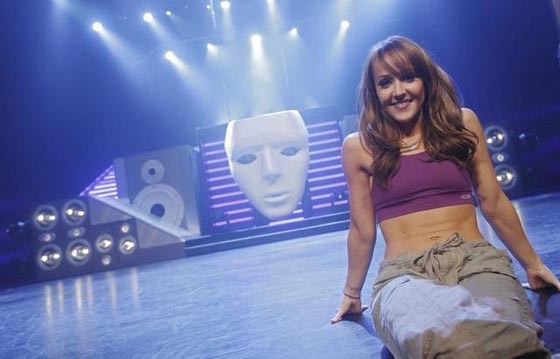 Beginning tonight on The Bachelorette, each episode will consist of a group date as well as individual dates where there is a rose up for grabs. If you don't get a rose on the individual date, you go home immediately. Ashley thinks all the guys are great so far and feels that she got lucky because everyone is so good looking- and she is right. She is also worried she'll fall for someone that she'll be in love with but won't be in love with her. Ashley picks William, the cell phone salesman from Ohio for her first individual date to "make a splash" with her in Las Vegas. The two take a private jet to Vegas as the guys back at the house continue to be creeped out by Jeff, the entrepreneur with the mask, who says he will reveal his face on the first date with Ashley.
Ashley and William get to Vegas and head into the hotel where Ashley is greeted like a celebrity aka one girl asks for her autograph. They head to a cake shop and start talking about wedding cakes as William is convinced she is just hungry. He starts to get a little nervous when they go into the next store to check out wedding rings. Lastly, they head into the wedding chapel and he introduces her to the minister as Ashley (his last name) but is still convinced it's a joke- we are hoping so too considering this is a first date. He starts to sweat a little when the minister comes back in and Ashley walks in with a white dress on. Is this a joke? He keeps smiling as they go through their vows and keep giggling throughout the process. It is almost uncomfortable to see his red face and beaming nervous smile. This is the best first date for both of them apparently- as she reveals they're not really going to go through with the ceremony (duh!) and then they kiss. Ashley says she is already falling for William after half of the date. Well, she did almost marry the guy. Then they go out to watch the water show at the Bellagio in the middle of the fountain to have dinner as he confesses that he lost his dad 6 years ago to alcohol. The story hits close to home for Ashley as she divulges that father is an alcoholic as well.  She says she is looking for someone serious and sees everything that she wants in William and gives him the rose as they share a romantic, passionate kiss as the fountains go off for The Bellagio water show. I think we already have a winner.
Back at home another date card comes to the front door announcing that Constantine, Ryan M., Chris, Ben F., Nick, Bentley, Lucas, Ames, West, Steven, Blake, Matt will be headed to Vegas where " boys will be boys" leaving the remaining five at home. The boys head to Vegas to meet Ashley although she considers William a frontrunner. The guys head into a theater and see the Jabberwockies dancers as Ashley joins them on stage and tells them that they will be rehearsing with the crew.  The boys split into two teams, make up their own dance and compete against each other to stay in Vegas to fight for her. It's "The Best Men" vs. "No Rhythm Nation" and the winner is "No Rhythm Nation" who will perform in front of a live audience. After the performance, they have dinner as a group until its every man for himself and Blake the cheesy dentist pulls her away first.
Bentley tells us that he is the best and although he says Ashley has a great butt, legs and body and wants her to tickle his "blank", she's not his type. He's a cocky jerk in it to become famous and admitted that he wished that the Bachelorette was Emily but she pleads with him to stick around if he likes her and you can already tell that this is going to be bad for her.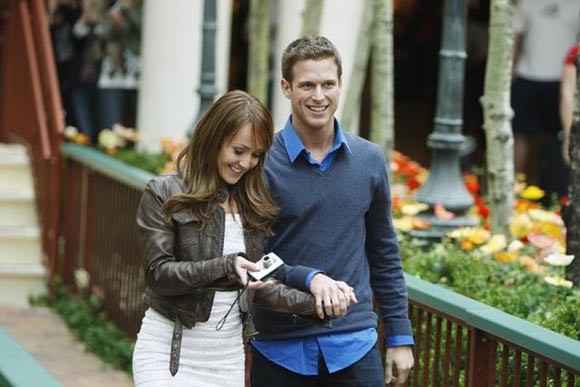 Back at the house, the boys can't stop talking about Jeff and his mask (please note that he wears a sleeping mask over his mask when he's napping) and he does look like a complete idiot walking around the house looking like Batman. William tells the guys about his date with Ashley as she gives the rose to Bentley who says, "Can we just bag this and go play Blackjack."  
The next date card goes to Mickey and JP and reads, "love is a gamble, I will see one of you in Vegas" and there is a coin enclosed. They flip the coin and Mickey, the gorgeous chef from Ohio heads to Vegas to meet Ashley for his one on one date- what's with those Ohio boys? The two head to a wine shop to pick out their booze for the night and keep flipping a coin to make all their decisions- heads, you're cheesy and tails, you're still cheesy.  The two have dinner in a hotel suite and decide to flip a coin for the rose because she is not sure about her feelings- lucky enough, he got the rose but she said she would have given it to him anyways. Cue the Colbie Caillat concert and make out session on the Mandalay Bay beach. Honestly, do real people have first dates like these? And why is it that the guys look so impressed like she actually planned these dates personally for them?  Nope boys, it was all ABC.
Before the rose ceremony back in L.A., William, Mickey and Bentley are all safe as there are a few worried guys who still haven't had a chance to talk to her yet.  JP, the construction manager from New York steals her away first like a hawk who had been circling her all night. He decides to flip a coin for a kiss- seriously, enough with the coin tossing and kiss the guy already! The guys get mad at William as he tries to be funny but comes off as a brazen a-hole as he swoops in and steals her away, even though he already won a rose. Jeff, the creepy masked man looks on from the balcony and announces he will reveal himself to her tonight. He comes down the staircase to meet her, tells her a sob story and is about to take off the mask when he gets interrupted (like no one else is allowed to see his face or they will be blinded). But we get the impression that Ashley isn't feeling him mask on or mask off.
Bentley steals her away next, even though he says he would rather swim in pee than plan a wedding with Ashley because she isn't his type- then why are you here? Simply to win the game. Their kiss is painful to watch and we feel bad for the girl as we can see her feelings getting hurt before our eyes.
*Spoiler alert- the rose ceremony begins with a lot of tension in the room as Ashley says she thinks her husband is standing in the room. She hands out the first rose to West, ends up giving one to Jeff, the masked man and sends home Matt (who calls his mom), Stephen and Ryan M.  Bye bye boys and stay tuned for next week.