'The Bachelorette': The Top Five Head To Madeira Island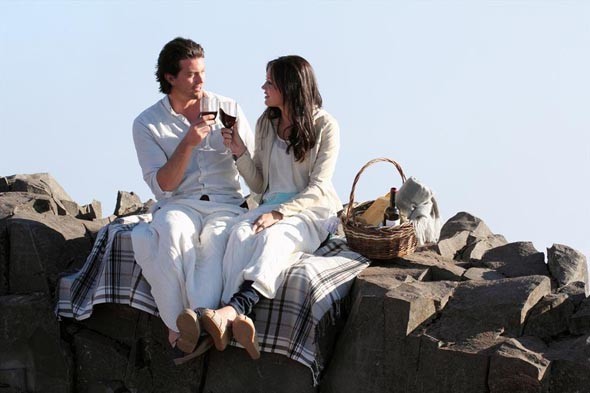 On the week before Desiree picks her top four for the hometown dates, the top five guys head to Madeira Island, Portugal with her. All of Des' dates this week will be no fault, meaning no one will go home until the rose ceremony. A few fellow cast offs from Sean's season and Sean's fiancée, Catherine join Des at the resort for a little girl pep talk about the remaining men.
Des picks up Brooks for their one-on-one date where they cruise up a beautiful Oceanside mountain to take in the view. Then they continue their journey up a windy countryside road in the woods where they drive up through the clouds to share a picnic lunch. The island is absolutely spectacular and so is the chemistry between Brooks and Des. Later that evening, Brooks and Des have dinner and an amazing scenic view overlooking the city. But is Brooks a little skeptical about bringing her back home? Des tells Brooks that she is ready to meet his family but he admits that he is a little slow in that process. He wants to make sure that he only introduces her if she is the one…well, so do the other guys but guess what, four of you will get your hearts broken. Side note- is there an overwhelming amount of stray cats in Portugal or are they just fighting for some camera time?
Des' next one-on-one date this week will be with Chris and although he is beaming, the other men are a tad jealous. When she picks Chris up, he seems like a little kid and you can tell that he is in love with her. The two sail away from the other guys into the open sea and into each other's bathing suit clad arms. The two then write a poem together, slip it in a bottle and toss it into the sea for another pair of lovers to find. How romantic but not a real situation, ladies. Come on! Later that night at dinner, Chris tells Des that he is in love with her.
Michael gets the last and his first one-on-one date meaning Zak and Drew will go on the two-on-one date where whoever gets the rose will be guaranteed to introduce Des to his family. As Michael and Des stroll the city together, we can't help but think the two lack that certain chemistry that Des shares with the other men. They take a toboggan ride down a steep hill together and scream their little butts off- thank goodness they make it to the bottom safely. Michael opens up about his father who isn't in his life anymore and Des can tell that he will make a great father himself one day.
Des takes Zak and Drew to a race track so they can chase after her heart and hopefully one will take the checkered flag. The three sit down for another little picnic in the middle of the track- doesn't this girl get sick of picnics? Zak gets to steal Des away first because he kicked Drew's butt on the race track and gives her a little recap of their time together. When Drew and Des get their time together, the two act like five year olds together and are absolutely adorable. He also tells Des that he is falling in love with her and we can't help but think he and Chris now have an advantage. Des decides to give the rose to Drew and will go home with him to meet his family. Hell, if she doesn't pick him, he will make the perfect Bachelor.
As the men prep for the rose ceremony, Des heads out to talk to Chris Harrison about the remaining five. She tells him that this was the best week she has had so far and says she has a tough decision ahead of her. Who will she send home tonight? The first rose (besides the one that is already pinned on Drew) goes to Brooks, then Chris and lastly Zak sending Michael home, heartbroken. Will the last four men's families love her as much as she loves their sons? Or will she have an experience like the one her brother put Sean through. Stay tuned next week for the hometown dates.