'The Bachelorette' Season 10, The Men Tell All Recap: TV Ultrasounds, Racism Cured Via Cookie Frosting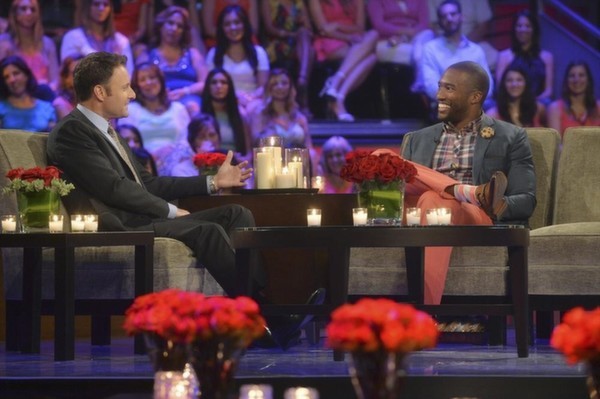 In proud Bachelorette tradition, it's time to postpone the finale everyone's dying to see (although it would take almost no effort to google "Andi Dorfman" and figure out which guy she picked- the finale was taped weeks ago) for a block of pure, uncut filler.

Yes, it's "The Men Tell All," which is another of those awkward moments when Chris Harrison grinds the show to a halt to talk things through with the Bachelor or Bachelorette. Only, it's two hours long, it continually cuts to a crowd of emotion-hungry women (plus two dudes, for diversity quotas), and it ends with blooper bonus footage, which is the only reason anyone's watching in the first place.

Naturally, "The Men Tell All" opens with a woman- Ashley Hebert and her husband J.P.- whose relationship "The Bachelorette" will continue to flaunt until the end of time. Why? Because practically every couple that met on reality TV, spread a week's worth of dating over a month and then got engaged, ends in a messy split.

Except for Ashley and J.P., who have spent their post-Bachelorette time living life on easy mode. The baby was easy. Their impending Miami move is easy. Even getting an ultrasound on national television seems pretty doable when these two do it. Just be sure to disregard the creepy Chris Harrison fetus and Ashley's joke that they'll be doing the birth on TV too (shhh- they're saving that for next year's "The Men Tell All").

The very next segment is devoted entirely to "Bachelor in Paradise." It's like "The Bachelor," (more like "Bachelor Pad," actually), only all the contestants pretend to be castaways, and apparently the drama will escalate to blood-loss-and-police-intervention levels. Also, because "The Bachelorette," isn't ashamed to take up an obscene amount of time plugging "Bachelor in Paradise," neither are we. Be sure to check Starpulse.com after each "Bachelor in Paradise," starting August 4! Our recaps are snide, yet often hilarious.

Finally, after half an hour, the men begin to tell all. The tell all-ing begins with Andi, and how she is wonderful. Then, racism, and how it is not.

Andrew still asserts that he never used the word "blackie" in regards to his African-American castmates, and he does this while mixing up the names of the show's only two black contestants. Technically, we never actually get a straight answer out of Andrew, but a gaffe that big that early on in the racism debate is like shattering both ankles in the first forty seconds of a marathon. No recovery for Andrew. And besides, his only recovery method is continual use of Smug Face, which doesn't make him look particularly sympathetic.

Marquel, despite not getting a straight answer and having to steer the conversation away from multiple tangents, finally gets the apology he asked for, near word for word, immediately after he asked for it. Sorry Marquel, but that's probably the best you'll get from reality TV.

Chris Harrison offers Marquel the hot seat, which ends up being so much more forgiving than his other, colder one. Laughs are shared, Marquel is beaten down with compliments and Harrison has way too much fun plugging "Bachelor in Paradise." Oh, and Marquel retreats back to the manharem while pelting the audience with delicious black and white cookies. Technically, a "Bachelor in Paradise" gig means Marquel is out of the running for the next Bachelor. But he has cookies. Can't we bend the rules just this once?