'The Bachelorette' Season 10 Episode 8 Recap: Hometown Dates, Plus A Memorial For Eric Hill... Again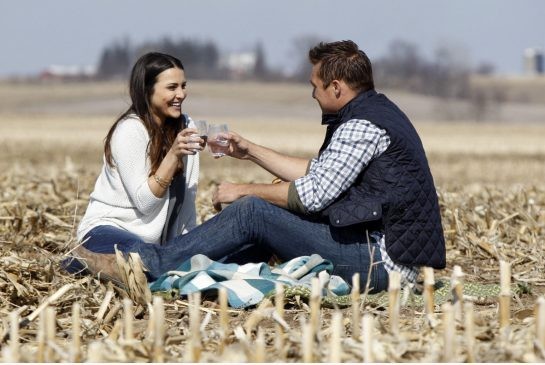 Once more, "The Bachelorette" continues the longtime tradition of meeting your boyfriend's family for the first time, as he proclaims, "Hi Mom! This is the woman I met on TV who I'm now going to marry, so long as I make it through the next three elimination rounds." Ahh, true love.

Nick is first, because of course Nick is first. He and Andi travel around his hometown of Waukesha, Wisconsin and taste a beer named after these two lucky lovers. For Nick's sake, let's hope that was just a gag label and that there aren't fifty cases of "Nick and Andi Lager" sitting in his garage. Andi, meanwhile, is baffled by the existence of polka. "What's a polka?" she asks. Seriously? She must not travel in the same circles we polka-folks do.

Once the parent-meeting begins, Nick and Andi both seem a little gunshy, which is a stark difference from Nick's previous stance of "I SEE ALL AND RULE ALL! ANDI'S LOVE WILL COWER AT MY FEET," normally as Andi makes various comments like "overinflated sense of self? Mmm, now that's a man." Here, they're split up, to be poked and prodded by Nick's extremely numerous family (Andi can identify each member by face and name; an incredible feat of coaching by the show's producers).

The most ruthless interrogator, by far, is Nick's youngest sister Bella. Did Andi say love? Or did she just say "like?" Are the relationship politics of "The Bachelorette" strikingly similar to those of a grade-school girl? The answer to all three is yes.

Now it's time for Chris, who takes Andi on a romantic tractor ride, plus a picnic in a romantic pile of post-tractor grain husks. Then, Chris drops the bombshell we all knew was coming because it was in every ad for this week's episode- if Andi picks Chris, she's sentencing herself to a life in farm country, with extremely limited career/life options.

But she takes it fairly well, and Chris sweetens the deal when a plane flies by, proudly proclaiming "CHRIS LOVES ANDI." Nick writes on a beer tap, Chris writes on the sky. Advantage... Chris?

And according to Chris's mom, farm life really would be the best thing for Andi (also, unrealistic romantic attraction to tractors runs in the family, apparently). Everyone has a great time horsing around on the family farm, and nothing could possibly go wrong. Unless Andi rejects Chris and everyone involved is crushed, emotionally. Yippee!

We move on to Josh, who takes Andi to the ol' baseball diamond for a little game of sport, despite his "weird mix of emotions" for baseball. This is a first, because as far as "The Bachelorette" has told us, three quarters of Josh's vocabulary is the word "sports."

The day grows even sourer when Josh dwells for a bit too long on his younger brother Aaron and his upcoming NFL draft. Andi seems upset- how dare anyone focus their affections on someone who is not Andi Dorfman? Her mind darkens at the thought.

As does her face, because every time someone mentions Aaron, Andi demonstrates her legendary poker face, outright scowling at the speaker in question. She also displays an impressive "I can barely keep from sobbing" face, and manages to aim a few loaded questions at Josh's family. The only time she cracks a smile is at the thought of yanking Josh away from his immediate family.

But aside from the actual Bachelorette, this Bachelorette hometown date went just fine.