'The Bachelorette' Review: Emily Visits Dollywood And Gives Packing Orders To Three Bachelors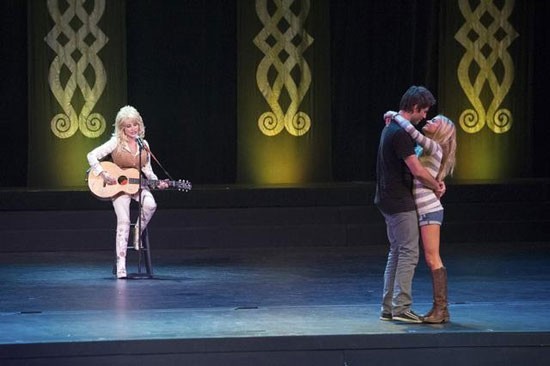 This week kicks off with a little breakfast in bed for Emily from her mom as the remaining sixteen contenders get handed a date card by Chris Harrison. And the date card goes to Chris who will be headed on a "steady climb" with Emily. After a brisk walk through downtown Charlotte, she makes him work for his dinner, which is waiting for them at the top of the building they must climb- hope he's hungry! As the get halfway up, the weather starts to change and it starts to thunder and lightning. Emily gets a little anxious and Chris stops to assure her that things are going to be okay- he definitely passed the supportive man test and she seems very into him. Emily awkwardly admits that if she saw him at a bar she wouldn't talk to him….huh? Rewind! She meant that he's too cute and makes her nervous- what is this, junior high? She certainly acted like Chris was in junior high when he tells her he is 25 and she seems shocked because she didn't recall him telling her that before and thinks he may be too young to be a dad. After he tells her that he is mature and ready for love, she immediately gives him the rose. After the date, Luke Bryan magically appears on a stage to serenade the two with a few of his hit country songs- just a normal first date in Charlotte. Let's wrap that up with a big smooch! We see fireworks between these two.
Charlie, Alejandro, Stevie, Ryan, Alessandro, Sean, John, Doug, Michael, Jef, Tony and Travis get the next group date card and the guys head out to the park for some football and to get grilled with questions by Emily's best friends. Let the uncomfortable vibes begin!
The girls seem excited with the two men who already have kids and are very curious about Travis or as they call him, the guy with the egg. John seemed very nervous when they asked him if he had ever cheated on a girl although he says no. They make the boys, dance, do push-ups and get down on the grass to do the worm. Sean wows Emily's friends and they think he is so cute and perfect and they even ask him to do a few shirtless push-ups. These ladies seem like the typical hot and bothered housewives. Next up, cue the pack of screaming kids! The guys get to play on the swings and on the baseball field with the kids and Emily notices Doug and Sean the most- surprise, surprise- her girlfriends also picked Doug and Sean. Ryan tries to interrupt girl talk and steal Emily away for a bit but when she won't leave the gossip circle, he makes a weird comment about her not getting fat once they are married…..you probably should have stayed on the monkey bars with the 5 year olds, buddy!
Emily and her guys all go out for a drink after they got cleaned up and she pulls Sean aside first. If she ends up picking him, they would be the modern day Ken and Barbie. Our hearts melt a little when Sean tells Emily that his father has been such a influence in his life by the way he loves his mother and still does sweet things for her. And Doug makes us cry as he tells Emily the tragic story of his father's death and his life in foster care. Oh, Doug- can we marry you? Tony is having issues with the fact that he left his son at home and is struggling with the choice he made to be on the show. He breaks down to Emily and she talks him through it and lets him know that she was in that same situation and it is harder on him that it is on his son. But he pulls fellow father, Doug aside to get his opinion. Tony admits that he is thinking about going home but Doug promises him that he is not a bad dad for leaving him. It is absolutely endearing to see the emotion Tony is going through and he wins our vote as father of the year. But Emily breaks it down and tells him that he isn't her future husband and sends him on his way back into the arms of his son. It was a very respectable move on her part and we are happy she made the right decision. Sean gets the rose for the night as expected and he is thrilled.
Arie gets the date card next and by the sounds of it, the two may be hitting the race track. But the two actually spend the day at the Dollywood theme park in Tennessee. This season may be less glamorous than the previous ones in Los Angeles, but the other Bachelorettes didn't get a chance to meet Dolly Parton herself! Jealous? We are! Emily is hoping that Arie lives up to the man that she has built him up to be in her head, no pressure though! He takes her on her first real roller coaster ride and although she is scared to death, she survives! Emily and Arie head into the Dolly Parton theater where they are instructed to write a love song when all of a sudden Dolly Parton appears and shocks the hell out of Emily. She sings a love song that she wrote for Emily aka ABC as the two dance in what seems to be the happiest moment in Emily's life. Dolly and Emily have a little girl talk and it is adorable how Emily's face is beaming as if she is talking with Santa Claus. The two then have a little country themed dinner on some hay bales and Emily wants to hear more about the relationship he had with his ex-girlfriend with two kids. The two seem to have a special connection and Emily pins that rose on his jacket and gets a sweet kiss on the cheek. It's not over yet- the date night at Dollywood wouldn't be complete without a make out session on the carousel. We heart Arie.
Emily struts into the backyard to greet the guys and immediately steals Kalon aka Ryan Phillippe circa Cruel Intentions away for a chat, but he ends up doing all the talking, in an extremely rude way. We can tell that Emily is over it. Travis the egg man takes Emily outside and they set 'Shelley' free together as Emily smashes the egg on the front stoop. What a weirdo- and we mean Travis, not Shelley. Emily gets a big disappointment when Alessandro tells Emily that her daughter is a compromise not an honor. On that note, she sends him back to Brazil as the guys talk about how he admitted to Emily's friends that he had a one night stand and cheated on his ex-girlfriend. And who is right there to comfort Emily? Arie. Oh, and Sean of course. She has a lot of winners in the pack of studs and we are so excited to see who makes it to the end.
As only Chris Harrison can do with such grace, he announces that it is time for the rose ceremony. As Emily is already down two guys, she will be eliminating a third bachelor tonight, leaving only thirteen fighting for her heart. Surprisingly, the first rose Emily gives out is to Jef and the man that she sends packing? Stevie, the tiny party DJ. Eh, no loss there Emily. Stay tuned for next week!