'The Bachelorette' Recap: Desiree And Guys Head To Atlantic City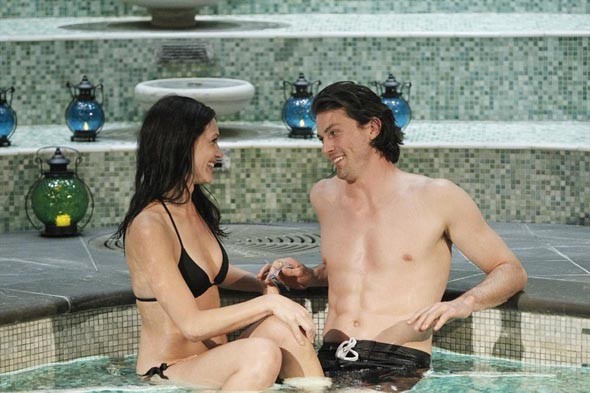 Des and the remaining thirteen guys head to Atlantic City, New Jersey for a mini Mr. America pageant. Fitting, right? Will Donald Trump make an appearance? Chris Harrison gives the guys the weekly pep talk letting them know that there will be three dates again this week, two one-on­-one dates and a group date. As the guys check into the Revel Hotel in Atlantic City, Brad gets the one-on-one date card and heads out on his date with Desiree. The two walk along the Boardwalk, ride a few rides together and eat some signature salt water taffy and chocolate. Even though he was one of the more reserved guys in the house, he is starting to open up to Des. Although the guys don't think that Brad is the right guy for Des, their date continues to a sand castle picnic on the beach. We are starting to think Des isn't feeling Brad and we aren't sure that she will give him the rose at the end of their dinner. It's a tad awkward to say the least. What was on their menu for the night? Absolutely no chemistry with a side order of bored. The two walk up to the top of the lighthouse and she tells him that his journey is over.
Back at the hotel, Brooks, Bryden, Zack K., Kasey, Drew, Juan Pablo, Zak W. Michael, Mikey and Chris get the group date card, which means that James will get the second one-on-one date with Des. The guys meet Des on the Boardwalk and when they spot her walking towards them, Brooks compares her to a unicorn…what? They meet Chris Harrison and the reigning Miss America in Boardwalk Hall and learn that they will be competing in The Bachelorette's Mr. America contest. Michael confesses that he has always dreamed of being Mr. America, so maybe he will take the cake. Taking lessons from a world famous pageant coach (there's such a thing?) the guys pick what their talent will be from a tableful of props and prep for the competition. Ben grabs the ribbon and in true Will Ferrell in Old School fashion, he attempts to jump through it. What an idiot. The guys find their bathing suits (some lucked out with trunks, others have to sport banana hammocks) and head backstage to begin the Mr. America competition in front of an audience. After the interview portion, we aren't sure who is on top because they all bombed. For the talent portion, Kasey does an adorable tap dance, Brooks sings a little ditty on the ukulele, Ben does the ribbon dance, Bryden puts on spandex and grinds in front of the Mayor of Atlantic City and Zak W. actually sings well.  Who will be the winner after the swimsuit portion? Mr. America 2013 is Kasey. But who is going to go home with the rose? We think Zak W. deserves it after his encore private performance on the guitar to Des…but does she agree? Yes she does!
The next morning, Des picks James up for their date and the two will be taking a helicopter ride with an American Red Cross representative to see the damage from Hurricane Sandy. It is a very moving moment for the two of them and Des admits that the destruction from the storm was way worse than she imagined. It's a good time to reflect and be thankful for what you have in life. Next, the two meet a couple, Manny and Jan, who is in the process of rebuilding their home after the storm. This is a very different kind of date that you usually see on The Bachelorette but we think it brought Des and James closer and they decide to give their special date to the couple. Here's when the tears start. The couple is so overwhelmed that they will be going on a fancy date in a limo to Atlantic City. God bless their hearts. James and Des decide on a more casual setting and get a beer and pasta at a dive bar. We are really rooting for James but when he opens up and tells her that he cheated on his ex-girlfriend, we're not sure if Des can forgive him. Since Des has been cheated on herself, she seems a little skeptical but we think she can get passed it and honestly believes that he won't do it again. And the tears start up again when Manny and Jan celebrate their 38th wedding anniversary dancing to Darius Rucker. That is true love. James gets the rose tonight and he also earns the number one spot on our leader board.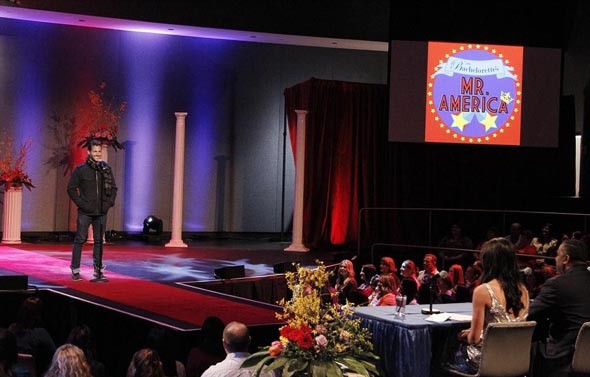 At the cocktail party before the rose ceremony, Michael pulls out a Sharpie and paper and spells out Des' name and gives her an appropriate adjective that goes with each letter- it's a bit cheesy but she eats it up. Meanwhile, Bryden opens up to the guys and tells them that he may not stay after tonight because he doesn't have those feelings for Des. When Bryden pulls her aside, Des seems blindsided by the fact that he feels like he is falling behind but she assures him that there is a connection between the two of them. Chris Harrison walks in and announces that it is time for the rose ceremony. Will she give Bryden a rose or will he take himself out of the competition? The first rose of the night goes to Chris, followed by Brooks, Juan Pablo (we just loves how she asks him in Spanish every week to accept 'la rosa'), Drew, Michael, Ben, Kasey, Bryden (he accepts) and Mikey sending Zack K. home. Ehh, no surprise there. Next week, Des and her men will head to Germany to continue their whirlwind of a dating adventure- stay tuned!