'The Bachelorette' London Calling: Emily Weeds Out Some Bachelor Baggage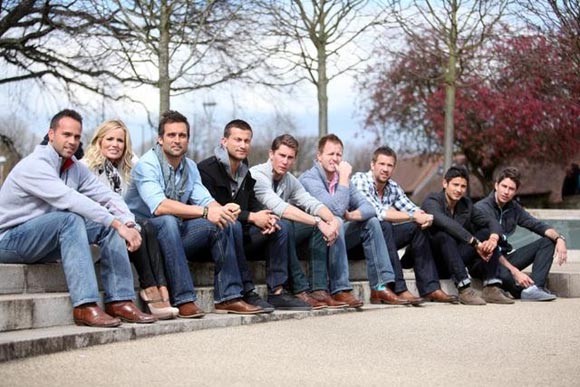 Emily and her men head to London this week to show their romantic side through Shakespeare and to prove to her they are bloody worth it. Ricki and her mom are having the time of her life as they sightsee around London on a double decker bus. The remaining ten men meet up with Chris Harrison as he reminds them that one of them will become her husband…so much pressure!
The first one on one date goes to Sean as "love takes no prisoners." As the jealous men sit at home in their suite, Sean heads out to meet Emily for their date. The two will be touring London on their own double decker bus- let the cheesiness begin- Cheerio Barbie and Ken! After touring the spot where Princess Di and Charles got married, the two head to Buckingham Palace and take of picture of them kissing below the exact spot that William and Kate shared their first kiss as the royal couple. Back at home, Kalon starts to talk smack about the way Emily is raising her daughter- the nerve!
Sean tries to convince Emily that he hasn't been with a girl in a while because he is very selective and good girls are hard to come by. And he even carries her purse for her, now that's a gentleman. Then he jumps up on a milk crate, literally, and professes his feelings to Emily in front of the crowd. At dinner, Emily (through her raspy voice) tells Sean that he has everything that it takes to make him perfect yet he is very humble and we are not sure if that is a good or a bad thing. Well, it must have been a good thing because he takes home the rose.
Emily sends her next date card to the boys back at the hotel as Chris, Arie, Brian, Doug, Alejandro, Travis, John and Kalon will experience a little Shakespeare with her. The guys meet Emily in the park to learn that they will be performing scenes from Romeo and Juliet. The guys have to audition for the part of Romeo as Emily will be playing the lovely Juliet. The four boys that are chosen as Romeo are Alejandro, John, Ryan and Kalon. The last two (losers) who will play the nurse are Arie and Doug. It is almost comical watching the guys play an old lady reciting medical terms from the Shakespeare era. The guys find out that not only will they have to perform the play in front of Emily, but they will have to dress up in full puffy sleeved costume and perform in front of an audience. It's like watching a bad Katherine Heigl film- but worse. Surprise, surprise- Emily is the most attracted to Arie, who is dressed as a woman. Ryan takes her behind the curtain and surprises Emily with a beautiful turquoise necklace as Kalon continues to talk about the baggage Emily has with her daughter. We wonder if anyone is going to man up and tell Emily what the jerk is being. Doug confronts him and he admits that he sad Ricki is baggage. Somebody has to tell the girl so he can be on the first plane back to Doucheville. Thank you Doug!
As Emily emerges from her talk with Doug, ready to rip Kalon's limbs off, she confronts him, 'West Virginia hood rat style'. Kalon tries to get himself out of the situation but he ends up drowning as she rips him a new one. "Get the F out" is something that we never thought we would hear out of sweet little Emily's mouth and he is on his way home….the end.
The next one on one date is with Jef and he better be prepared to prove himself as a future daddy. The two have a traditional afternoon tea at the Chiswick House with a side of etiquette. The overly demanding etiquette teacher, Jean, ends up being a big part of the one on one date and it clearly makes Jef uncomfortable. "Don't bite that scone, that's way too much tea in the cup, strawberry jam goes on first"- yikes! The two make a run for it while Jean heads to the Lou- off to a pub for some fish and chips and a few pints. ABC couldn't have orchestrated that better. Jef lets Emily know that he stood up for Emily and Ricki as Kalon called Ricki baggage and admitted that he was only on the show because his life at home was boring- could he be any more parallel to Bentley? Jef lets Emily know that the only kind of baggage Ricki is would be Louis Vuitton. And for that, he gets the rose.
As the rose ceremony is upon them, Emily wants to sit down with the rest of the boys and ask them what they would do if anyone was to talk bad about her. She is not messing around anymore, it is serious Emily from here on out. As Sean and Jef are already safe, the first rose goes to Doug. The unlucky man who has to pack his belongings and head back to the states is Alejandro.