'The Bachelorette' Finale: Will It Be True Love Or Not For Desiree?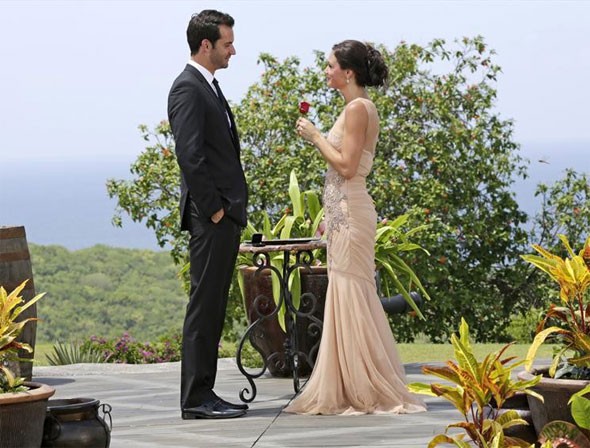 Desiree remains in Antigua without Brooks and with a broken heart. She doesn't think she will be able to love Drew or Chris as much as she did Brooks- what will she do? Consult Chris Harrison for the answer, that's what! Poor girl, we really feel her predicament right now and get the sense that she isn't ready for marriage with either one of these guys. There will be a rose ceremony tonight but we aren't sure exactly what will happen during that time. As Chris and Drew arrive at the rose ceremony, unaware that Brooks has left, Des comes out and fills them in on her turmoil. Fighting to hold back tears, she tells the guys that Brooks chose to go home on his own and tells them that if they don't want to accept the roses, to let her know.
Des and Drew have their last date together before he meets her parents and either goes home a lucky man or a lonely man. We can't help but feel that she is just going through the motions with him and that she doesn't like him AT ALL. It seems like we are watching a horrible first date. After he makes a toast to being madly in love, Des stops Drew and tells him that she can't really see a future with him. Ouch! Drew heads back home with a broken heart-but maybe he will be the next Bachelor?
Will she say goodbye to Chris as well? When she meets him on the beach, we're not sure if she loves him or not…she is one confusing chick! But after the two board the catamaran and kiss, we don't think that she will send him home. It's funny to us that Chris still thinks he is in a competition but in reality he is the only one left…or is he? Why are we getting this feeling that Brooks is going to make another appearance in Antigua? Chris gives Des a beautiful journal with their poems in it and we are secretly hoping that there is an engagement ring it there too. But first, he has to meet her parents- and her brother. What is wrong with that guy? But he actually tells Des that he approves of Chris. Chris asks Des' father for her hand in marriage and he gives him his blessing…this is all happening so fast!
Chris meets up with Neil Lane and picks out the ring that he will propose to Des with. As the two get ready for the big moment, it's a little awkward because we know he is the only contender left but he doesn't. And we still aren't sure that she will say yes. As Chris gets out of the limo, he is admittedly nervous but seems ready to take that big step. As he spills his love for her and attempts to get down on his knee, she stops him and tells him she has to tell him something, is this going to be bad? Not at all! Des tells Chris that she loves him and he follows through with that proposal. Congrats Des and Chris!
Give us your thoughts, will this engagement turn into a marriage or not?
Check out more photos from 'The Bachelorette' finale.