'The Bachelorette' Episode 2: First Dates, Wedding Dresses And A Soulja Boy Rap Session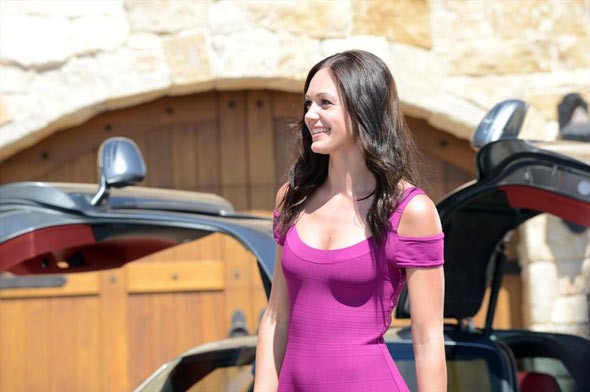 Week two of the riveting drama, The Bachelorette, starts off this week with Desiree and her remaining men will star in their own rap video. Oh boy! As Chris chats with the men, he lets them know that there will be two one-on-one dates and a group date this week. And the winner of that first one-on-one date is Brooks, who does the 'Rocky Balboa' to celebrate his win. Okay…
As Des pulls up to the house in the baby blue Bentley to pick up Brooks, all the other guys greet her with hugs. She takes him to a wedding dress salon (not the one she used to work at by the way, but the one across the street) and has him try on tuxes as she dazzles him in gorgeous wedding gowns.  The two then walk out of the store looking like wedding cake toppers to a dessert truck where they get to eat some wedding cake with screaming fans. Next, the two drive up to the Hollywood sign where they were apparently granted special access to sit on the sign and chat. Just a typical date in Hollywood- a first kiss atop the Hollywood Hills on the most iconic landmark in Los Angeles. The two have a very sweet chemistry and we think he will go a long way in her search for love, if not be the one she ultimately falls in love with.
After their romantic first kiss, Brooks and Des are driving through the 'ghetto' in LA and come across a 'road closed' sign. Des decides to move the barriers as Brooks gets a little nervous but they soon come upon a closed off and lit up bridge adorned with chandeliers. Of course, there is a table and chairs in the middle where the two will share a candlelit dinner. Brooks and Des have a heart to heart about his parent's divorce and it is very touching that he opened up so much. We love Brooks' sweet personality, and his smile, and his hair…and of course Des loves him too and gives him the rose. Then the two get serenaded by Andy Grammer, one of our favorite artists!
Back at the house Dan, Zack K. Juan Pablo, Will, Drew, James, Brian, Mikey, Zak W., Nick, Michael, Kasey, Brandon, Nick and Ben get to go on the group date with Des the next day. They head to a winery in Malibu where they see a few sports cars outside of the mansion. What will they be doing? Starring in a rap video with Soulja Boy, of course!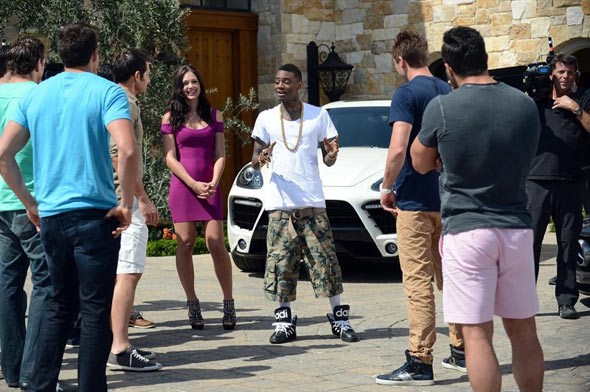 The guys step up and start their attempts at rapping, cheesy but adorable at the same time. They get dressed in cowboy outfits, tuxes, armor, raincoats and even a banana hammock. They are handed raps that are about former Bachelor contestants and as they practice, Des walks in in a short and sexy cowgirl outfit. Are we doing a country music video now? Des even gets a chance to rap and actually does a pretty decent job. After the rap video, the group heads back to the house to drink more and corner Ben about being a faker. He isn't a huge hit with the other men, but seems to be hitting it off with Des and the two share a sweet kiss. Brandon tries to open up to Des but ends up looking like a big softie, grow a pair! But who will she give the rose to? She hands it over to…Soulja Boy! Just kidding, it goes to Ben! Too bad Zak W. wasted his money on an inscribed antique journal. We definitely got the embarrassed goose bumps when they all surround Des and sing their rap "Right Reasons" to her.  C'mon ABC!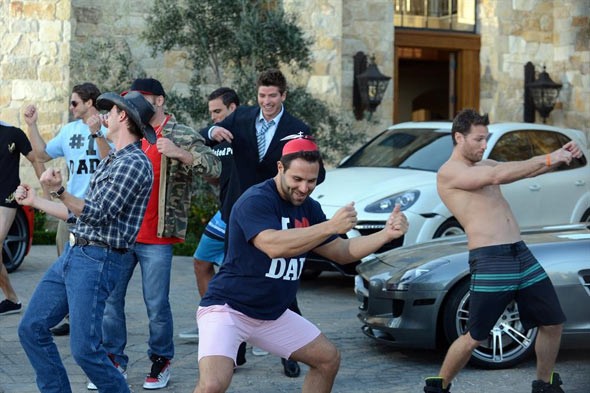 Bryden gets the last one-on-one date card and will go on a 'road trip' with Desiree. He climbs aboard the Bentley, passport in hand and the two head out on the road to El Matador Beach. They play in the sand, fly a kite and eat fish tacos before heading to an orange grove. Next they drive up to Ojai where they will have a romantic dinner outside. Bryden and Des seem to laugh together a lot and share a mutual sense of humor. Then he gets serious when he tells her about the bad car accident he was in a few years ago, he even brought a few pictures with him coincidentally. We agree with Twitter follower @libbycrews that Bryden looks like a mix between Jake Pavelka and Kasey Kahl. He scores the rose and the two strip down and get in the hot tub for an awkward make out session that Des had to force. Again, grow a pair!
Adorable and sweet Desiree looks like a mermaid as she walks into the cocktail party before the rose ceremony. Michael tries to tell Des a touching story about how he was diagnosed with diabetes when 'the guy with the rose' Ben, steals her away. As she talks with Ben, the other boys start to stir the pot about their beliefs that he isn't there for the right reasons. When they bring it up to Ben, he gets a little cocky and it makes us not like him that much anymore. Will Des see it for herself or see right through Ben? When she sits down with Brian, we can't help but think he is a descendent of Donald Trump…
Chris Harrison comes to the party to announce that it is time for the rose ceremony and they head outside to begin. The first rose of the night goes to James, then Kasey, Dan, Juan Pablo (was he even in this episode?), Brad (who?), Chris, Brian, Zak W. (the journal worked!), Drew, Mikey, Zack K., Michael and last but not least, Brandon, sending Will (almost tripping over a rock on the way out), Robert and Nick home. Tune in next week for some girly guy drama, awkward first kisses and everything else The Bachelorette brings every week.