'The Bachelorette' Emily Maynard Picks Her Man, Leaves One Brokenhearted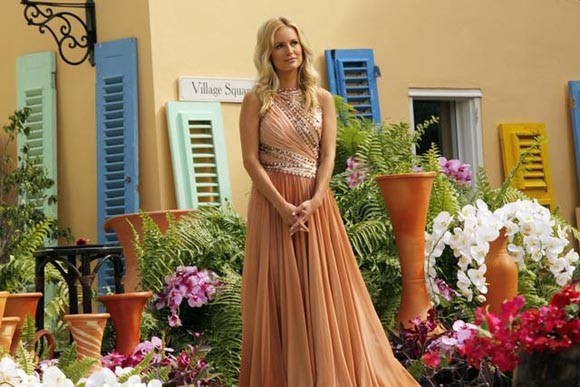 The final episode started out with Jef & Arie meeting Emily's parents, her brother Ernie and his fiancé. Ricki joined everyone in Curacao as well. Jef met her parents first and made a good impression by bringing Emily's mom and future sister-in-law flowers. He seemed like he was comfortable with them and wasn't afraid to express how deeply he felt for Emily. He met with her mom first, then her brother and lastly her dad. Emily's brother was probably the toughest out of everyone but he seemed to like Jef and Jef ended up asking her dad for her hand in marriage and he said yes. Next up, was Arie, who seemed more awkward and nervous. He admitted that he talked a lot when he was nervous, and it showed. He brought Emily's family a box of all the roses she had given him and her mom thought it was sweet. They all eventually warmed up to him and said they really liked him too and to boot, Arie got Emily's father's approval for marriage.
Emily's first date was with Jef and after they were hanging out for a bit, she asked him if he wanted to meet Ricki, without any hesitation. Of course said yes and the two went over to the pool where she was swimming. Emily introduced Jef as a friend but clearly and under the circumstances, she knew he was more than a friend.  She had said before that if it didn't go well with Ricki she didn't know what she would do. At this point, we still felt like she didn't know who she would choose. After making small talk and trying to connect with Ricki, Jef did make her laugh and was really good playing in the pool with her. The proud mama seemed happy and impressed. Her next date was with Arie, but before the date she sat down with Chris and told him that she had made up her mind to choose Jef- shocker! But that she didn't know how she would even start the conversation to tell Arie this. She didn't want to put him through the final rose ceremony because she was so sure of how she felt about Jef.
Emily ended up meeting Arie for the date and he could clearly tell that she was upset. She told him she was choosing Jef and he was shocked and didn't know what to say, so he simply left in the limo. After Jef picked out the gorgeous Neil Lane engagement ring, she chose to have the rose ceremony and told Jef that she loved him, that he was the one for her and that he was actually the only one still there. He was really excited and happy that she had sent Arie home, obviously and he said he loved her so much. Like the story book ending that Emily wanted, Jef got down and proposed and after a long pause, Emily said yes. Ricki came running out of nowhere, looking kind of goofy and grabbed Emily's hand and the 3 of them walked off together as a new family.
Arie got a chance to talk to Emily on the After the Rose special and he was clearly still upset. He admitted that he actually flew out to Charlotte to see her, sent her a journal he kept and ultimately wanted closure. Although he said Jef was one of his best friends in the house, it was obviously tough for him but in the end, he is happy for her and Jef and hopes he can find love someday.