'The Bachelorette': Emily Maynard Not Messing Around In Her Quest For Love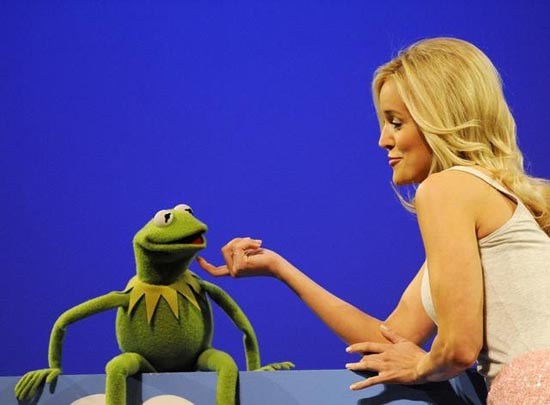 This week, Emily starts off with a pep talk from her mom and her close friends as she preps for the one on one dates that are coming up this week. The remaining nineteen men will be picked by Emily for either a group date or a one on one date and if they don't get a rose- they get the boot. Chris brings out the first date card and it goes to Ryan, the jock from Georgia.
As the other men in the "frat house from hell, on steroids" play football by the pool as they sip on beer, Emily comes in and takes Ryan's hand and leads him on their way to their dream date- unloading groceries from her SUV at her home, then preparing cookies for Emily's daughter Ricki's soccer game. Although most dates on the Bachelorette are glamorous and usually end in a helicopter or atop a mountain, Emily is a domestic single, soccer mom. Ryan seems content with her as they spend a normal day together that ends with orange slices and juice boxes in a Suburban. Later on that night, Emily gets out of her "mom clothes" and has a nice dinner with Ryan, with a side of drilling relationship questions.
Back at the house, another date card arrives and Alejandro, Nate, Alesandro, Tony, Michael, John, Jef, Charlie, Kyle, Chris, Aaron, Stevie and Kalon are going to do something theatrical to impress Emily. Meanwhile at dinner, Ryan manages to get a rose from Emily and we definitely already see him as one of the front runners. Outside, the band Gloriana is awaiting amongst fans and the beautiful couple dance under the stars. Don't all first dates end this way?
On the group date, the boys meet up with Emily and her friends- The Muppets! They will be putting on a show to impress their girl, Emily as Miss Piggy admires all her suitors. One group of men will be doing a dance number, one group will be serenading Emily with "The Rainbow Connection" and the last group will be doing stand-up comedy with Fozzie Bear.  Immediately, Charlie gets extremely nervous to perform because of his past experience after an accident and speech disability. He confronts Emily and she is a sweetie pie as always and reassures him that its fine and he can sing instead.
Its show time as Emily performs with the men, Kermit and Miss Piggy. It is sweet as Emily's daughter, Ricki, is in the audience cheering on her mom. The men do their best to impress Emily through The Muppets as hundreds of children and their parents look on- it's a tad awkward. Charlie starts to sweat a bit as he has to answer a question from Miss Piggy, but pulls it off without a stutter or a slur. As a bonus, Ricki gets up on stage and sings with Kermit and Miss Piggy and her smile just warms our hearts.
Emily and the men change up for the evening at home and the men nervous as one of them will get a rose- who impressed her the most today? Emily tells Chris that he is so good looking but not cocky about it and he confesses that it is the biggest compliment he has ever received. Next up, she pulls Jef aside and asks him why he hasn't tried to talk to her and why he is playing hard to get. The skateboarding CEO has a certain sparkle in his eye that we are warming up to.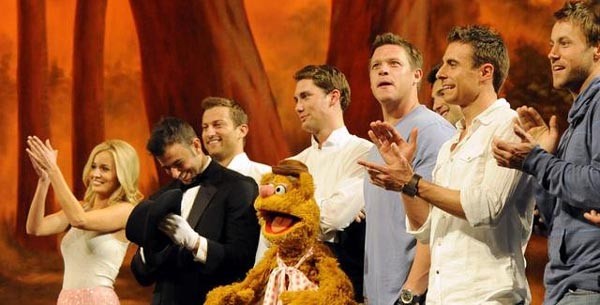 The remaining men at the house get a knock at the door and the date card for Joe arrives. Charlie wrangles up a group of men to spy on Stevie as he tries to impress her with his dance moves, but Kalon cuts in. He seems a bit arrogant as he tells her that his dating life in Texas is just fine and we couldn't be happier when Aaron interrupts the two. The other guys seem to share our same opinion of Kalon as they sit around the fireplace and try to put him in his place. Emily comes in and gives the date rose to Jef and the other men seemed surprised.
Emily is waiting for Joe on the tarmac at the airport outside a private plane to take him on a flight to Emily's hometown West Virginia. Really, West Virginia? They tour the historic Greenbriar estate and hotel and it is a perfect setting for a first date.
Back at home, the guys talk about Emily's daughter and how difficult it is embrace someone else's child as their own. Kalon makes a snide comment to Doug about how he put his fatherhood on hold to be on the show. He snaps at Kalon and puts him in his place- how rude!
Joe and Emily have a very romantic dinner as they talk about what they want in their future and how many kids they will eventually want. She admits that he doesn't give her butterflies but decides to test him out on the "love clock" where they write down love notes and put them into the clock. But we hate to say, we feel that Joe's time is ticking away on this journey. Emily is visibly upset as she tearfully tells Joe that he won't be taking home the rose tonight. What a sweet girl Emily is- a true southern belle.  Joe seems devastated as he is sent home and the night ends with Emily gazing out into the night watching fireworks, alone.
Emily gets ready with her mom and daughter for her big night at the rose ceremony. Jef and Ryan are already safe but the other men are shaking in their boots as the realize Emily is not messing around in her quest for love. Arie pulls her aside first for some alone time with her and tells her that he has dated a woman with children in the past. Emily is taken back and tells him that he is making her a little nervous, in a good way. The boys are not impressed as Ryan swoops her up next, but he has nothing to lose or win because he already has a rose. Tony watches on as Ryan hands Emily a scroll with a sweet letter inside. She reads it aloud but admits that she feels bad for Tony as he watches on- awkward! Tony finally gets a chance as the two connect over being a single parent and she tells him that she will be there for him because she knows it is hard being away from his child.
Kalon steals Emily away next and she senses that something is wrong with him. The two chat about being twenty years old with an old soul. The other men aren't impressed with his flashy suits and big vocabulary. He does seem like a stuck up rich kid who should be named Livingston Wadsworth Kingsley III.
Chris Harrison steals Emily away next as she preps for the rose ceremony where she will send two guys home.  The first rose of the night goes to Kalon as the other men look in in horror- shocker! Arie, Michael, Nate, Sean, Chris, Doug, Travis, Tony, John, Alessandro, Charlie, Alejandro and Stevie are all given roses as Aaron aka Ed Norton and Kyle are sent home. Fourteen guys remain in the race to Emily's heart, stay tuned for next week.