'The Bachelorette': Emily Confronts Rejected Bachelors As 'The Men Tell All'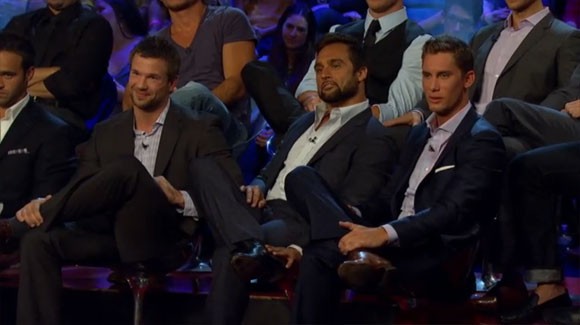 Up next- Ryan- and does anyone else think he looks a bit like a hairy Tim McGraw? We thought from the beginning that he was only on the show to hopefully become the next Bachelor. Yes! We get a little peek of that girly tank top again, thank you ABC! Ryan admits to everyone that the show was never about Emily, it was about finding his future wife. The mean are all quick to pounce on Ryan and call him out on his arrogance. Even Chris calls him an "arrogant ass" several times. Ryan seems a bit uncomfortable Chris Harrison announces that on behalf of ABC, he will not be the next Bachelor. He seems like a politician to us, blah! Go home to Georgia, Ryan.
It's very sad when Chris is in the hot seat and we can tell in his eyes that he still loves Emily. The pain on his face when they show the clip of him and Emily kissing and the moment she gave the rose to Sean instead is heartbreaking. He starts to cry when he talks about a few friends he has lost and he how he never takes a moment for granted and always says what he means in the moment. But take us back to the preview of the Bachelor Pad when he is playing three different girls and it's hard to take his emotions seriously.
Sean steps up to the hot seat next and the crowd goes wild! We still wonder what happened between him and Emily because she seemed to be in love with him too and she was upset letting him go for sure and Sean sees it now on the clip from last week's show. Perhaps Sean will be the next Bachelor?
Emily comes out to greet the boys and it looks like she may have had a few more CCs of saline injected into her boobs. Is she trying to become Holly Madison? We're just saying…She confronts Sean first and told him that she cried all night after she let him go and that everything she felt for him was real. Chris also chimes in and tells her that she made him believe in love again. And then there's Doug- who is still awkward as he waves goofily at her and says, "Hey Emily!" She still can't get past what Kalon said and throws him under the bus after she saw a certain Twitter post of a baggage claim with the headline, "I'm surprised Emily Maynard isn't here" and all he can say is, "I'm flattered you follow me on Twitter." Wow!
Tune in next Sunday for the season finale of The Bachelorette.