'The Bachelorette': Emily Confronts Rejected Bachelors As 'The Men Tell All'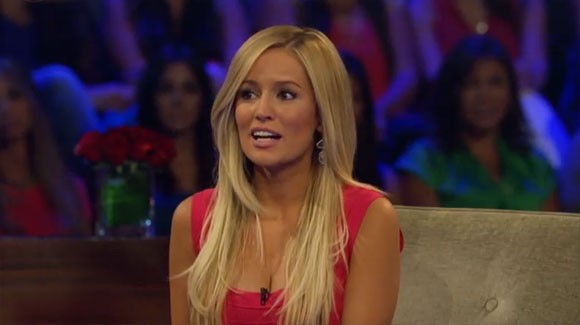 Emily sits down with Chris Harrison tonight and confronts all the men she let go in the past but all we can think about is, where did our sweet Emily go? She looks like a completely different and plastic version of that sweet southern belle we met on Brad's season. It's sad that television and celebrity can really get to someone and change them so deeply. Anyways, back to our sweet Barbie and her suitors.
As Emily sits down with Chris to talk about the former bachelors on her season, we reminisce about Ryan, Kalon and Doug. The uncomfortable moments we have tried to push out of our heads like Ryan interrupting girl time to tell Emily he wouldn't like her as much if she gained weight after they get married, Kalon calling her daughter, Ricki baggage and Doug kissing Emily mid-breakup.
And to promote the popular series even more, we get a sneak peek into the new season of Bachelor Pad starting next week. We've got Blakely, sleeping around, Lindzi, Erika, crazy fans, Kalon, Chris, loose cannons, nakedness and knives- oh my! Reality show heaven- we can't wait…We would really like to see/have Chris Harrison's paycheck.
The ladies in the audience love Sean and scream every time Chris mentions his name….really? As Chris shows a few clips of the men (especially Doug and Chris) fighting over Emily, the "hot blonde" aka the "hottest Bachelorette" ever on the series the tension on the studio starts to brew. It must be uncomfortable to sit amongst them men whom you were competing against and awaiting the girl who dumped them to come out and confront them. And to boot, they know that Ari and Jef are still in the game and one of them will be Emily's husband- we think…Chris still seems bothered that Doug and Ryan call him young. At 25 years old Chris, you are young. No smiles are forming on his face tonight!
Kalon is first up in the hot seats as the ladies in the audience boo and we don't blame them. Can he get himself out of the "baggage" situation and make nice with the audience before his premiere on the Bachelor Pad? We doubt it…When Chris asks him straight up if Kalon was rude to her, he beats around the bush and doesn't really apologize. He was definitely in it for the exposure, when he says that America likes everything to be sugar coated and he couldn't do that. The fans and the men aren't too thrilled either when they find out that Kalon will be appearing on the Bachelor Pad.