'The Bachelorette': Croatia Is Last Stop For Ryan After Second 'Trophy Wife' Comment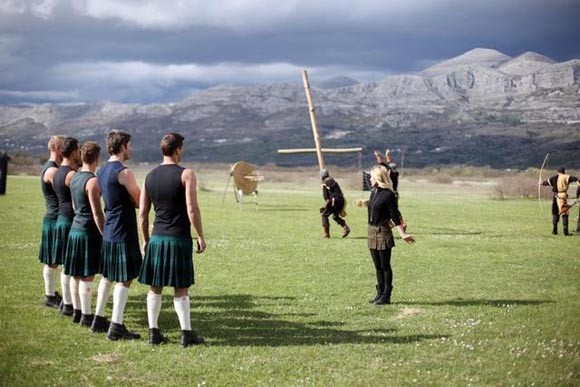 As Ryan gets ready (in three hours) for his one on one date with Emily, the guys are basically talking about how much of a douche he is and wondering if this is a test for him and he will in fact be headed home. He is so different than the rest of the guys that we can't help but wonder if Emily is in fact keeping him on the show because she likes him or ABC is making her keep him on because he makes for good television. The two head out on a little road trip to Ston to catch some oysters and eat them fresh out of the net, except when Emily spits hers back overboard. Once again, Ryan calls Emily a trophy wife and it doesn't sit well with her because "trophies don't talk back." Trophies do probably have veneers though, Emily. But, Ryan- we are onto you! He actually writes down a list of twelve qualities that he is looking for in a wife as one of them included 'servant.' Emily is not impressed as she tells him that she feels the need to be perfect around him and doesn't want to have to fit in that mold he has in mind. She finally sends Ryan back to the states. But he won't go easily…Don't forget you tank top, dude and your self-proclaimed worldly gifts you have been blesses with! Dear ABC, please don't make Ryan the next Bachelor, please don't make Ryan the next Bachelor.
Is Emily done kicking people out of Croatia or will she still send someone home during the rose ceremony? Arie gets an early rose in Emily's bed that night. Get your mind out of the gutter, people. Literally, he gets Ryan's rose…not Emily's "rose." Wink wink. He's definitely not going home tomorrow. But who is? Cue Chris Harrison and the rose ceremony- we're sorry but who is that John character again? We aren't surprised that he is on the "bubble" for Emily. But when he breaks out his grandparent's funeral cards and starts to weep, even Emily's Botox brows show emotion.
As Emily emerges upon the rose ceremony, we can tell that she is a tad skittish about the night. Will she send someone home or give all of these Bachelors a second shot? Sean gets the first rose and we can see the sweat beads forming on Doug's forehead. But before she gives out the final rose, and thank you Chris for announcing every time that it is the final rose because we clearly can't tell that there is one left on the silver platter, she gives it back to Chris and decides to give both John and Doug roses. Throwing us for loops there, Emily, or just keeping us on our toes? We shall see next week, in Prague.