'The Bachelorette': Croatia Is Last Stop For Ryan After Second 'Trophy Wife' Comment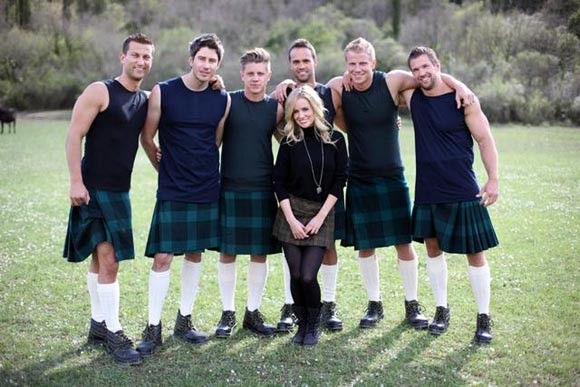 Team Emily is hitting up Croatia this week (just a typical day in the life of a Bachelor) as she leaves her little girl, Ricki back home in Charlotte. This week, there will be two one on one dates and one group date and some of the men are so desperate to get the one on one that there may be a few fists flying- just kidding of course, these are gentlemen! Emily hand delivers the one on one date card to Travis, which is a little bit of a shocker to the other guys, along with us. Who is Travis again? Side note- the more and more we hear Emily talk, the more we believe the US Weekly article about all the plastic surgery she has had- especially the veneers.
Emily and Travis go cruising around the village of Dubrovnik hand and hand, buying trinkets and ice cream. They stumble upon a balance wall that says if you can stand on it and take off an article of clothing, you will be lucky in love. Travis nails it but keeps his shirt on much to Emily's dismay.  Speaking of shirts, cut to the guys lounging around in the hotel trash talking Travis and we can't get over the fact that Ryan, the football jock is straight up wearing a women's tank. I'm sorry, where were we? Emily who? Oh right, tank top.
After a fun filled day in Croatia with Travis, the two continue their rainy day stroll to a romantic candle lit dinner. Travis seems smitten but Emily is quietly wondering if the two can be more than friends. As he lets his guard down and tells Emily that he hasn't dated for two years since he broke up with his fiancée, we hope he doesn't get his heart broken but alas, Emily reached for the rose and breaks it to him gently that he will not be getting the rose tonight, poor guy. What a way to kick him when he's down! As he tosses that umbrella dramatically into the dark and rainy streets of Croatia, the water works start to fall from Travis' eyes.
Back at tank city- we mean the hotel (thank you Ryan for putting a sweater on) John, Doug, Sean, Jef, Chris and Arie are the recipients of the dreaded group date card as Ryan gloats in the background as the proud and obvious winner of the second one on one date card. Emily takes the group of hunks to see Disney's Brave in a quaint little theater in the city. Nice plug for Disney there, ABC. We can only think since the movie has three men fighting for the girl by going through a few tests like archery, leads us to believe there will be some bows and arrows in our future. Yes! We knew it; there will be a Highland Games competition- with the men wearing kilts. We are just wondering if anyone is going commando.
Just when we think it couldn't get more embarrassing for the men, they have to ride donkeys into the valley, with the kilts still on. The first event the men will be competing in is archery and all the men seem to know what they are doing, except Chris. Next up is the Caber toss or log toss and Chris volunteers to go first. We hope he doesn't screw this one up, but he does, strike two! The third event is the Maide Leisg, which is similar to tug of war which a large stick and once again, Chris loses. Although he lost all the games, Emily gives the brave award to him as she seemed impressed with his skill of trying. Who walks away with the group date rose though? Chris. Can we just say that Emily is one lucky girl to have all these great men telling her that they are falling in love with her and that she makes them feel like a romance novel?  Are they for real or are we just dating all the wrong men?