'The Bachelorette' Brings Her Sausages To Germany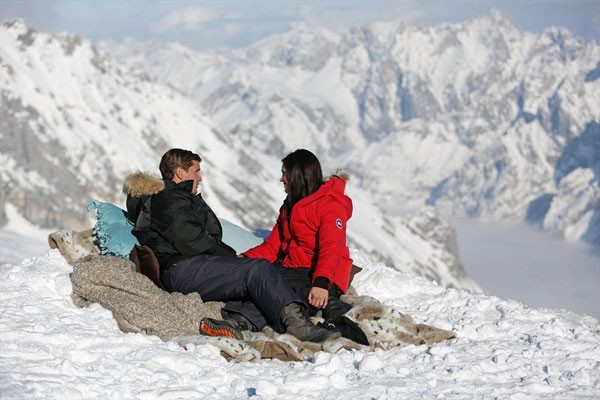 This week, Desiree Hartsock and her remaining eleven men head to Munich, Germany where there will be tons of heartache ahead according to the promos…Chris Harrison lets the men know that there will be a group date, a one-on-one date and the dreaded two-on-one date. When the date card arrives, it is revealed that Chris receives the one-on-one date with Des. The two head out to explore because as Des reminds him, it is her first time in Europe.
Bryden is still struggling with his feelings for Des and he is still debating whether or not to stay. He confides in James that he is planning on going home and heads out to interrupt her date with Chris and tell her that he is peacing out. He finds Des and Chris dancing in the square and tells her that he is leaving immediately. We feel bad for Chris and the other men who she let go instead of Bryden in the past. Excuse us but where did Chris come from and how have we not noticed him before? He is a hottie! Chris and Des have a romantic dinner after the awkward Bryden moment and she gives him the rose after he recites a poem he wrote about her.
Back at the hotel, the group date comes and it reveals that Juan Pablo, James, Zak W., Brooks, Drew, Mikey and Kasey will be competing for the rose as Michael and Ben will get the two-on-one date meaning one of them will go home. The group head out on the mountains and board a gondola to the top of the mountain. How will they get down? Sleds, of course. They look like there are kids again heading down the mountain and making snow angels in the powder. The men are starting to point fingers at James saying that he is a player but Des doesn't see it at all. Does he just want to be the next Bachelor?  Back in the hotel, Michael and Ben are miserable as the date card arrives letting them know that one of them will get the rose and the other will go home. But who will get the rose on the group date? It goes to one of our favorites- Brooks.