'The Bachelor' Stars Sean Lowe And Catherine Giudici Discuss Abstaining From Sex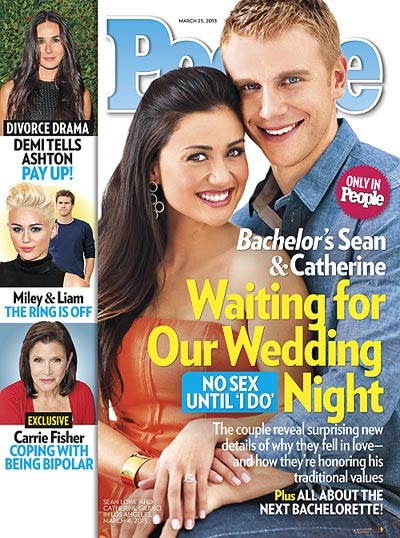 Four months after his romantic proposal on ABC's hit show The Bachelor, Sean Lowe and Catherine Giudici reveal in this week's issue of PEOPLE surprising new details of why they fell in love – and how they're honoring his traditional values. It's not every day that a man proposes to the love of his life on national television, so one can perhaps forgive Lowe, 29, for getting ahead of himself when he popped the question to Giudici, 26. "I wanted to tell her why I fell in love with her and why I wanted to spend the rest of my life with her, but I got so excited that I rushed it," the Bachelor star tells PEOPLE. "I probably should have spent more time on it, but honestly, I couldn't wait to get down on one knee and ask her to marry me!"

As the more than 9 million people who viewed the romantic proposal in Thailand now know, she said yes. However, Lowe, a Dallas-based entrepreneur, and his bride-to-be, a graphic designer from Seattle, have vowed to wait until their wedding day to consummate their relationship. For Lowe, a conservative Christian and "born-again" virgin who has abstained from sex since college, the decision reflects long-held religious beliefs. Still, he's hopeful that the wait won't be too long. "I'm a guy," he says with a laugh. "If it were up to me, I'd go to the courthouse tomorrow and it would be a done deal!" The pair sat down with PEOPLE to talk about their unconventional path to the altar. Excerpts are below:

PEOPLE: Why is abstinence important to you?
Sean: I lived life kind of selfishly for a long time, and I reached a point where I was tired of being selfish. I wanted to live my life the way I know it to be right. It's a personal choice for me.

PEOPLE: Catherine, how do you feel about his beliefs?
Catherine: I honor him.

PEOPLE: You've said you'll televise the nuptials…
Sean: I think it's only fitting. Our relationship was started and created on TV, so we could solidify it there as well.

PEOPLE: Did Tierra LiCausi deserve her bad-girl reputation?
Sean: She honestly just can't get along with her peers. But she's not an evil person. She was mean at times, but she's not evil.

PEOPLE: At "The Women Tell All" special, your second-runner-up, AshLee, claimed you told her you didn't have feelings for Catherine and Lindsay.
Sean: I was flabbergasted! That statement is ridiculous and clearly not true. She might have misconstrued something I said. Maybe that's what her brain took in, but I didn't say that.

PEOPLE: Catherine, you're vegan, but Sean's a big meat lover. How does that work?
Catherine: I'm vegan for my own reasons. He gets to be a man and eat whatever he wants. I don't care.

The full Q&A with Sean & Catherine, along with comments from the new Bachelorette, Desiree "Des" Hartsock, are featured in the new issue of PEOPLE magazine, on newsstands everywhere now.

*Also In This Week's 'People'*
People Exclusive: Carrie Fisher's Bipolar Crisis – "I Was Trying To Survive"
Demi Moore & Ashton Kutcher's Divorce Drama
Miley Cyrus & Liam Hemsworth: The Ring Is Off
Christina Hendricks: "my Husband And I Sing A Lot At Home… It's Sort Of Like Living In A Musical"



COOL CLICKS II