'The Bachelor' Stars Ben Flajnik & Courtney Robertson Split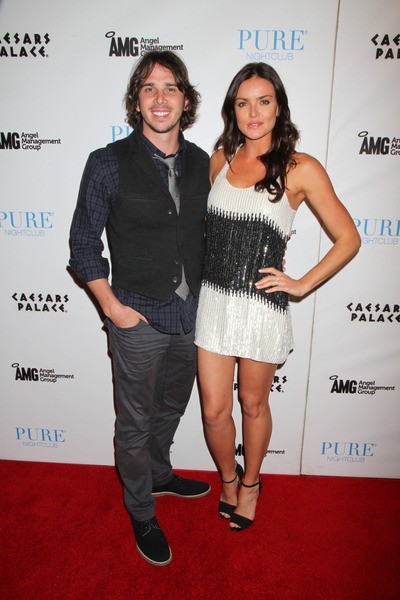 It probably comes as no surprise to most fans of the The Bachelor to learn that last season's couple, Ben Flajnik and Courtney Robertson, just couldn't make things work.

The couple confirmed their breakup on Friday in a statement to In Touch Weekly.

"After meeting over a year ago, we have decided to end our romantic relationship," the former couple said in a statement to the magazine.

"We have nothing but the utmost respect for each other, and both feel this is the right decision," they said. "We continue to remain friends and will support each other in future endeavors. Thanks to everyone for your love and support, it's been quite a ride."

Out of 16 seasons of the hit ABC show only one couple has stood the (short) test of time: season 13's Jason Mesnick and Molly Malaney.

Mesnick originally proposed to Melissa Rycroft during the season finale, but changed his mind during the reunion show after having second thoughts and some time to think it over. Molly accepted his proposal and the couple were married in February 2010. They've been together since.

As for Ben and Courtney, the couple actually broke up while the show was airing (Courtney accepted Ben's proposal during the season finale, but it had already been taped before the season aired) for some time, because Ben was shocked by the different woman he saw on TV than the one he proposed to, as she was portrayed as the show's villain for most of the season.

"The woman that I saw on TV isn't the Courtney that I know," he told host Chris Harrison. "Those are the moments and the instances that led to Courtney and I not talking for a time while the show aired. We were essentially broken up."

But the couple ended up together, showing up to several publicity events after the season finale aired and ultimately moving in together in San Francisco.

Strangely, both stars' recent pictures and latest posts on their twitter pages and on sulia.com indicate that they had a strong relationship and everything was going fine.

But Ben's latest post makes it sound like he's heading out on the town this weekend now that he's a single guy again.

"Welp, another weekend ahead and there is so much going on in San Francisco," he writes. "I can't even begin to tell you how crazy of a weekend it's going to be."



As for the show, neither The Bachelor nor spinoff The Bachelorette's track records are very good...


The Bachelorette

Season 1: Success! Trista Rehn picked Ryan Sutter and the couple has been married for seven years.
Season 2: Meredith Phillips and Ian McKee failed to make it past a year of being engaged.
Season 3: Jen Schefft and nobody. None of the guys on season 3 were worthy enough for Jen.
Season 4: DeAnna Pappas and Jesse Csincsak were engaged for four months before it ended.
Season 5: Jillian Harris and Ed Swiderski lasted through a year of being engaged before splitting.
Season 6: Ali Fedotowsky and Roberto Martinez were engaged for 18 months.
Season 7: Ashley Hebert and J.P. Rosenbaum were engaged on May 13, 2011 and are still together! (J.P. wasn't her first choice though - she fell for contestant Bentley Williams but he walked out on her in one of the final few episodes of the show)
Season 8: Emily Maynard and Jef Holm engaged July 2012.


The Bachelor

Season 1: Alex Michel and Amanda Marsh never got engaged and only dated for several months.
Season 2: Aaron Buerge and Helene Eksterowicz were engaged for two months before calling it quits.
Season 3: Andrew Firestone and Jen Schefft were engaged for 10 months before splitting. Jen went on to star in The Bachelorette season 3 (see above).
Season 4: Bob Guiney and Estella Gardinier were together for less than a month.
Season 5: Jesse Palmer and Jessica Bowlin dated for under a month.
Season 6: Byron Velvick and Mary Delgado - Almost! They were engaged for five years before ending their relationship.
Season 7: Charlie O'Connell and Sarah Brice didnt' get engaged, but they did date for five years before splitting.
Season 8: Travis Lane Stork and Sarah Stone didn't make the half-year mark and get engaged, they split after only six months of dating.
Season 9: Prince Lorenzo Borghese and Jennifer Wilson: see season 8.
Season 10: Andy Baldwin and Tessa Horst were engaged for three months before the ring came off.
Season 11: Brad Womack fell for both DeAnna Pappas and Jenni Croft, but proposed to neither.
Season 12: Matt Grant and Shayne Lamas ended their engagement after five months.
Season 13: Jason Mesnick and Molly Malaney married in 2010 and are still together.
Season 14: Jake Pavelka and Vienna Girardi split up after just a three-month engagement.
Season 15: Brad Womack and Emily Maynard struggled through six months of being engaged before giving in to the pressures and troubles.
Season 16: Ben Flajnik and Courtney Robertson split after a nine-month engagement.