'The Bachelor': Season 16, Episode 1 Recap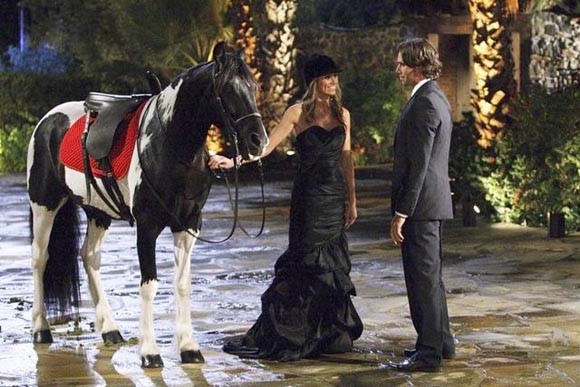 Horses, grannies and catfights: just three of the many surprising things in the 2 hour premiere of The Bachelor  Season 16. Twenty five women will be competing for the love of Ben Flajnik, a winemaker based in San Francisco best known for having his heart (metaphorically) ripped in two by Ashley Hebert on The Bachelorette, Season 7. The episode opens with the infamous clip from the final episode, of his bended-knee proposal and his subsequent rejection. Ouch.
Not to worry - this season brings out a hopeful new Ben, one who emphasized his intentions to find real love, a willingness to commit, and an insistance that he's moved on from his very public heartbreak. "I'm a better more complete person because of it," he explained to The Bachelor host Chris Harrison. "…I'm ready to find that person. I'm ready to find love." Which is good news for this year's crop of beauties - many already seemed smitten with Ben before they'd met him, pointing out how great of a guy he is and having sympathy for what he went through with Ashley.
After a lengthy catch-up segment on Ben and how he came to terms with being the newest Bachelor (the catch-up is complete with a montage of him engaged in various manly, outdoor activities, namely kayaking, wine-making, and walking around), we get to see the real deal. The segment had just finished painting a picture of him as a sweet and caring but also rugged and confident man, but that Ben disappeared when the limousines pulled up, and was replaced with someone who could barely string together a sentence, and seemed to cut the girls off with his abrupt and almost formal tone.
Who can blame him for being nervous, though? The introductions on the Bachelor shows have been getting increasingly more creative, wacky - and sometimes tacky – with each season, these ones included. Ranging from mildly uncomfortable (cringe-worthy awkward small talk) to you-should-consider-a-restraining-order (spraying breath freshener into his mouth and kissing him!), he kept a brave face throughout some intense meet and greets.
Highlights include:
- Anna from Michigan, who breezed past him with a sly smile and not a word. He remarked "That's a bold move!" but seemed intrigued. I thought that approach would hook him, but she didn't get a rose. Cold.
- Twenty-six year old Brittney, who showed her family-oriented side by bringing her grandmother, crutches and all! It was surprisingly more endearing than corny in the end- and Ben seemed to think so, too. But inside the house, another contestant spat: "It smelled like Grandma [in there]." Colder!
- Lindzi's bold move of riding in on horseback earned her the coveted First Impression Rose – though Ben says it was because of their chemistry, conversation, and her sparkling laugh. Sure thing!
After the introductions, we got to see all 25 women interact inside the mansion, with Ben around and without. But there were four people who really stole the show:
Jenna is a 27 year old freelance writer from New York City who ended her introductory video with an eerie statement: "Ben - I'm coming for you." She turns out to be the most sensitive, emotional and dramatic Bachelorette of them all this season (so far). After an awkward first meeting with Ben followed by a tense conversation with contestant Monica, Jenna became frantic and upset, asking other women: "Why does she hate me?", and mentioning that she sometimes feels like she's blacking out when stressed. After Ben (politely) asks if she's been crying, she retreats to the bathroom sobbing, and eventually comes out to see that the rose ceremony has been on hold waiting for her. Believe it or not: she gets a one.
Emily, also 27, is studying for her Ph.D., but she pulled a couple of not-so-smart moves on Ben: She's the breath-freshening girl mentioned earlier, and also made him use hand sanitizer. Later, during some one-on-one time, she proceeds to rap for him – and the lyrics she wrote are about how she'll help mend his broken heart. Pro dating tip: Try not to bring up his extremely embarrassing and broadcast nation/worldwide public rejection until the third date! But she must have left a good impression with Ben; she also scored a rose.
Aside from tag-along grannies, catfights and grand entrances, the biggest drama of the episode was between Monica and Blakely, a beautiful VIP Cocktail waitress. They were cuddling on a loveseat in eyeshot of, well, mostly everyone – especially Jenna, who claimed they were "making out" and "into eachother". No actual kissing was spotted, but Monica definitely showed more interest in Blakely throughout the evening than to Ben, including asking her for her number, and holding her hand. Innnteresting. And yes. she gets a rose.
Last but not least, we have Courtney, a model from California, who might end up being the girl that everyone (excet Ben) loves to hate. She's confident, beautiful, and has the "I'm not here to make friends" attitude, which makes all the other women in the house instantly prickle towards her. The Season 16 teaser trailer shown at the end of the episode reveals that Courtney and Ben become close, and she becomes even more hated by the other women. Hey – every season needs a Michelle Money! ROSE TIME!
In the end, Ben's nervousness seemed to fade in time for the rose ceremony, and aside from choosing Jenna and Monica (ahem – they make for good TV!) the other 16 women he picked seemed genuine and, shall we say, stable. There were tears from the girls that had to leave, and some nasty glares between the ones holding roses. But the real drama starts next week, when the competition heats up the girls get to know the real Ben. Stay tuned!