'The Bachelor' Sean Lowe Takes His Sister's Advice And Dumps Tierra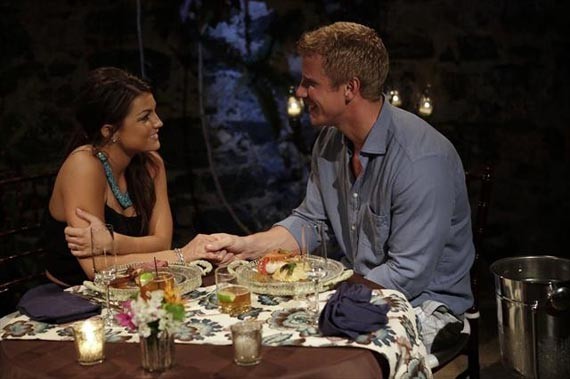 Sean seems to be having trouble making the decision on whom to give the rose to, so his sister, Shay, comes to St. Croix to help him out. She seems to have some good advice for her brother and it apparently helps to clear his mind of any fog that is in there. Sean expresses his concerns about Tierra to Shay as Tierra is confronting AshLee back home. Tierra is on the verge of a meltdown again as she tells AshLee that she hopes that when she is thirty two years old, she is married and not gossiping with twenty year olds and that all men love her, that's why the girls are jealous. Ouch! She also mentions that she can't control her eyebrow and if she smiled all day, her face would hurt. This girl is ridiculous!
As Sean walks in to bring Tierra to talk to his sister, he finds her crying in the corner, of course! She tells Sean that she confronted AshLee because she thinks that she is out to get her and sabotaged her one-on-one date with Sean. All we can think about is that if someone actually puts a ring on her finger, it will look ridiculous with that cheesy tattoo. He goes with his sister on this one and agrees that if a girl can't get along with other girls, then she is trouble and he asks Tierra to go home. Finally! At the rose ceremony, Sean will only have to send one girl home and at this point, we have no idea who it will be! Lesley maybe? Cue another breakdown…
The girls are ecstatic when they found out that they will never have to see Tierra ever again, and so are we! Please ABC, do not make that girl the next Bachelorette. Lindsay is the only girl who has a guaranteed date at home with Sean, meaning that he only has three roses left to give to the remaining four girls. He tells the girls that there won't be a cocktail ceremony and they will be thrown directly into the cocktail ceremony. We are not sure if this is good for AshLee or a bad sign. The first rose of the last night before the hometown dates goes to Desiree, then Catherine and AshLee meaning Lesley will not be introducing Sean to her family.