'The Bachelor' Sean Lowe Still Confused After Hometown Dates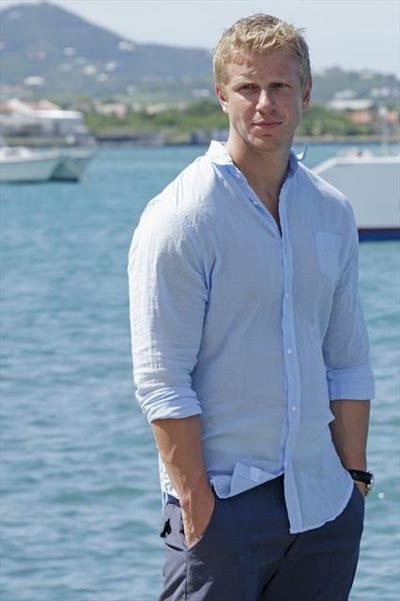 AshLee is back home in Houston, Texas awaiting the arrival of Sean so he can meet her family. The two sit down in a meadow to have a drink (liquid courage for him) before they head inside to meet the folks. Both are from Texas, both have fathers who are Reverends….we see a match made in heaven here, literally. AshLee's father immediately starts questioning what the two have been up and where they have traveled. AshLee told her parents about the polar plunge and how she told Sean that she loved him and her mother pulls him away for a little chat. She tells him that he better not break her heart and we are hoping he won't either. Sean tells AshLee's father that he is crazy about his daughter and asks him for her hand in marriage and he kindly says yes. AshLee's dad talks about the day that he met her when she was four years old, the day that he fell in love with her, and when he gets emotional, it breaks our hearts and we hope that she is the one that Sean will propose to in the end.
Next, Sean heads to Seattle to meet Catherine's family. The two head to the Public Market and lovingly watch (and participate) with the fish throwing. Even though we love the energy the two share when they are together, it seems like she is a little immature for marriage at this point. Catherine preps Sean for the big moment when she will meet his mother and grandmother and when the moment comes, he seems to give a good first impression by slapping on an apron and helping her mother in the kitchen. Catherine tells her sisters that if he proposed to her in the end, she would say yes and "try it out." She continues to defend their relationship to her sisters as they give Sean doubt as well telling him that she needs to be called out once in a while and isn't ready to have a family anytime soon. Catherine's mom tells Sean that she doesn't want him to lead her on and the conversation turns awkward as Sean can't even utter the words, "can I have your blessing?" This hometown visit turned sour, quick.
Lindsay's visit is up next and Sean heads to Missouri to meet her Two Star General father- yikes! We still can't believe that the girl who showed up in the wedding dress on day one has made it this far. They head to an antique in her sleepy little hometown to kill some time before he meets her family. Sean seems nervous as he asks Lindsay what he should call her father, General or Mister? The butterflies are setting in but Lindsay lightens the mood when she puts him in Army gear and makes him do pushups. As Sean is introduced to Lindsay's family, we are reminded that she is younger than Catherine at twenty-four years old. Is she even ready to go steady at this point? Sean tells Lindsay's mom that he isn't ready to throw around the 'L' word just yet but he assures her that he cares about Lindsay deeply. Next up, Sean vs. the General- whose biggest concern is his daughter getting hurt and by the size of him, we are a little intimidated too! He goes forth and asks Lindsay's father for his blessing and he says that he doesn't have an answer for the toughest question he has ever been asked…but eventually caves and says yes. At the end of the night, Lindsay tells Sean that she is falling in love with him.
Sean doesn't have to go far to see Desiree's family in Los Angeles. The two go for a little hike then head to her house as a guy walks in and confronts Sean and tells Des that he loves her. Surprise- prank is on you Sean; she hired a bad actor to pretend he was her boyfriend. Good one! Desiree's parents seem to love Sean right off the bat but her brother is a little bit skeptical. He pulls Sean aside to drill him about his sister and admits that he doesn't feel the reciprocation in feelings on Sean's side. Sean seems floored that Desiree's brother called him out like that and tells him that he does care about her deeply. He isn't buying it though and calls Sean a 'playboy' and is just having fun with all the girls. Sean is not a happy camper right now. Things may not be headed down a happy road for Desiree. This makes for a very uncomfortable dinner party and a few tears on Desiree's part.
Sean sits down with Chris Harrison to discuss the four hometown dates and admits that he didn't get the clarity he wants and is still extremely confused. He tells Chris that he will either send home Desiree or Catherine- way to ruin it for us, Sean! Before Sean even gives the first rose out, Desiree pulls him aside to apologize for her brother but we aren't really sure that he can forget what happened. At the rose ceremony, Sean gives the first rose to AshLee, then Lindsay and places the final rose down and walks out. Dramatic, Sean, dramatic! Apparently he needs a few extra moments to gaze at their headshots before sending one home. Who will be heading home in tears? He gives the last rose to Catherine and says his final goodbye to Desiree. Maybe it was the actor she hired to scare him? Nope, it was definitely her brother who scared Sean away. As much as we feel bad for her, we don't blame Sean for sending her (and her brother) home.